BY Cindy Mercer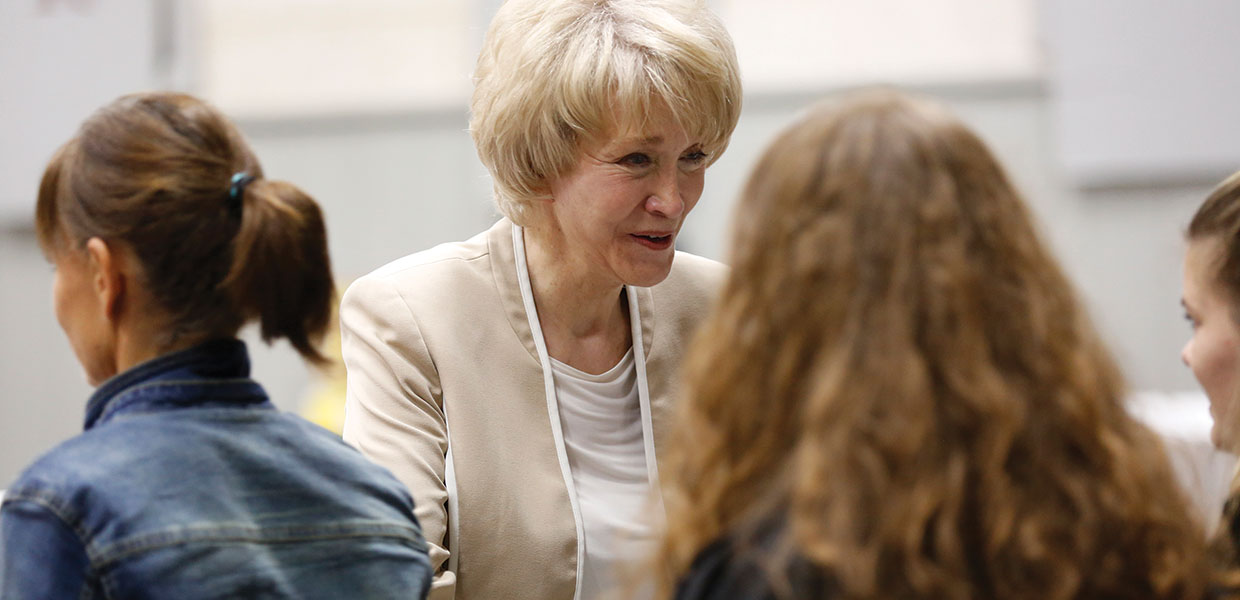 Shelley Quinn took time to hug each woman who attended the 2017 Carolina Women's Retreat.
Rebecca Carpenter
For by grace are ye saved through faith; and that not of yourselves: it is the gift of God," Ephesians 2:8.
It is one thing to know that grace is a gift, but quite another to accept this beautiful gift. Yet this is exactly what more than 650 women and teen girls had the opportunity to experience recently at the annual Carolina Conference Women's Retreats at Nosoca Pines Ranch in Liberty Hill, S.C.
This was a record year for the Hispanic Women's Retreat, October 6-8, 2017, with more than 350 women in attendance. Guest speaker Elizabeth Talbot, Ph.D., gave an in-depth Bible study on the life of Jesus. Talbot is the speaker/director of the Jesus 101 Biblical Institute, and has authored several books. She brought one of her books for each woman, and made time to autograph each book.
Each of her presentations was more delightful than the last, captivating the women. Many of them expressed that they had never had a study like this before. During the Sabbath worship, Talbot began by asking the question, "How many coats do you have?" She had a pile of coats and scarves on the platform with her, and began to put one on after another. After several layers, she revealed the coats as a metaphor for sin. She reminded the women that no matter how many layers of sin one might have, Jesus' blood covers them all, and that is the undeserved gift of God's grace.
Shelley Quinn, who serves as the program development manager for Three Angels Broadcasting Network (3ABN) and co-director for Word Warrior Ministries, was the keynote speaker for the English-speaking weekend, October 15-17, 2017. As she explored God's plan of salvation by grace, she shared that she often encounters women who are weary from their own efforts, and haven't given God permission to change them. Sometimes they are afraid to talk about grace because they feel that somehow relaxes God's requirement of obedience. Quinn reminded the women, from God's Word, that there is no chance of working their way to Heaven — it is through a personal relationship with the Father that all receive power to obey Him. God enables everyone to live powerfully if they will just accept His gift of grace.
An added bonus was a teen track for girls ages 13-17, which was hosted by Erica Jones, assistant director of women's ministries for the North American Division. Her passion is working with teens and developing resources especially for them (see www.gorgeous2god.org).
Throughout the weekend, hearts were stirred by the inspiring talent of the retreat musicians, Carolina Heart Song. Sabbath morning Marlene Nunnaley led an interactive Sabbath School where the women came up front to open the various "beautiful gifts" emphasized in her presentation.
Breakout seminars on Friday and Sabbath afternoons featured a wide range of topics. God's Closet is a ministry of the North American Division that distributes children's clothing, bedding, and shoes four times a year, and several women from God's Closet chapters in the Carolinas shared their experiences (see www.godscloset.com). Dianne Wagner and Antionette Duck presented a seminar on helping young people understand the reality of abortion and experience God's redemptive healing (see www.mafgia.com). Erica Jones held a seminar titled, "Love Me First," about engaging the youth in the Church.
The Sabbath evening message closed with a beautiful cross ceremony. The women were invited to come to the foot of the cross to accept the spiritual gift of grace, as well as a special token in the form of a wooden whitewashed plaque with the word "Grace" hand-stenciled on it. As many made their way to the cross, bagpiper John Cantrell played the beloved hymn "Amazing Grace."
Thanks is expressed to all who attended and made these retreats a very special memory for all. Plan now for next year's "Connections," the Southern Union Women's Ministries Convention at the Convention Center in Chattanooga, Tenn., September 6-9, 2018.
You can listen to Shelley Quinn's presentations on the Carolina Conference podcast channel (available on Google Play, iTunes, and Stitcher).
Carolina | December 2017