by cody and rachel clifford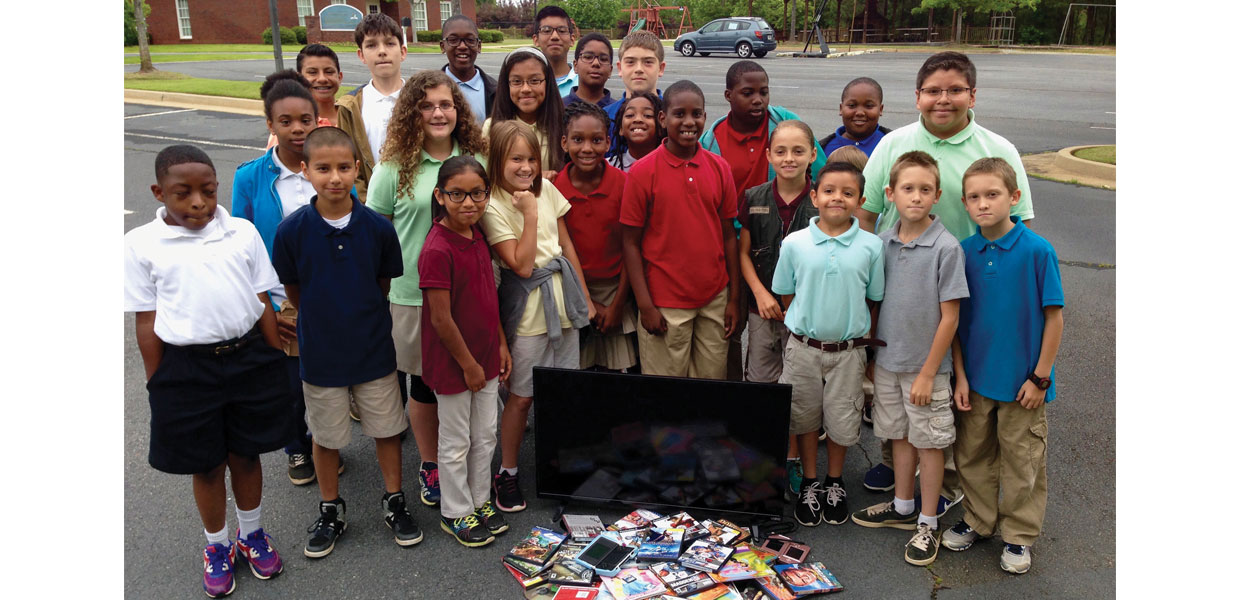 Students and teachers at Columbus Adventist School in Georgia spent a year studying the effects of media on their minds and bodies. They decided to bring those items to school and to destroy the media, ending the influence on their lives. They seek to spend more time with God.
Cody Clifford
The foremost goal as Christian educators at Columbus Adventist School (CAS) in Columbus, Ga., is to help the students develop a Christ-like character. This includes emphasizing the need to be good stewards of the limited time all have on this Earth. Students are encouraged to reflect on the many ways they spend their time, and then to evaluate if their choices strengthen their relationship with their Savior.
After a yearlong study of media and its effects on the bodies and minds, the students were invited to consider all that they had learned. They were encouraged to pray and ask the Holy Spirit to show them things in their lives that were serving as distractions from their relationship with God. Usually during the morning worships, the students are asked to clear their desk space of any items that may serve as a distraction from the message. However, one morning the students were asked to intentionally bring specific items which they deemed "distractions" from their spiritual walk with God. The items that they were impressed and felt comfortable bringing to class showed up on their desks the following morning.
What would be the fate of such items? After all, some of them had great financial value. Other items held sentimental value. With the consent of each student in the room, it was decided that these forms of media could not be sold or given to someone else. Placing these items in the hands of another individual would only perpetuate the cycle of negative influences.
The teachers prayed for strength and wisdom on this issue, and allowed the students to openly share the reasons why they chose to bring the media they had selected. Time taken from God in exchange for worldly entertainment was just one factor. Students also honestly admitted that inappropriate images, language, and behaviors were being beheld.
"I know the time that I am spending playing these games is taking time away from God." –Brasen, 4th grade
"It's very hard for me to give this up, but I know these video games are full of violence. I recognize that violence is not a good thing." –Michael, 4th grade
"I know my little brother is watching what I do, and the choices I make in what I watch and play. I don't want him to grow up to make these same choices." –Michael, 7th grade
"I know that holding onto the things that glorify athletes rather than God is a problem." –Darius, 7th grade
The only solution they could arrive at was to destroy these things that had been playing such a destructive role in their lives. All were led (teachers included) by the Holy Spirit to remove these things from their lives, and once they did so, they prayed that the void left inside would be filled with a love and appreciation for the Savior, and a sincere desire to share Him with the world.
The question they all needed to prayerfully ask is, "Why as Christians would we willingly take part in such entertainment?" Perhaps it's due to the idea that, "The media I watch doesn't affect me as long as I just view it and don't act out in the same manner." In the book of Matthew, Jesus provides clarification for all on this matter. He explains that sins such as lust and murder are committed in the heart, and not just through deeds.
When the students at CAS consider whether or not their media choices are up to God's standard, they are asked to test it to the Word of God. "Finally, brethren, whatever things are true, whatever things are noble, whatever things are just, whatever things are pure, whatever things are lovely, whatever things are of good report; if there is any virtue, and if there is anything praiseworthy, meditate on these things," Philippians 4:8
Georgia-Cumberland|January 2017