BY meghan halley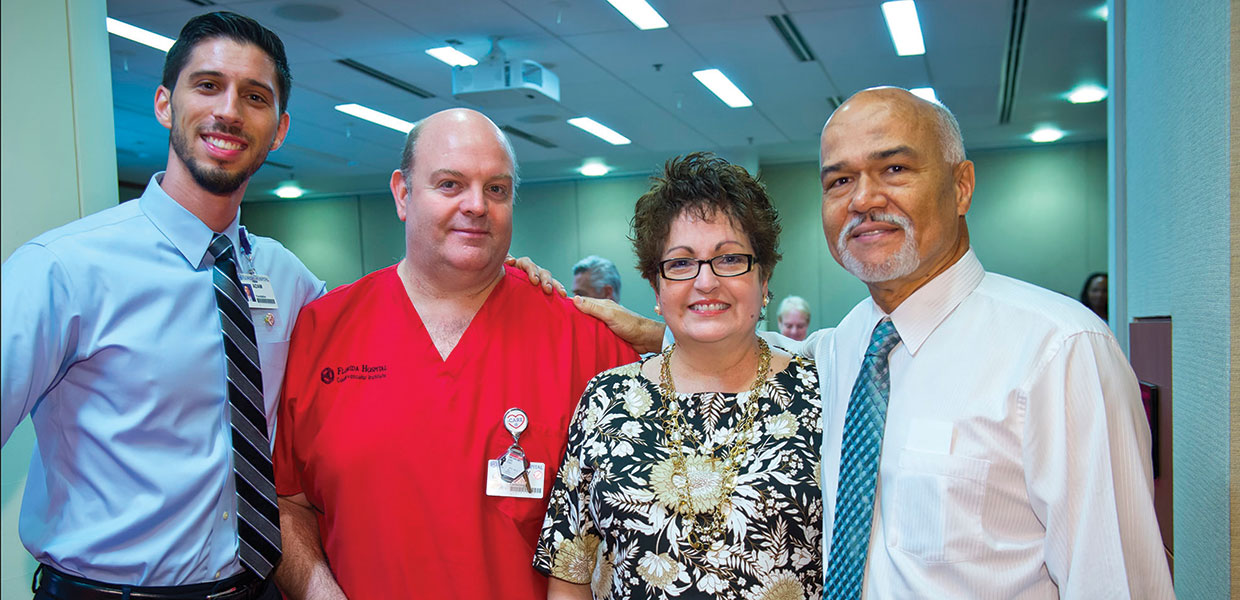 It's all smiles as Wanda Forbes and her husband reunite with some of the Florida Hospital employees who are committed to providing free care to those who need it the most. Pictured are Adam Wamack (left), Florida Hospital Foundation; Barry Egolf, Cath Lab manager; and Wanda Forbes, Heart Care Center patient, and her husband, Robert Forbes.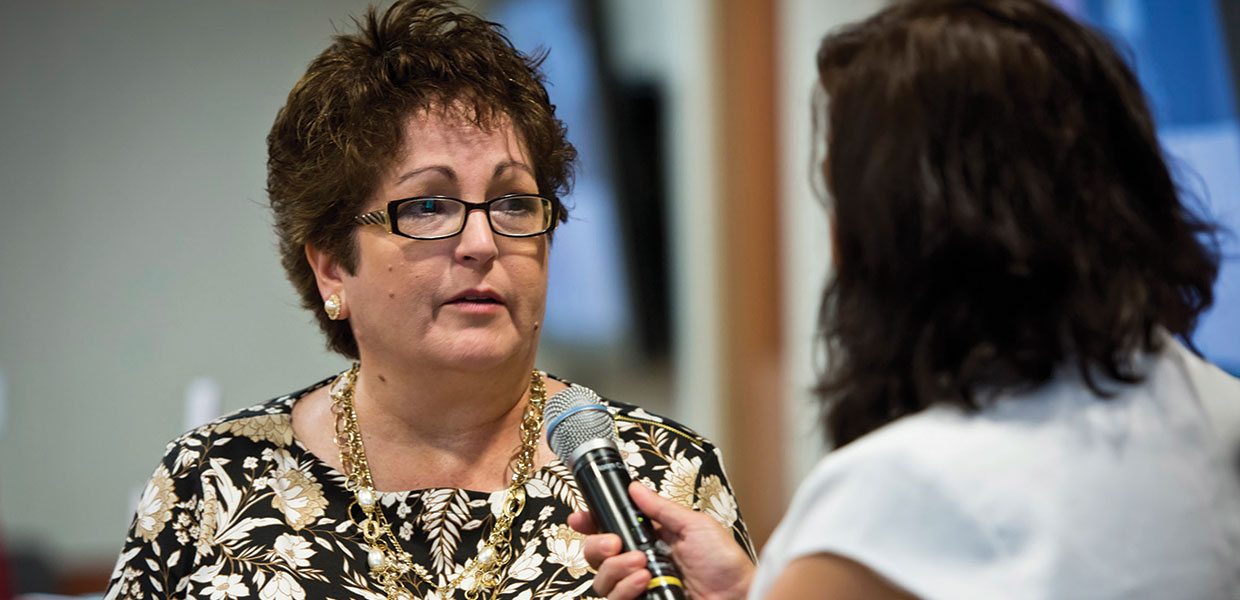 Wanda Forbes describes the compassionate care she received at Florida Hospital's Heart Care Center, and how this free clinic helped save her life.
Florida Hospital's Trina Hidalgo Heart Care Center was established to provide exceptional medical treatment and compassionate care to uninsured and Medicaid heart failure and cardiology patients. Countless underserved patients have their lives back because of the care they received, and one woman credits the clinic with saving her life.
Wanda Forbes was nearly three months into a new job when she suffered a heart attack. Doctors rushed Forbes into surgery and saved her life, but she faced new setbacks: She was uninsured and — soon after — laid off.
Forbes needed vital follow-up medical care, but without insurance or income she couldn't pay for medications or office visits. She went six months without cardiac care.
That was until her husband took her to the Trina Hidalgo Heart Care Center, the only clinic of its kind in central Florida. The clinic provides free care to the uninsured suffering from cardiac conditions.
Since opening its doors in Orlando 10 years ago, more than 2,000 people have been treated at the Heart Care Center. Combined, they've made more than 21,000 visits over the years.
"It's amazing. It's a God-send," said Forbes. "I am just so grateful."
About 45 percent of the Heart Care Center's patients have heart failure — a disabling condition with a 50 percent death rate within five years.
The Heart Care Center is a national model to ensure no heart failure or cardiology patient goes without medical treatment due to an inability to pay, while also reducing readmission rates and health care costs for all.
The team at the Heart Care Center, funded by Florida Hospital and the Florida Hospital Foundation, ensures patients are educated about their condition, linked to community resources, and receive consistent care. The clinical team also makes sure patients are supported in other ways, such as with transportation to appointments.
"We are called to extend the healing ministry of Christ, not just in our hospitals, but in our community," said Kimberly Bell, assistant vice president of operations with Florida Hospital's Cardiovascular Institute. "The Trina Hidalgo Heart Care Center is the perfect example of what happens when our community and other organizations come together and help our neighbors with life-saving health care that they otherwise could not afford."
The Trina Hidalgo Heart Care Center has been supported by Florida Hospital and through private donations — roughly $2 million has been provided through the Florida Hospital Foundation.
In honor of the 10-year anniversary of the Trina Hidalgo Heart Care Center, Cushman & Wakefield announced a $125,000 donation to the Florida Hospital Foundation, earmarked for the Center.
"The Heart Care Center does so much for so many with so little, and we feel honored to support their efforts," said Jeffrey S. Sweeney, senior director at Cushman & Wakefield of Florida. "Cushman & Wakefield is pleased to be part of a continued legacy of giving to those in need."
Adventist Health System | December 2016