BY Joseph Hyde, COmmunication Intern
Individuals respond to the altar call during the appeal by Michael Kelly II, speaker.
Gianna Snell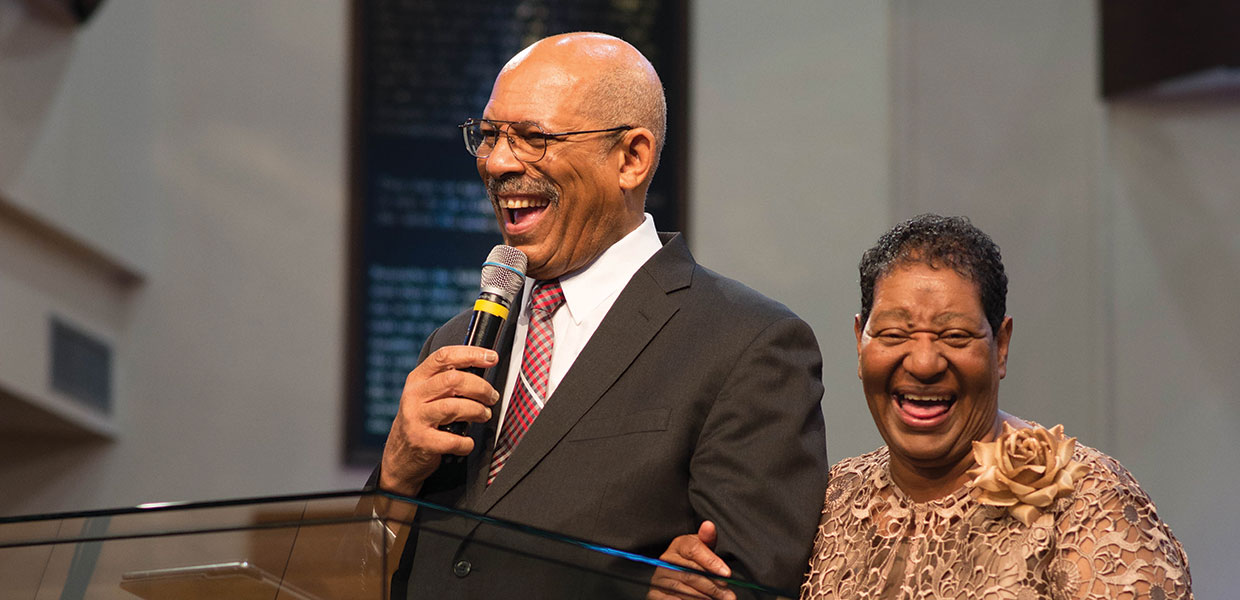 Benjamin Jones, South Central president, and his wife, Carol, welcome Camp Meeting attendees during the Sabbath service.
Gianna Snell
South Central Conference (SCC) kicked off its annual 10-day Camp Meeting on June 8, 2018. People from all over came to enjoy a word from the Lord via speakers Henry Wright, Michael Kelly II, Brenda Billingy, and many more. "CHANGED!" was the theme for Camp Meeting. Each speaker incorporated the theme in their message, which helped to enrich the Camp Meeting experience.
This year's gathering was filled with many new and exciting things, from Family Feud games with a vacation voucher as the grand prize, to a Women's Ministry lock-in, and even a daily newsletter. Every day issues of The Message, SCC's Camp Meeting daily newsletter, was distributed to campers and attendees, affording them an opportunity to read about events they missed from the previous day. People were excited for the upcoming elements of Camp Meeting. Some traveled far to gain a blessing. A great highlight of this year was a brand new app that allowed individuals to follow along from their mobile devices. The app had a social media theme where users could interact with each other and the Camp Meeting organizers, and questions and comments were exchanged.
Throughout each day, worship services and training seminars were held on Oakwood University's campus. Starting from 6 a.m. with the Sabbath School lesson review, the many preaching services, and the training and educational seminars and workshops, and continuing to the fun activities and games for the children and youth,\ that ended around midnight, the day was full and devoted to all age groups.
The new Johnson Family Life Center annexed to Oakwood University Church was the site for children's ministries this year. Children's classes and games were facilitated there; the children learned about teamwork and how to use it to accomplish goals.
Each afternoon youth ministries sponsored mini camps where youth chose from basketball, fashion, cooking, media, and much more to hone their skills. Youth held a class that divided guys and girls into separate groups to teach them how to be kings and queens of God. In the afternoons, youth would attend workshops of their choice for cooking, fashion, media, and more.
Adult seminars were offered in a wide array. The Healthy Heart seminar was one of the more popular classes that were offered. Everyday Paula and Curtis Eakins gave vital information on myths of health, and how to overcome many health issues.
During Camp Meeting, Roger Wade, Conference communication director, conducted a live online interview with Benjamin Jones, South Central Conference president. Wade asked a plethora of questions from surveyed members of South Central. Issues about the future of the church, youth and young adults in the church, women's ordination, outreach, and historical racial past were discussed.
As the week came to an end and people started packing, one last message was given by Jones. Staying unified as one was his charge to the campers.
Camp Meeting 2018 — CHANGED! By His presence, by His power, by His promise — concluded.
South Central | September 2018