By judith nembhard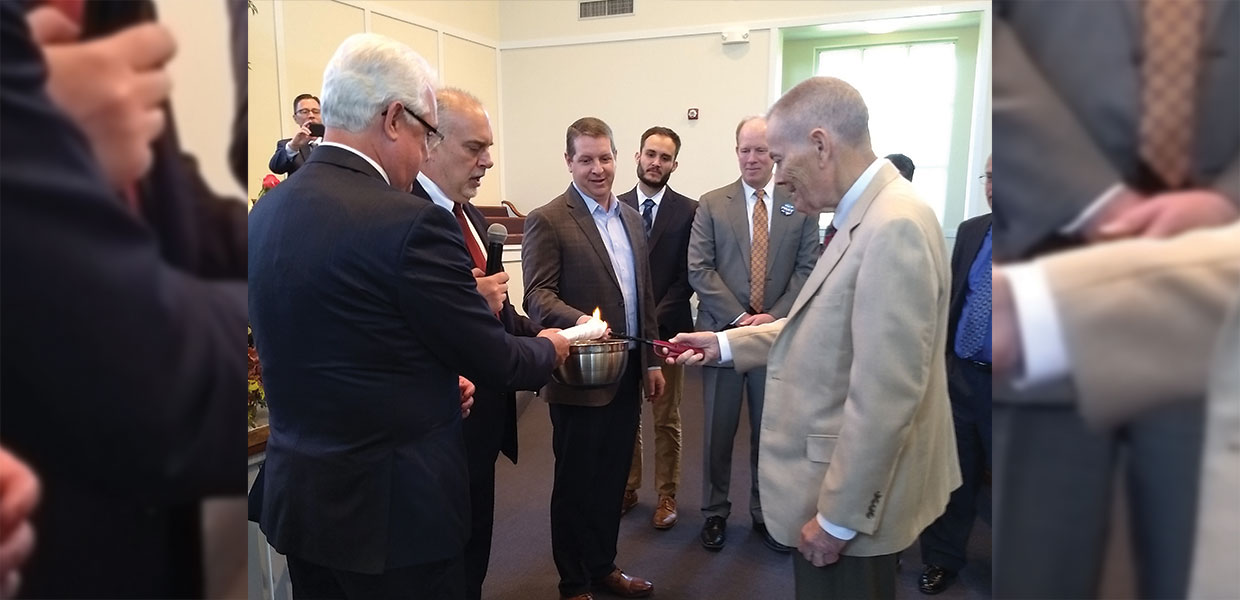 The church leaders for the Chattanooga First Church were allowed to play with matches as they celebrated the burning of their mortgage, a $1.8 million debt paid in full.
Judith Nembhard
A mere six months after its grand 100th anniversary celebration, Chattanooga First Church marked another major milestone in the history of the congregation. In a mortgage burning ceremony on April 21, 2018, the church was declared debt-free.
The simple, yet impressive ceremony was folded into the regular divine worship service, with Kurt Allen, treasurer of the Georgia-Cumberland Conference, officiating. With joyful "amens," the congregation learned, many for the first time, that the size of the debt retired after 12 years was $1.8 million.
Allen assembled a group at the front of the church for the ceremony: Dale Tunnell, senior pastor; David Melton, associate pastor; Jeff Hocking, former church treasurer during their 12-year mortgage-payment struggle; Peggy Schmidt, present treasurer; Charles Wilson, who was instrumental in securing the loan for the building project; and the elders of Chattanooga First Church.
In his prayer of thanksgiving and dedication, Allen asked God's blessing on the congregation, and dedicated the members to service to those who "may yet step inside the doors of the church." Charles Wilson lit the fire, and the members watched it glow and leave their mortgage in ashes.
"It's not every day that you get to play with matches in church, said guest speaker Ed Wright, president of the Georgia-Cumberland Conference. His sermon drew upon Nehemiah's experience of rebuilding the walls of Jerusalem. The mortgage burning, Wright said, was "a pivotal point for the church — a time for celebration, a time for renewed commitment, and a time to ask God, 'What next?'" Wright told the congregation, "Today you are emancipated. Now is the time to ask, 'God, what do you want us to do next?' He reminded the congregation there is still work to be done.
The service ended with the committed voices of devoted benefactors raised in the singing of "To God Be the Glory."
Georgia-Cumberland | July 2018