BY denise pope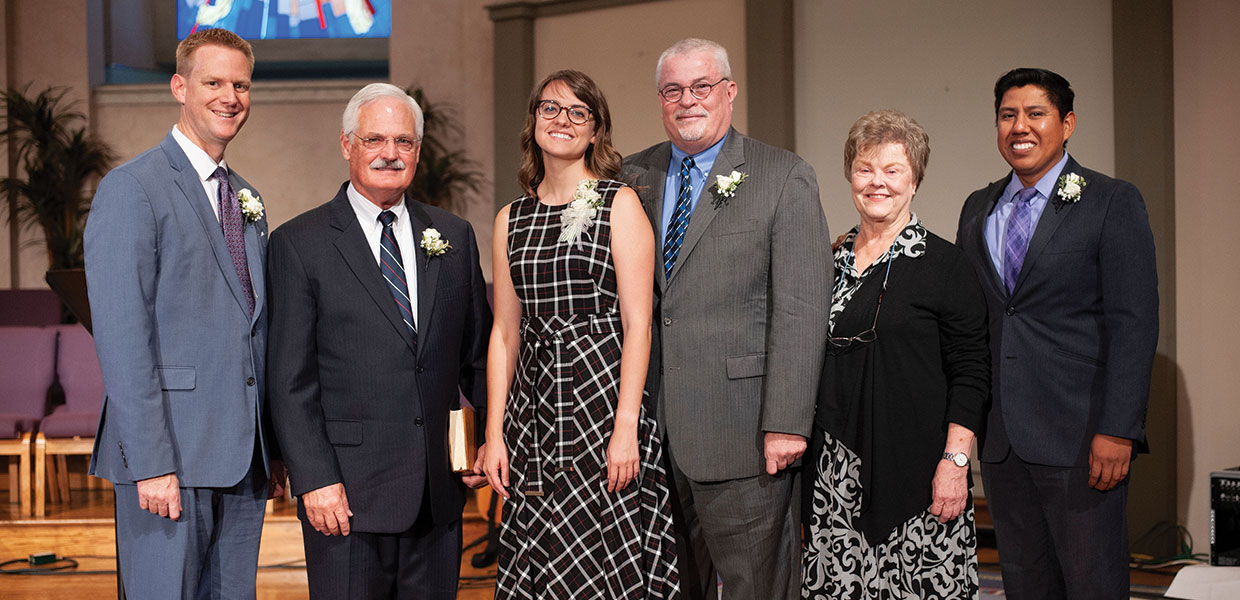 Ken Wetmore (left), Madison Campus Church senior pastor; Steve Rose, Kentucky-Tennessee Conference vice president for administration; Chelsea Inglish, MCC youth pastor; Steve Haley, president of Kentucky-Tennessee Conference; Julie Vega, MCC chaplain pastor; and Ignacio Silverio, MCC associate pastor
Mark Denman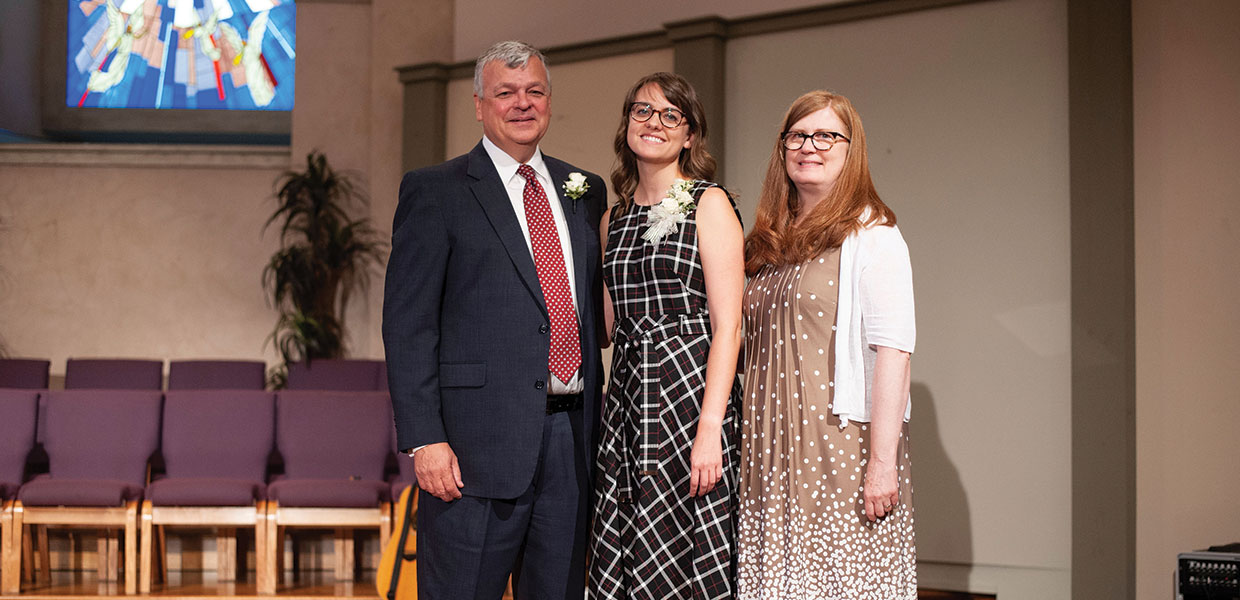 Chelsea Inglish (center), Madison Campus youth pastor, stands with her parents, Doug Inglish, Rocky Mountain Conference planned giving and trust services director, and Susan Inglish, Rocky Mountain Conference accountant.
Mark Denman
Chelsea Inglish, Madison Campus Church (MCC) youth pastor, was commissioned into the Gospel ministry in Madison, Tenn., on September 21, 2019. Doug Inglish, her father, presented his daughter. The message was given by Ken Wetmore, MCC senior pastor, and Ignacio Silverio, MCC associate pastor. Steve Haley, president of Kentucky- Tennessee Conference, gave the commissioning prayer, and Steve Rose, Kentucky-Tennessee Conference vice president for administration, delivered a call to ministry.
Inglish began her official youth pastor ministry in 2015, but had been serving in youth ministry since 2003, when she began working at summer camp. During the summers, Inglish served at four different summer camps: Camp Heritage in Missouri; Timber Ridge Camp in Indiana; Camp Wawona in California; and Camp Waianae in Hawaii. The camp service added up to 10 summers. It was while Inglish was a camp counselor that she first felt God's call to work with teenagers.
Inglish graduated from Southern Adventist University (SAU) in 2010 with a degree in English and secondary education. God soon opened a door for her to serve as a task force assistant chaplain/youth pastor at Upper Columbia Academy in Washington State with Ken Wetmore. A few years later, Inglish began serving as the full-time chaplain and Bible teacher at Sacramento Adventist Academy in California. In 2015, she was called to serve at MCC as youth pastor.
In 2016, Inglish began a master's degree in religious studies at SAU. She takes summer intensives that allow her to study while continuing to work as youth pastor at MCC.
Inglish's greatest desire is that the youth she serves fall in love with Jesus, and spend their lives loving God, loving people, and serving the world.
Kentucky-Tennessee | January 2020