BY Lorna Knight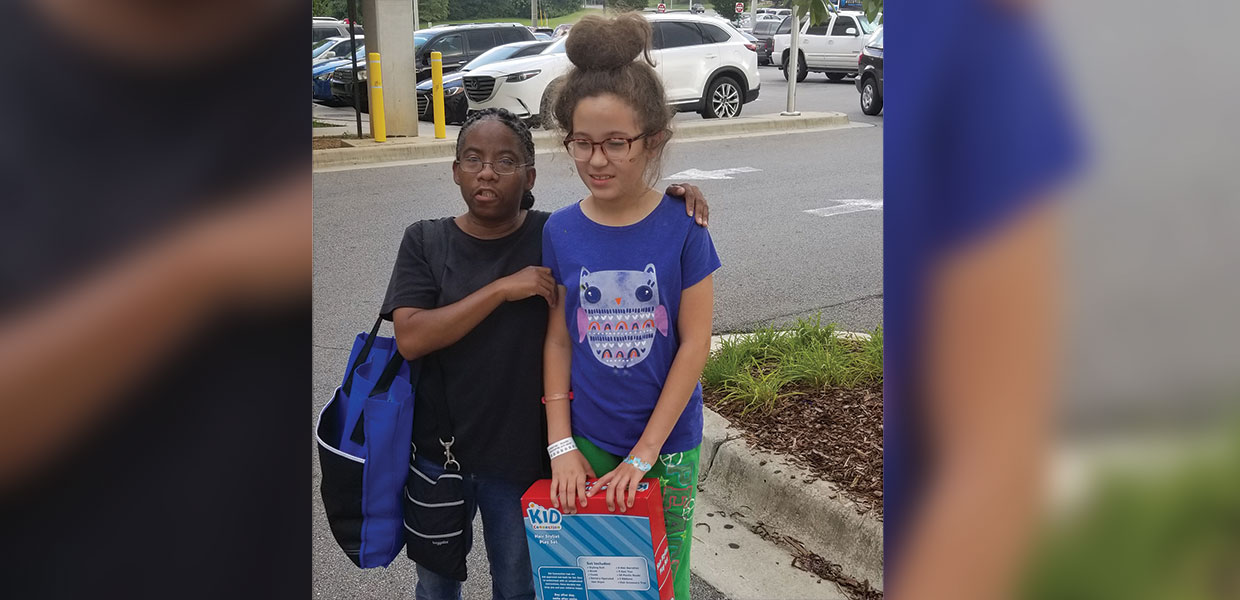 Linda Branch stands with a patient who received a gift.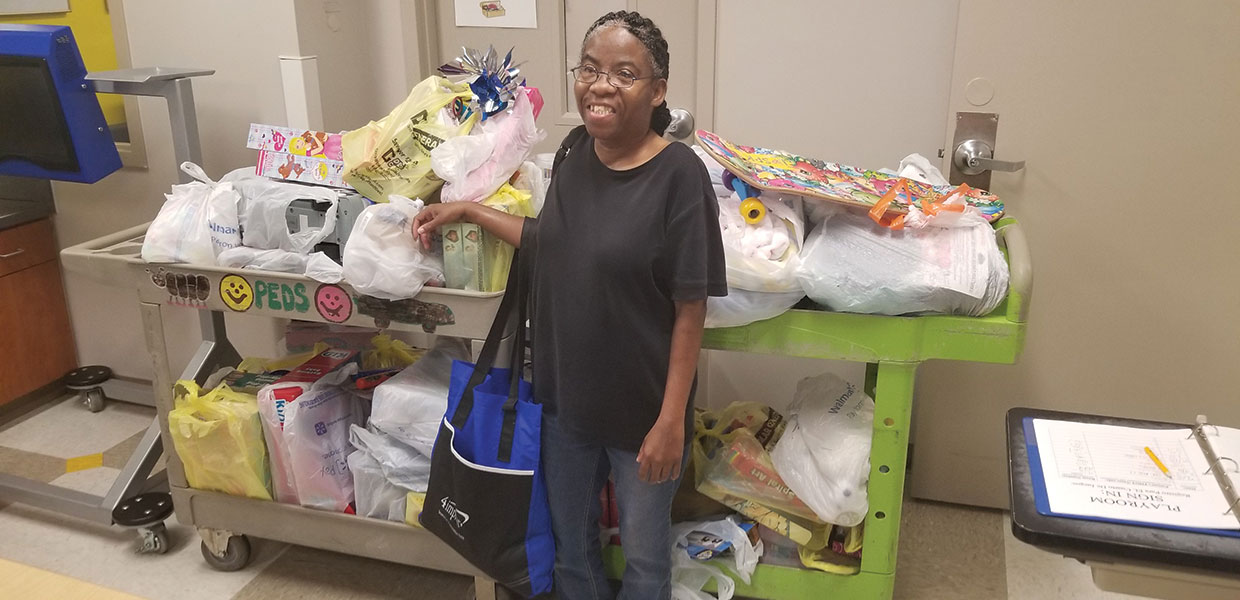 Many toys were donated.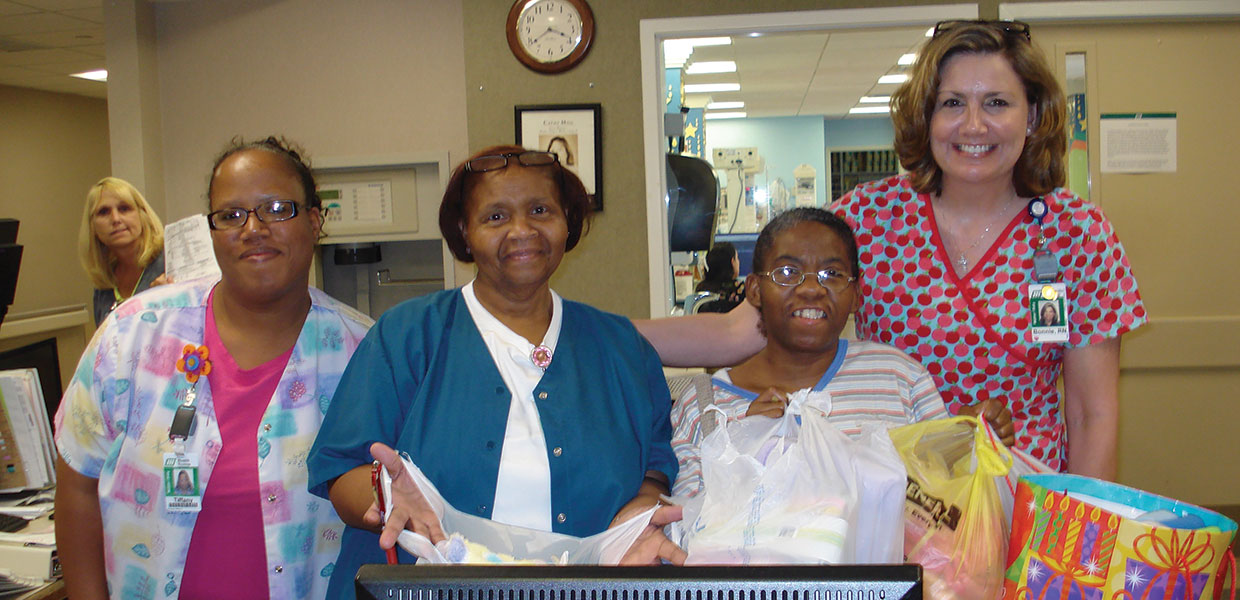 Linda Branch (third from left) stands with hospital staffers.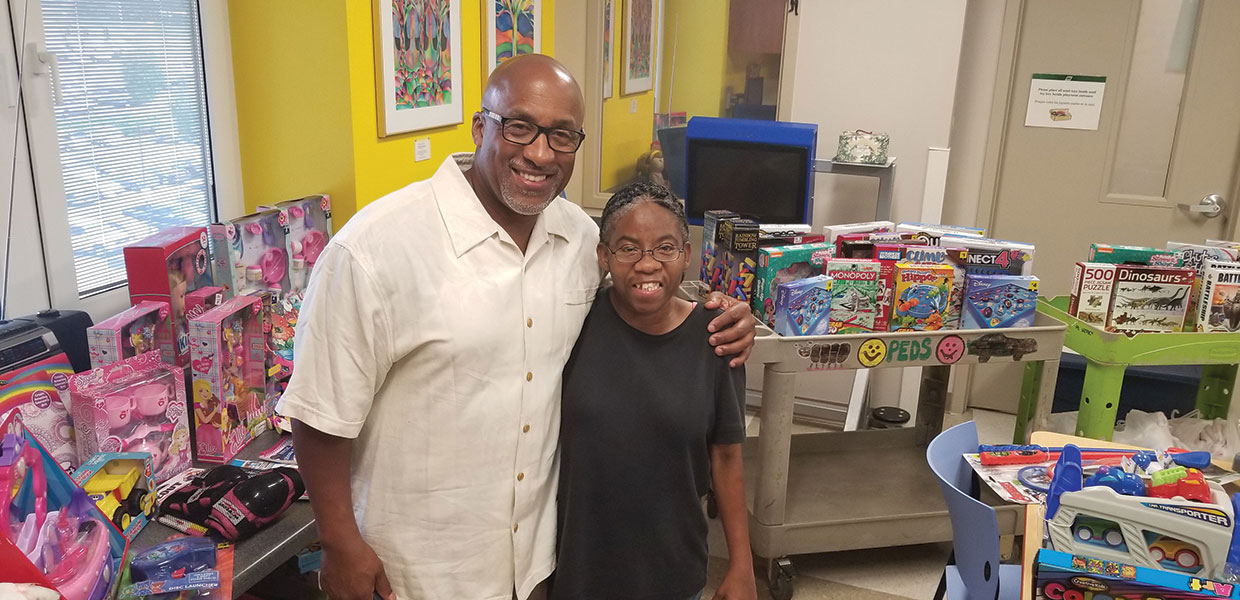 Mt. Calvary's former pastor, Rupert Bushner, D.Min., and Linda Branch stand next to the donated toys.
Each June since 2006, Linda Branch and a group of Mt. Calvary Church members in Huntsville, Ala., have brought Christmas joy to the Women's and Children's Department of Huntsville Hospital. This ministry was birthed out of Branch's childhood experience of numerous hospitalizations due to health challenges. Her parents, overwhelmed with the prognosis that she would not live to see her teenage years, felt that it was best to leave her in the care of the hospital. Even now, Branch vividly remembers her only visitor, "Ronald McDonald."
Through God's grace and mercy, Branch grew to adulthood and got married. But, she never forgot her experiences, which led her to ask the Lord what she could do to help sick, hospitalized children. She made this a matter of prayer. One night 13 years ago, God place upon her mind to visit hospitalized children and make them smile. Her ministry began very small, with help from a few church members, to give gifts in the month of June to hospitalized children.
Today Branch's project has grown, and her group of volunteers continues ministering to children from the age of 1 month to 18 years. Through the generosity of church members, Branch is able to buy toys, school supplies, and even books. With the help of the hospital staff, toys are displayed where sick children and their parents can come and choose gifts that bring joy and the biggest smiles to suffering children and their families.
After giving away toys in the playroom, church members visit and distribute gifts to children who are confined to their rooms. The members also pray with the children and their families. While some members are spending time in the children's unit, others visit the labor and delivery unit to donate blankets.
The children and their families share how much they appreciate the selflessness of this outreach ministry. Branch feels blessed to be able to impact the lives of these little ones. God impressed upon her mind, which she obeyed, and her ministry is going strong. She focuses on Jesus' words, "Suffer the little children to come unto me and forbid them not, for of such is the kingdom of heaven," Matthew 19:14.
South Central | April 2019