Carin Bartlett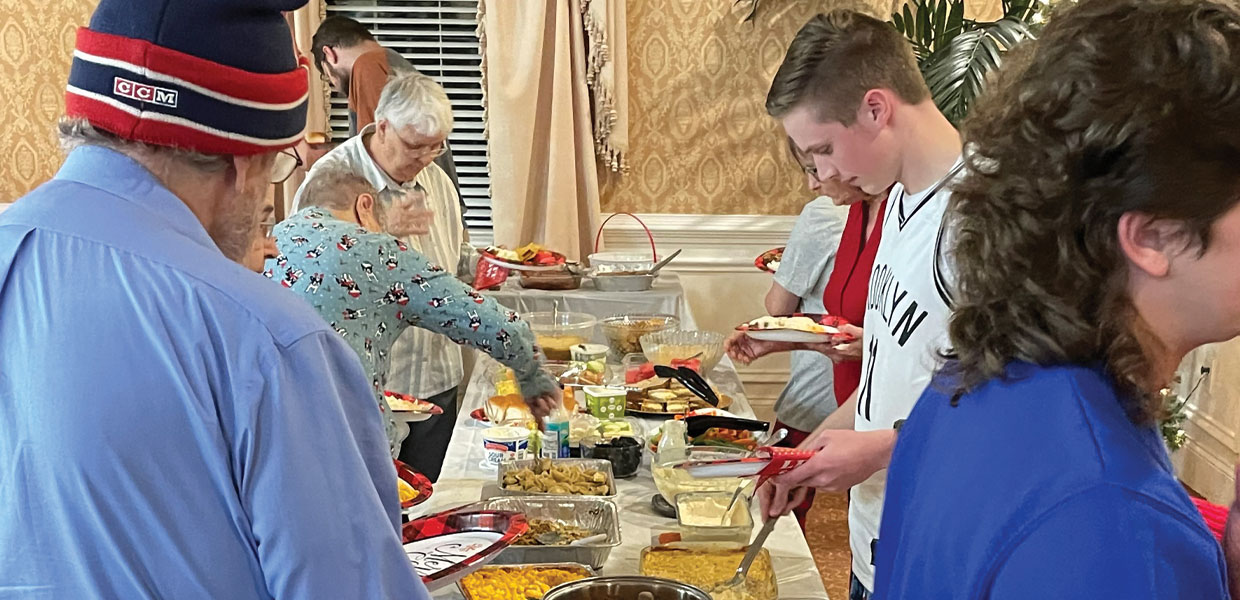 Attendees of the Southern Deaf Fellowship Christmas Party enjoy culinary favorites. The party provides an opportunity for Deaf Fellowship members to invite others in the Chattanooga, Tenn., area deaf community to a social event where relationships can be made that make it easier for future witnessing opportunities.
On Sabbath evening, December 10, 2022, members of Southern Deaf Fellowship Church and members of the Chattanooga area deaf community came together for Southern Deaf Fellowship's annual Christmas Party.
The party was held in the fireside room of the McDonald Road Church in McDonald, Tenn., and 33 people attended. As guests arrived, they were welcomed with cheery Christmas decorations and the warm greetings of friends and new acquaintances.
The program started with a Christmas devotional from Jeff Jordan, pastor of Southern Deaf Fellowship. After worship, everyone lined up to fill their plates with various culinary favorites brought by attendees. As everyone enjoyed the food, hands flew in happy chatter.
After supper, everyone's attention shifted to the large table laden with gifts in the front of the room. Each attendee was encouraged to bring a gift to join in the gift exchange game, and the large collection of wrapped treasures on the table was evidence of everyone's excitement to participate. Laughter filled the air as each person came forward by turn to either choose a wrapped gift or "steal" a gift already revealed.
The Christmas party provides an opportunity for the deaf to socialize with others in their native language, American Sign Language. In a world that strongly caters to the hearing, filling this social need is an important part of Southern Deaf Fellowship's ministry.
The ministry of Southern Deaf Fellowship is to share the Gospel message with the deaf in American Sign Language. Social events like the Christmas party provide an opportunity to not only have a fun time together, but also make connections that can lead to witnessing to others for Jesus.
"With the connection, it makes it easier to invite them over for any future church-related events," said Jordan. "Relationships have been established and that makes it easier for them to accept our invitations."
Southern Deaf Fellowship not only serves the local deaf community in Chattanooga, Tenn., and surrounding areas, but also reaches deaf from across the United States and around the world through its online live stream of church services, and Sabbath School and Prayer Meetings held weekly on Zoom.
Throughout the evening of the Christmas party, church members and community members created new acquaintances and strengthened existing bonds with each other, brought together by their shared language and culture. Social events such as this will continue to build connections for eternity.
Georgia-Cumberland | February 2023