Sandra Fletcher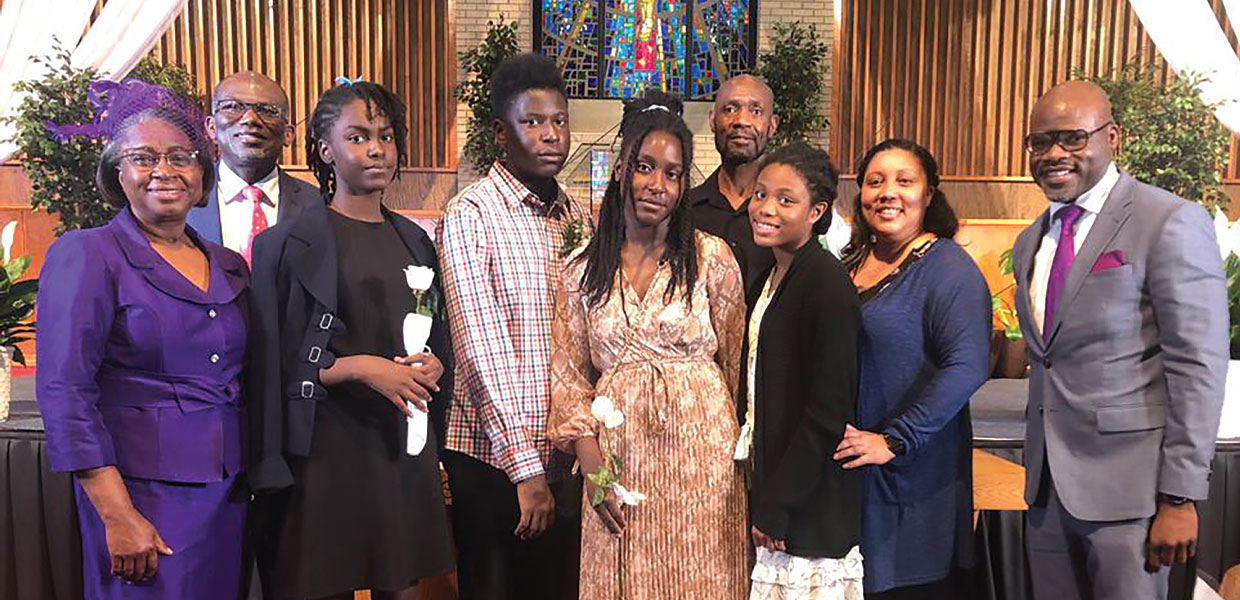 Sandra Fletcher (left), Southeastern Conference education superintendent, stands with students Jaida Percy, Jhiems Vernet, Ruthney Vernet, and Aliyah Currington.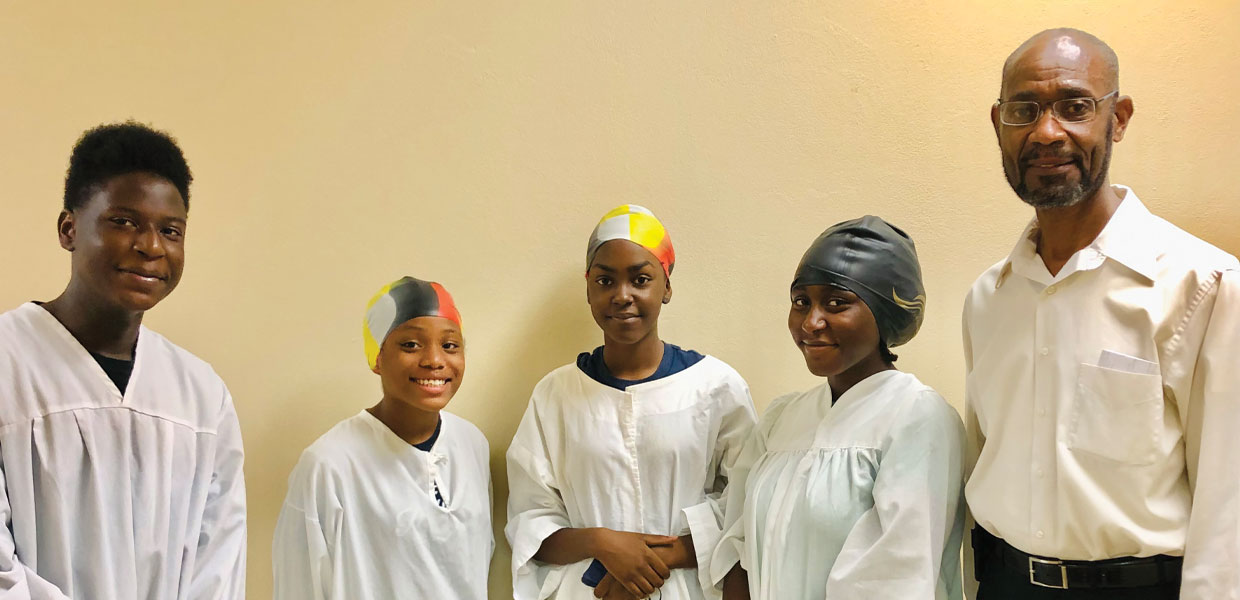 Students Jhiems Vernet (left), Aliyah Currington, Jaida Percy, and Ruthney Vernet with Edson Jarvis, Mt. Calvary Junior Academy principal, prior to their baptism.
Sandra Fletcher, Southeastern Conference education superintendent, shares her testimony.
The Bible says that, "Children are a heritage from the Lord…," Psalm 127:3 NIV, and as such they should be given priority in preparing them to serve their Creator, Redeemer, and Lord.
Four students from Mt. Calvary Junior Academy in Tampa, Fla., made the commitment to follow Jesus all the way on May 14, 2022, and walk into the watery grave of baptism. Among the students were seventh-grader Aliyah Currington, and eighth-graders Jaida Percy and twins Ruthney and Jhiems Vernet. This occasion was even more special, for the eighth graders would go on to graduate from middle school the following week. Edson Jarvis, school principal and grade 7-8 teacher, worked with his staff to intentionally study the fundamental beliefs from the Bible with these students, so they would be ready when the day came to surrender their lives to Jesus.
The glorious day for Mt. Calvary school and church is a testament to the results of true Adventist Christian Education: providing a Christ-centered environment where youth are guided in the development of meaningful relationships with God and their fellowmen.
Witnessing these blessings has reminded me of how Seventh-day Adventist Christian education has impacted me personally, and how I came to give my life to Christ as a young student as well.
Growing up, I did not know about the Seventh-day Adventist Church or its educational mission. I was a faithful member of the St. Paul's Anglican Church Sunday School in my hometown of Westmoreland, Jamaica. The exposure I had there to read the Bible and study the beliefs stimulated my desire to want to know Christ more. The Holy Spirit guided me safely to Delveland Seventh-day Adventist Church, where I got baptized at 9 years old. From that day I made the everlasting covenant to faithfully follow my Lord.
Soon after conversion, I received the blessed gift of becoming a teaching missionary. This opportunity allowed me to follow my interest to have children "taught by the Lord," Isaiah 54:13 NIV. My classrooms were mission fields. Later, as an administrator, my schools became mission fields. One by one, many of my students gave their hearts to God in baptisms, and established church memberships. It was exciting and common to have student baptisms on the Sabbath following graduation ceremonies. Sometimes the students were the presenters of the divine service messages, and then they walked out of the preacher's pulpit into the sinners' baptistery.
As a mother, I deeply understand that children have a keen desire to know Christ and to follow His teachings. They are as curious to learn about God and Heaven as they are to explore the arts and sciences. They desire to be saved and to make disciples among their friends for Jesus. My husband and I supported our children to learn of God and to make commitments to follow His principles of living victorious lives. As a result, our three children got baptized between ages 7 and 9. Today, they faithfully follow Jesus and give their services to the building up of God's Kingdom.
Families and churches are more likely to experience hope and wholeness when our children are taught to give their hearts to God. Jesus is coming soon! The Southeastern Conference Office of Education will passionately share this Good News with our children and youth.
Southeastern | August 2022