BY Briana Sherrer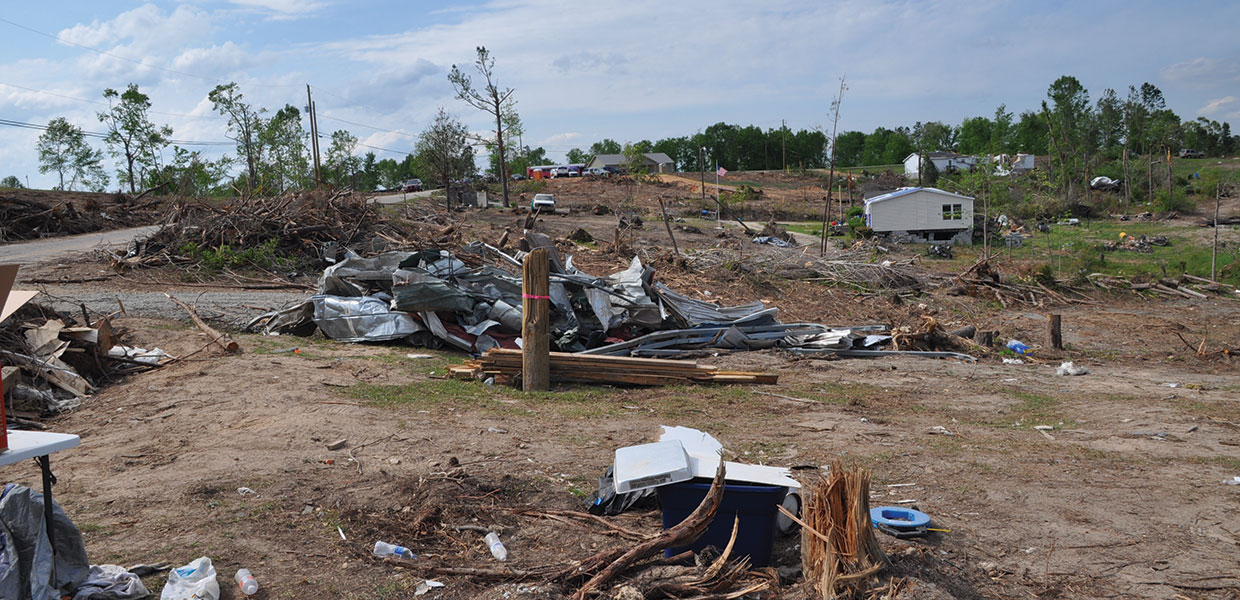 The Beauregard community was devastated.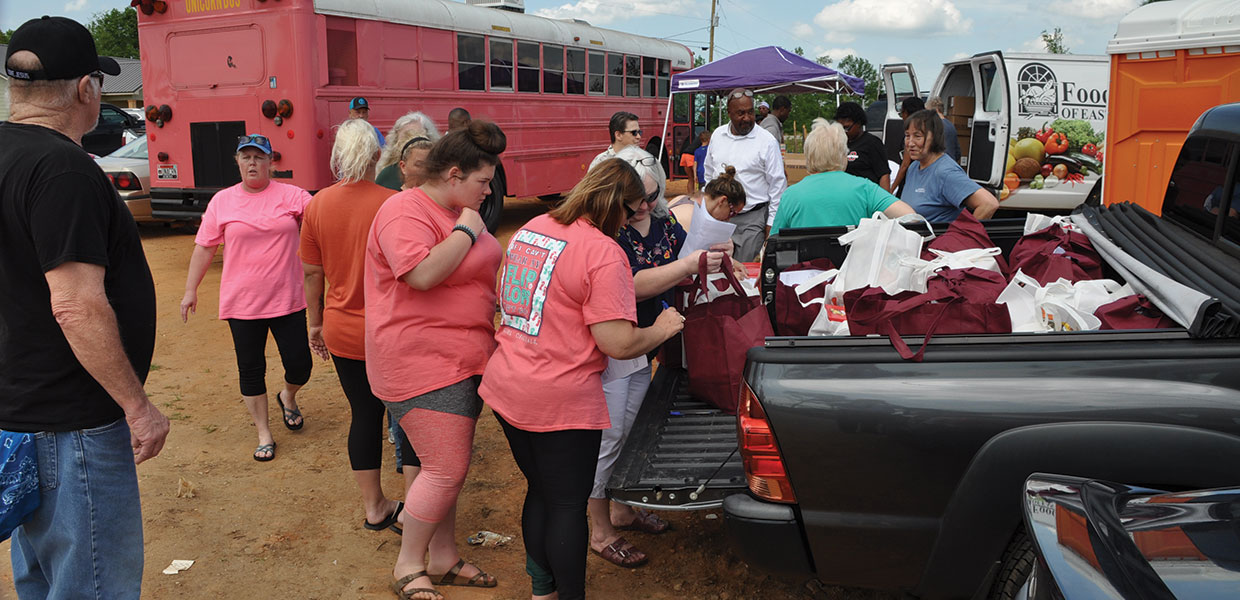 Auburn-Opelika Metro members provide tornado relief by distributing food, personal hygiene, and cleaning supplies.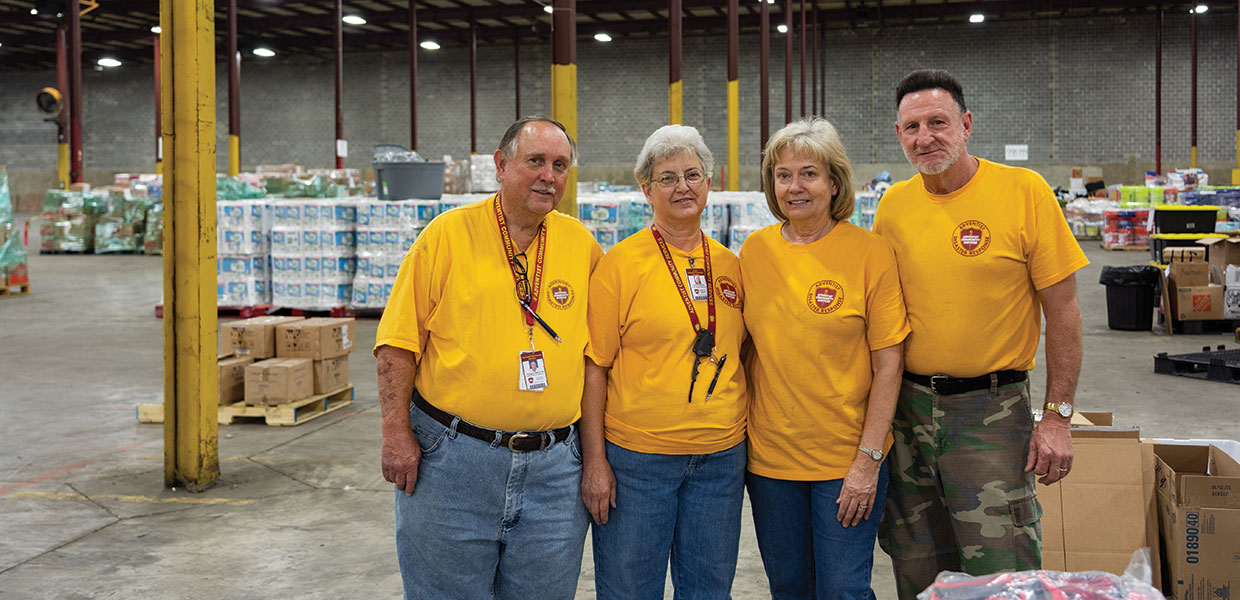 Tommy Warren, left, Denise Warren, Corinne Garrett, and Ronnie Garrett volunteer and manage the donation warehouse.
Shane Hochstetler
Beauregard is a small rural community in southern Lee County, Ala. The town experienced a tragedy on March 3, 2019, like nothing seen before there, when an EF4 tornado ripped through a swath of land 1,600 yards wide and more than 27 miles long, destroying nearly everything within its path — property, homes, and, sadly, 23 lives.
Twenty-three people woke up and crawled out of bed that morning with no way of knowing they would have only a few hours left to live. For Alabama Adventists, even after seeing the devastation firsthand, and having known some of those who were lost, it was still difficult to imagine what it must feel like to be one who experienced this horrible tragedy.
The community is vulnerable and hurting, but strong. They are pulling together, bonding, and becoming closer to one another, forging new relationships with their neighbors, churches, community leaders, and organizations. Help is coming from all sides, including the Seventh-day Adventist Church. Gulf States Conference's Adventist Community Services Disaster Response (GSC ACS/DR) and the local Adventist churches are reaching out and becoming known in this small community. Adventists responding to the disaster feel the blessing of being able to share the love of Jesus by becoming His hands and feet.
There will be many blessings to share about the relief effort in the little community of Beauregard. A couple of weeks after the storm, Reba Smith of Sparta, Tenn., who had heard about the tornadoes, wanted to send money designated for tornado victims. A couple of days later, a sizable check arrived in the mail. Shortly after the check arrived, Smith called Briana Sherrer, women's ministries leader at Auburn-Opelika Church, to say that a dear friend of hers who was terminally ill was in the process of liquidating all his assets, and wanted to designate $200,000 toward zip code mailings of The Great Controversy, via The Great Controversy Project. He was asking her advice on where to have the books mailed, and thinking of this devastated community, she asked him to please include the Beauregard and the greater Opelika area. The church members were grateful for the sacrificial donation at such a time as this.
Members of Pioneer Memorial Church on the Andrews University campus in Berrien Springs, Mich., were kind and thoughtful as they sent 40 little teddy bears for the children who lost all their toys. Many of the children's little eyes lit up as members distributed them. Those little bears received some great big hugs. Local members remarked on what a precious, wonderful thing that their brothers and sisters in Michigan did for them.
The day after the tornadoes hit, March 4, Ray Elsberry, director of ACS/DR for the Gulf States Conference, surveyed the devastation. Elsberry and his team, Tommy and Denise Warren of Fairhope, Ala., and Corrine and Ronnie Garrett of Opelika, Ala., began operating a 40,000-sq.-ft. warehouse and donations center. Both donations and volunteers come from all over the state of Alabama, and from all around the country. The outpouring of love and support has been almost overwhelming to the members. The Phenix City and Mt. Moriah churches are two of the distribution centers in Phenix City, Ala., primarily serving the people of Smiths Station, a community which also withstood damage.
Community services touches hearts for Jesus. Serving the needs of the communities will cause people from other denominations, or even those with no religious affiliation, to say, "I can't believe what I've seen here. I want to know about your church." You can't always walk up to someone and share the Gospel with them, but when you begin to serve their needs, they'll start to ask questions.
In partnership with the Food Bank of east Alabama, the Auburn-Opelika Metro Church has been able to obtain food, personal hygiene items, and cleaning supplies for tornado victims at no cost to the church. In the care packages, they include Steps to Christ and a personal, handwritten note with the name and number of someone they may call if a need should arise, or just to have someone pray with them. The church has been able to go into the community to meet and interact with those who were affected.
Please join the members in praying that the Holy Spirit will be able to reach hearts, and impress upon these individuals to pick up their Steps to Christ or The
Great Controversy and read. Pray that they will seek Jesus with all their hearts, and find Him.
Gulf States | July 2019