BY Kathy Lamson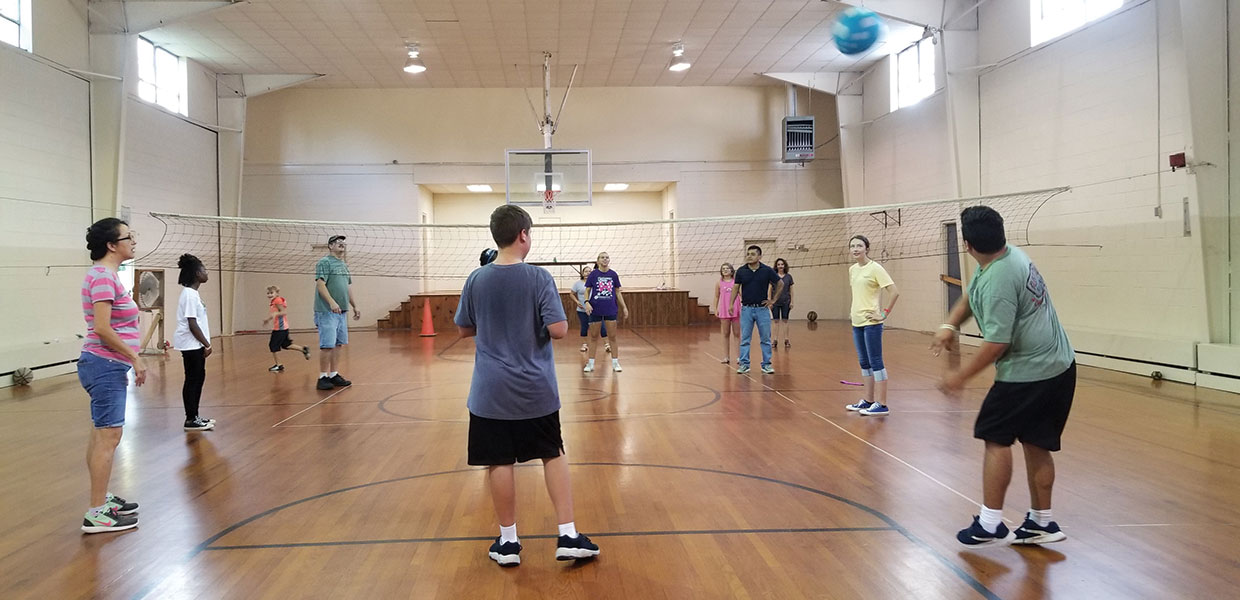 Attendees of the Family Fun Fest play volleyball as part of the "Let's Move Day" event.
Central Church in Huntsville, Ala., has been utilizing their school facility, Big Cove Christian Academy in Owens Cross Roads, Ala., to impact the surrounding community gently.
Central's health ministries team invited not only the church family, but also the community to participate in the annual celebration of the national "Let's Move Day" with a Family Fun Fest at the school on September 15, 2019. It was a beautiful Sunday with near-perfect weather, which brought children, along with children-at-heart, to enjoy games such as a giant parachute, frisbees, workout dice, volleyball, basketball, and ping pong in the school gym. They also planned activities to incorporate the school playground. Attendees were treated to some Southern foods with a vegetarian twist, like BBQ, hotdogs, and potato salad. Healthful desserts included a variety of fresh fruits as well as vegan brownies. Attendees were blessed with the time of fellowship, and door prizes were additional bonuses.
Big Cove held its semi-annual yard sale on October 6, 2019, on the large front lawn on the school property, which is situated on busy Highway 431. This event allows community residents to participate by displaying their wares, or to come in and browse. Some attend each spring and fall, and are getting acquainted with church members. Due to the prominent location of the school, the yard sale attracts many passers-by as well. In addition to the tables of private vendors, the school displays and sells items that have been donated. A plate lunch is sold by the school as an additional fundraiser. The fall yard sale raised more than $1,000 for the school.
While members agree that the Family Fun Fest and the yard sale involve planning, organization, time, work, and expense on the part of the church and school, they also believe that breaking down prejudices is more valuable. By inviting the community onto school property for fun times, and mingling with and getting to know the members, it will pay off when they invite them to something more spiritual later on.
Gulf States | February 2020