BY Sylvia Knoch
The Hixson and Collegedale, Tenn., Korean churches worked together this past Christmas to serve the homeless community in Chattanooga, Tenn. They offered a medical clinic, seeing 115 patients with 12 requests for Bible study. They also had a Christmas party for 250 homeless, giving away backpacks filled with goodies.
Submitted by: Sylvia Knoch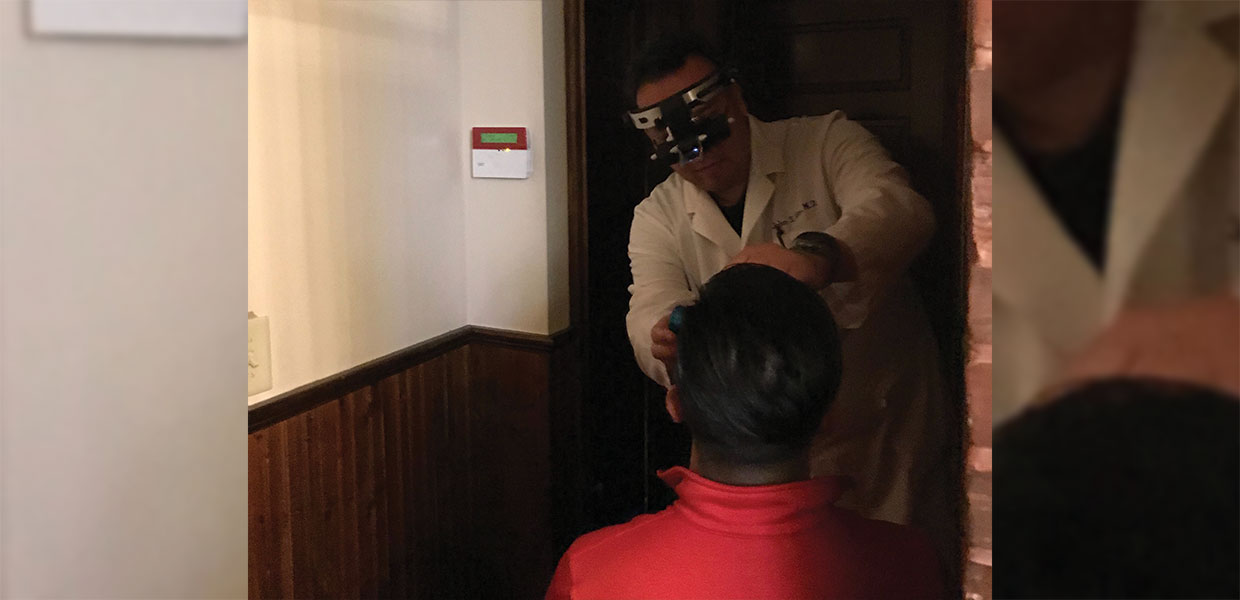 Each patient went through the eight stations, and upon completion could select two additional stations, including an optometrist.
Submitted by: Sylvia Knoch
When you have a heart for service, stand back and see what God can do. This is the 12th year members of the Hixson, Tenn., Church have served the homeless in Chattanooga, Tenn. Each year they come away saying, "What more can we do to help these people?"
Hixson Church's little program has definitely mushroomed into an amazing outreach for the community. For the past 12 years they partnered with the Olivet Baptist Church, as they have graciously let them use their fellowship hall for the Christmas program. This year, though, when asked if their fellowship hall would be available for December 17, 2017, the response was, "We can next year, but this year it is not available."
After getting to know the different churches downtown, and after much prayer, God led them to a facility that is rented out for business events and weddings. When the venue manager heard what the church wanted to do, he let them use the hall.
Members also reached out to the Community Kitchen as well as the Family Center to take pre-registration for a medical clinic. They were so excited to hear of a program offering medical services. There is much need.
Transportation was also arranged to bring women, children, and those who could not walk well to the program. CARTA donated 50 bus passes.
Church members invited chef Mark Anthony to create a healthy vegetarian Christmas dinner for all. Internationally known singer Charles Haugabrooks provided the entertainment, and guest speaker Eric Flickinger from It Is Written provided an inspirational message.
The medical clinic was coordinated by Charinette Guerrero, a recent nurse practitioner graduate from Southern Adversity University. Hixson members joined forces with the Collegedale Korean Church and their team of 11 doctors and 30 volunteers. Based on the New Start program, they conducted a "Mini Pathways to Health for the Homeless of Chattanooga."
Patients were greeted with warm, friendly smiles to offset the weather, which was 32 degrees — cold and rainy. Each one was handed a clipboard to register and provide a brief medical history for the doctors to review. They were also asked ways that the church might be of help to them, including if they would like Bible studies.
Each patient went through the eight stations, and upon completion, could select two additional stations, including dentistry, pediatrics, optometry, a haircut, massage (foot or chair), pain management, or an internist.
The medical clinic served 115 patients, and the team received 12 requests for Bible studies. Praise God! At the end of the clinic, they offered a Christmas program with a warm meal and amazing music. Each guest was given a backpack filled with blankets, gloves, hats, personal items, and food. They served more than 250 people.
They feel very blessed, and are talking about another medical clinic in the spring or summer this year.
Georgia-Cumberland | February 2018