By Patricia Reynolds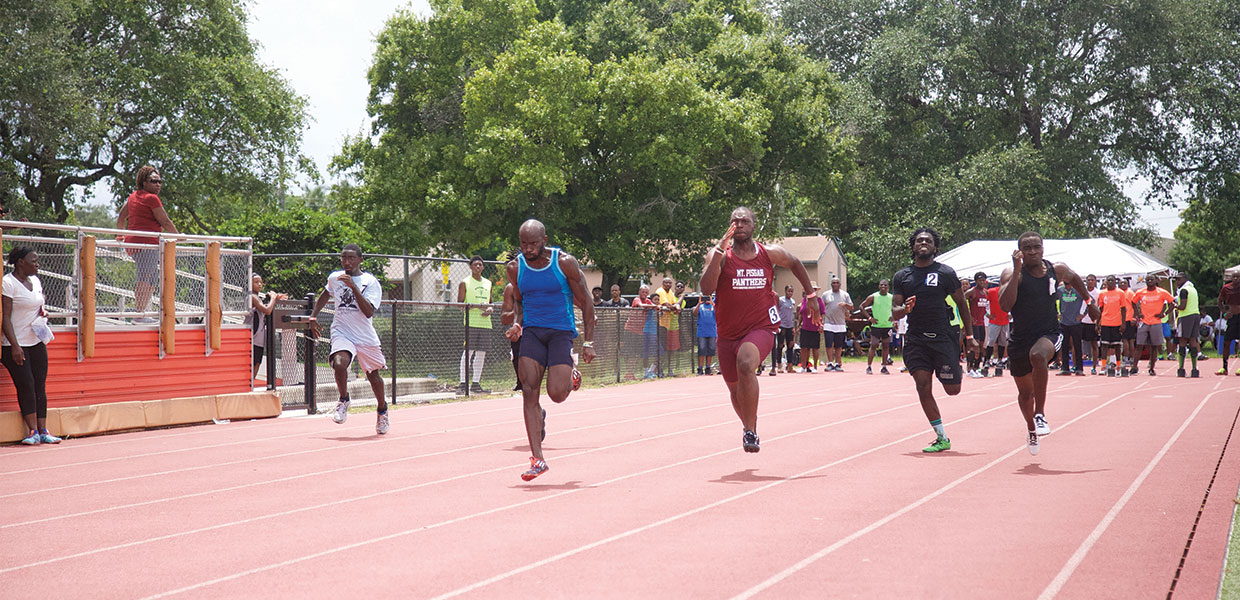 Participants in the 100-yard dash race to the finish during the SoFlo Olympics. Track and field events ranged from shot put to sack races. This is the seventh year of the Olympics.
C.C. Thompson
South Florida Adventist Games is a weekend event which takes place annually in July. Hosted by several churches, the weekend includes worship services, health seminars, a track and field competition, and health expo. Sabbath services featured worship and a short series of sermons on the theme of overcomers and victory, delivered by Nigel Lewis, D.Min., of New Life Church in Brooklyn, N.Y. Sabbath evening worship focused on family life, and included breakout sessions geared to reach different groups, and a health seminar by Fidel Goldson Jr., PT, DC, from Goldson Spine Rehab Center. Goldson shared keys to keeping the athletes safe and injury free on Sunday. Sabbath activities were concluded with an evening concert.
Sunday's events hosted more than 1,000 people, and included a health expo and athletic events for ages five to 75, that ranged from the shot put and 100-yard-dash, to sack race, three-legged race, soccer, volleyball, and basketball, all held at the Joseph C. Carter Park in Fort Lauderdale, Fla.
The event also featured a prayer tent, where members prayed for and with participants. Local vendors provided free giveaways for attendees. Medical missionaries Peter and Sheila Roesler hosted free vegetarian cooking classes. There was also a "kids zone," with large bounce houses, games, and treats for children.
SoFlo promotes strength of spirit, soul, and body. It was begun with a burden to help area churches fellowship more, and adopt healthy lifestyles. Seven years later, they're doing just that.
Southeastern | October 2017