BY TAMARA WOLCOTT FISHER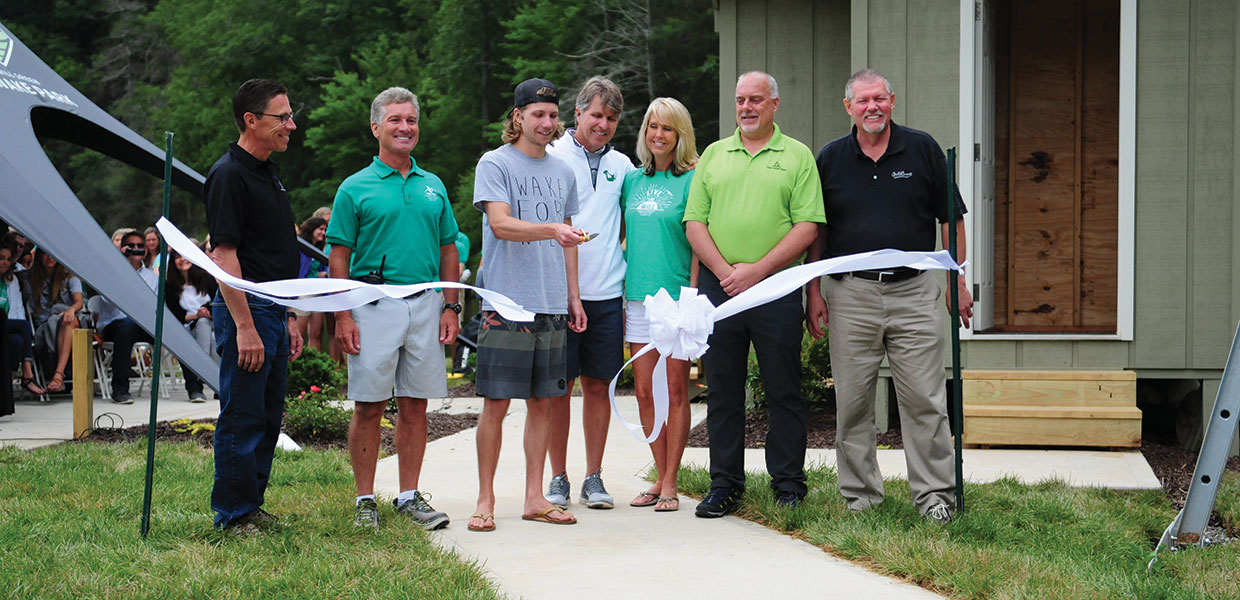 Matt Green, brother of Will Green, cut the ribbon for Will Green Wake Park at Cohutta Springs Youth Camp, Sunday, June 25, 2017. With his parents, Scott and Jennifer, Matt is happy campers will know about Will through the Wake Park. Pictured are Ed Wright (left), Conference president; Rob Lang, Cohutta Springs Youth Camp director; Matt, Scott, and Jennifer Green; Kurt Allen, Conference treasurer; and Gayln Bowers, Cohutta Springs Conference Center executive director.
Tamara Wolcott Fisher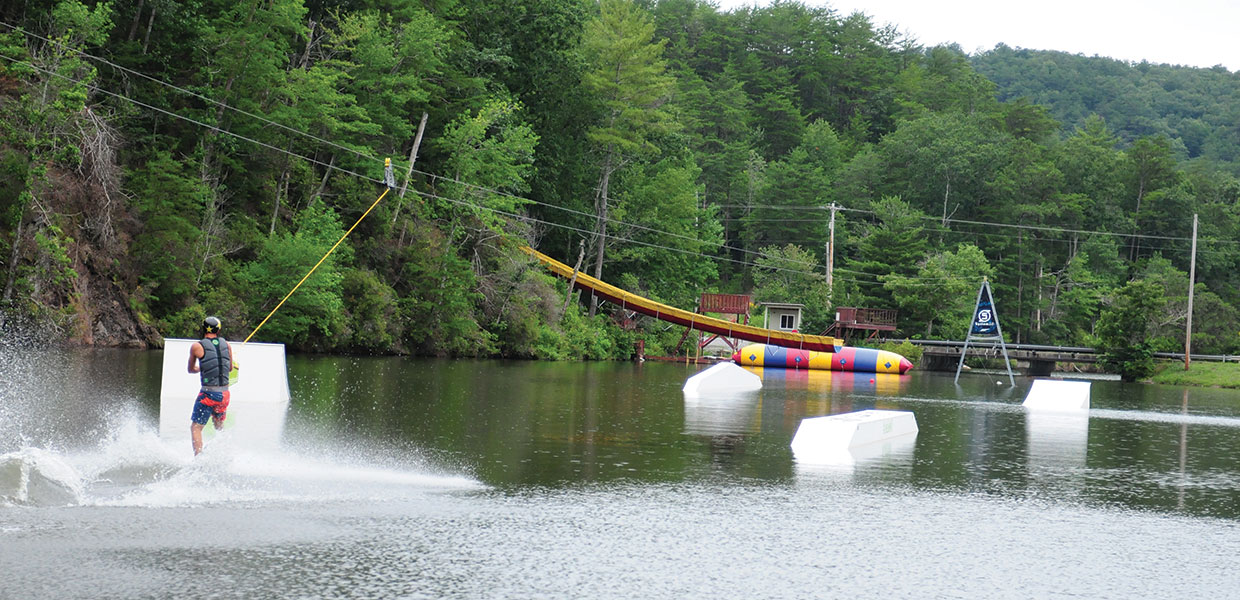 Reed Hansen, friend of Will Green, and eight-time World Wake Skate champion, was one of the first to ride the Will Green Wake Park along with Matt Green.
Tamara Wolcot Fisher
Will Green's favorite Bible text lives on in his legacy: 2 Timothy 1:7 says, "For God did not give us a spirit of timidity or fear, but a spirit of power, of love, and self-discipline."
Friends, family, and camp staff from Cohutta Springs Youth Camp in Crandall, Ga., gathered Sunday, June 25, 2017, for the grand openning of the Will Green Wake Park. Everyone came to honor the memory of this special, God-fearing young man.
The idea for a wake park originated with Green, and Rob Lang, Cohutta Springs Youth Camp director, added it to the camp wish list. Following Green's memorial service, Martin Stiles offerd to make a generous donation to help get the ball rolling to build a wake park in Green's honor.
A wake park is basically a way to wakeboard without a boat. The wakeboarder's rope and handle are attached to a remote control motorized cable that circles two pulleys at each end of the park. Along with two jumps and two rails, the wake park at Cohutta Springs Youth Camp includes a new building to store equipment and house the sophisticated technology that operates the electric motors, new docks, a concrete patio with a large canopy area with tables and chairs, landscaping, and customized signage sharing Green's values and spiritual goals.
Donors were more than generous providing funds to support the project, according to Lang.
"More people are going to hear Will's name and know it's cool to love Jesus," said Jennifer Green, Will's mother and member of the Markham Woods Church in Longwood, Fla., who was excited to talk about the project. "And, because Rob so generously let us share what is means to live like Will on the signs along with the link to the website (www.LiveLikeWill.today), Will's light will keep shining for Jesus as people read how he radically lived to glorify God."
Matt Green, younger brother to Will Green and a second year dental student at the Loma Linda University School of Dentistry, said, "It is so awesome! Will envisioned this wake park and talked to me about it a bunch of times." Matt Green said the wake park makes it easier for campers to learn how to wake board. It is easier for them to get back up because it has more of an upward pull, and with the remote control there is less time wasted waiting for the boat to circle back into position.
Matt Green, like his brother, spent time working at Cohutta Springs Youth Camp. He said, "It just means a lot. It is really cool. Will's heart was at camp. This is where a lot of kids get to know Christ. It is just really awesome Will can still be able to impact people."
Lang is grateful to the generous donors who partnered to complete this project. "Will Green lived an exceptional life. Scott and Jennifer Green are amazing parents who raised such a faithful son. Will's faith and values will now continue to be a witness and to inspire young and old alike until Jesus comes! He was a real champion for God," said Lang.
Georgia-Cumberland | August 2017