Jennifer Audette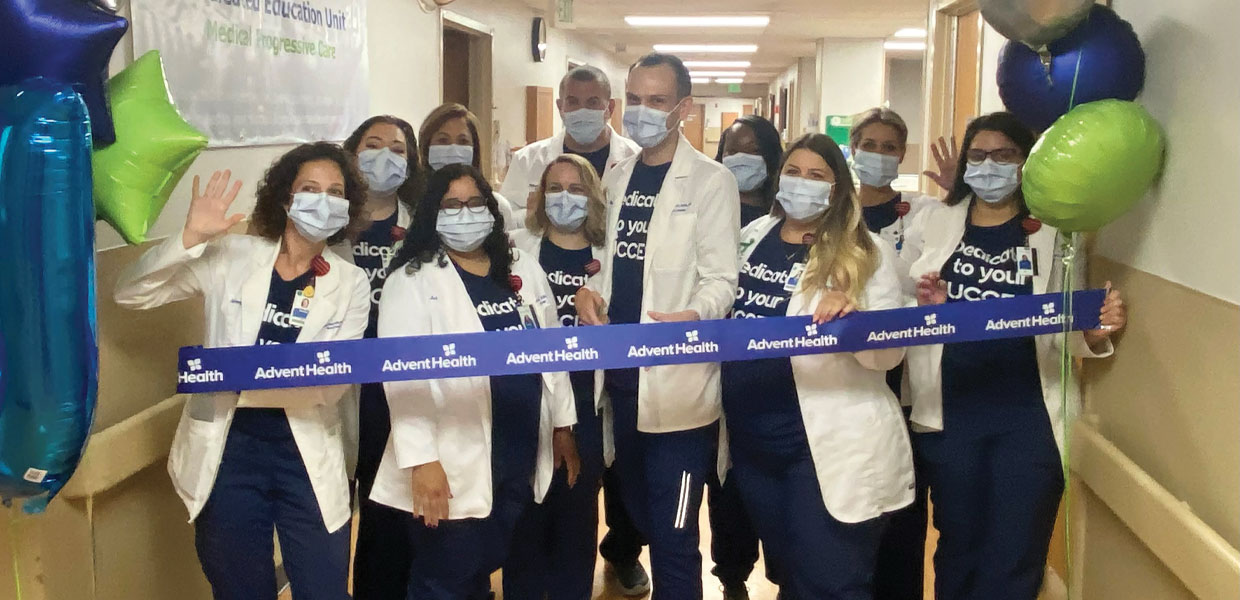 A scavenger hunt is not a bad way to start off the fall term as a college senior seeking your bachelor's degree in nursing.
Twenty-four AdventHealth University nursing students completed their second week of a clinical training course on AdventHealth Orlando's first Dedication Education Unit (DEU) in the Multisystem Progressive Care Unit. The scavenger hunt was a fun, first-day exercise to show the students their way around patient rooms, offices, and supply rooms. This new DEU, the third of its kind opened by AdventHealth, is part of an effort to ensure a safe, efficient, and seamless transition from nursing student to employed nurse.
"At AdventHealth University, we want our nursing students to feel completely comfortable and confident in a clinical setting," said Juli Fryer Daniels, dean of nursing at AdventHealth University. "We are so grateful to collaborate with AdventHealth to enhance the ways our nursing students and nurses learn, mentor, and support one another."
From a pool of 12 applicants, Advent- Health Orlando selected five nurses as DEU preceptors, allowing for a 1:2 ratio of preceptor to nursing students. AHU clinical faculty members play a vital role in mentoring the DEU preceptors in their roles as nurse educators.
"As a nursing graduate of AdventHealth University, I know how important the transition to practice is for nurses," said Britney Benitez, vice president and chief nursing officer for AdventHealth Orlando. "We want all of our nurses, from first-year nurses to nursing leaders, to excel and have as few barriers as possible to provide uncommon compassion to patients and their families."
Students will train on the DEU during one of three 12-hour shifts each week of the fall trimester, part of the course's clinical requirements.
Currently, 80% of AHU's nursing graduates go on to work at AdventHealth. Through each of the DEU programs, AdventHealth is hoping to increase the number of nursing graduates it employs from AHU and other local nursing schools. The first DEU opened in spring 2022 at AdventHealth Waterman in Tavares in collaboration with Lake-Sumter State College, and the second one opened in August 2022 at AdventHealth Winter Park in collaboration with Seminole State College.
The DEU at AdventHealth Orlando is one of several initiatives underway at AHU that will augment AHU's vital role in the workforce pipeline, including increasing nursing student enrollment, adding pathways to earning a nursing degree, and accelerating nursing curriculum timelines.
AdventHealth University | December 2022