by Angi howell and
tamara wolcott watson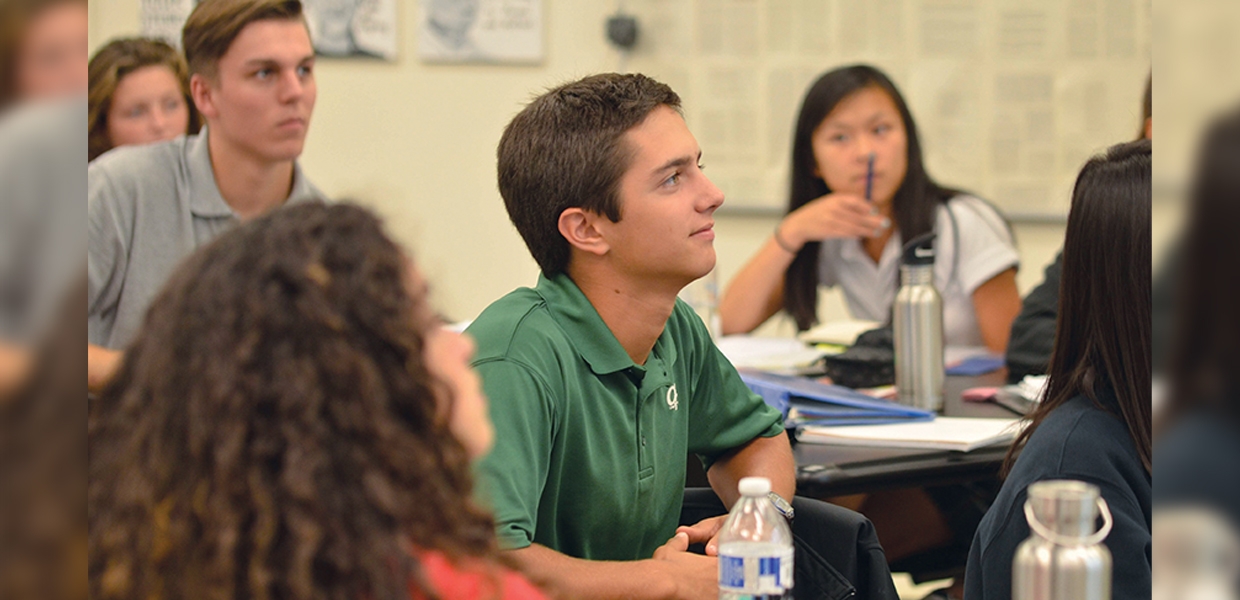 Ryan Howell, 2020 Collegedale Academy senior, is a National Merit Scholarship recipient, making him eligible for numerous college scholarships.
Submitted by: Angi Howell
Ryan Howell and Tyler Vaudreuil, both Collegedale Academy seniors, used to voluntarily go to downtown Chattanooga, Tenn., to pray with anyone who desired prayer on Sabbath afternoons.

Submitted by: Angi Howell
Collegedale Academy (CA) is proud to announce that a class of 2020 senior, Ryan Howell, has been awarded the honor of being a National Merit Scholar.
"This honor takes a lot of hard work and academic skill to accomplish. Ryan is the first National Merit Scholar we've had in a number of years," says Brent Baldwin, CA principal. "Additionally, Ryan is involved; has a genuine, helpful spirit; and aims to be a friend to all."
Howell notes that his goals in high school included to be involved in as much as possible, in addition being engaged in class and keeping his grades high. "My sister was my 'crash course' for high school. She went through it all two years ahead of me, and she taught me the tricks of the trade. One that she emphasized above the rest was that I needed to keep my GPA high, so, with some gentle, pointed encouragement from my parents, I did. My sister also encouraged me to get involved, which may've been the most important thing I needed to hear. I tried just about everything Collegedale Academy has to offer, and I loved almost all of it. I joined groups I never imagined I'd be interested in, but they became some of my favorite parts of school. My high school experience would've been drastically different if I hadn't been encouraged to try a bit of everything."
Incredibly, Howell shares that he's always enjoyed taking standardized tests. "It's fun! It's a constant 'go, go, go,' and I'm energized when I find the right answers. My mind feels like it's working a mile-a-minute, and a part of it is just enjoying the rush."
To qualify to be a National Merit Scholar, a student must pass the PSAT with a certain score. Collegedale Academy provides the PSAT to all sophomores. If a high enough score is obtained, a student is invited back to take the PSAT again. Many juniors at CA are regularly invited back and opt to take the second PSAT test. When the second set of national PSAT scores are compiled, there is a threshold score in each state that qualifies a student to be selected as a National Merit Semi-Finalist. Next, the student applies to the National Merit organization and submits his or her ACT/SAT score, and the student's school submits a recommendation noting his or her academic history and student involvement. Students are notified in February of their senior year if they have obtained the honor.
Many colleges across the nation view this achievement as "scholarship worthy." Most National Merit Scholars have the opportunity to have at least their tuition and general fee covered by a scholarship at a large number of universities across the nation.
Howell applied and was accepted to several colleges and chose to attend Southern Adventist University, where he plans to study chemistry with a computer science minor, potentially pursuing a path to medicine, to chemical engineering, or "through other doors God opens."
Howell reflects on many parts of his life that aided in his achievement, a significant one being his family. "My parents made sure both my sister and I were on top of our studies, as well as encouraged and allowed us to pursue extra things in our lives — spiritual activities, music, sports, acting, student leadership, etc. The main determinants on how much we could do were our grades and attitudes. Our parents made sure we had our priorities in line, and, without them, I would've lost myself in everything I wanted to be a part of."
Georgia-Cumberland | September 2020