GWEN WOLFF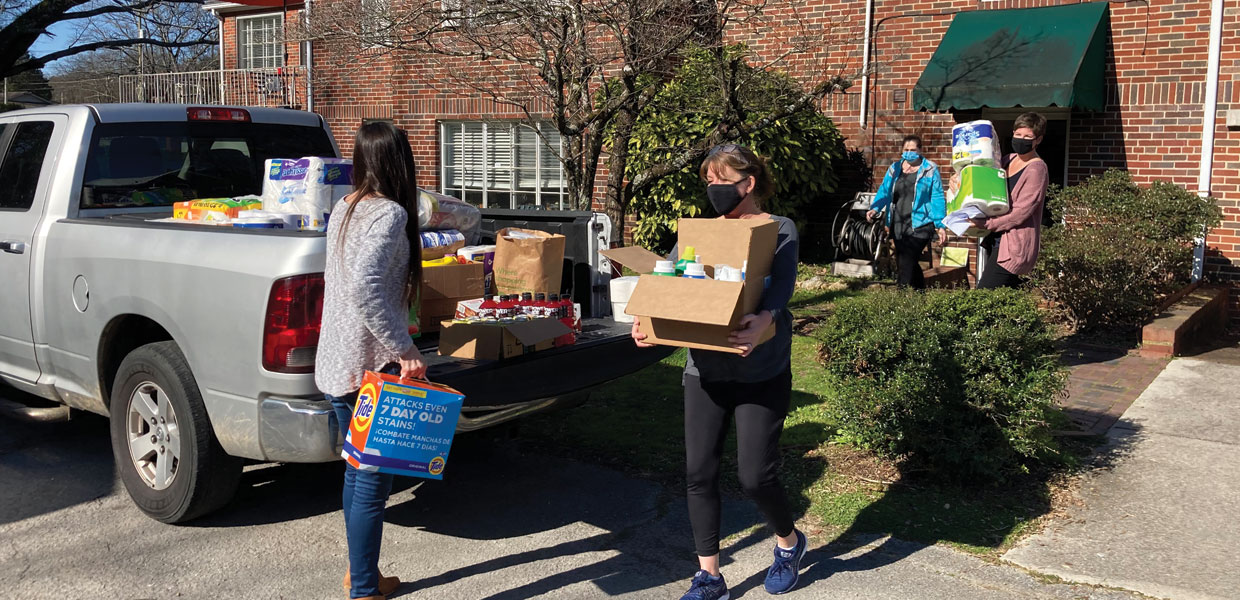 Collegedale Community Church members drop off donations at the Welcome Home of Chattanooga. From left are Gwen Wolff, Collegedale Commuunity Church member and event organizer; Sherry Campbell, director of Welcome Home of Chattanooga; Michelle Goble; and one other Welcome Home of Chattanooga staff member.
Submitted by: Gwen Wolff
Gwen Wolf, a member of the Collegedale Community Church in Collegedale, Tenn., and her team decided to seek out ways to help active local charities.
In February they decided on two organizations to collect items for, including the Chattanooga Room in the Inn, a residential program for homeless women and children, and Welcome Home of Chattanooga, an organization that provides shelter and loving care to the homeless and those who are suffering from a terminal illness, often partnering with local hospice for medical care.
The church members' chose to have a month-long collection campaign. They began by having some of the team's children attach wish lists of needed items to brown paper bags. The kids then handed out the wish list brown bags to church members at the conclusion of services.
During the month-long campaign, people would return their filled bags to the church lobby. Most of the items collected were typical things that could be purchased during a grocery shopping trip. People also had the opportunity to donate funds if they preferred.
Wolf had been praying for the Holy Spirit to lead in this ministry, and said "… never could I have imagined the outpouring of support we would end up receiving from our church!"
The Collegedale Comunity Church members were very generous in their donations. Several truckloads of items were delivered, and a monetary donation went out to Welcome Home of Chattanooga, Y-CAP, and Chattanooga Room in the Inn from the funds contributed. Some church members have even started volunteering at these organizations.
Wolf had church members comment sharing that they believe this is what the church should be doing. Other said to let them know if more assistance is needed. People were excited to be involved!
Additionally, the church's quilting ministry stepped up to make quilts for Welcome Home of Chattanooga's beds, and a couple brought in two boxes of handmade hats, scarves, and pillow covers for the homeless.
Wolf recently spoke with the employees at Welcome Home of Chattanooga as well as the Chattanooga Room in the Inn during item drop-offs, and they were both very grateful for the generous support.
Georgia-Cumberland | June 2021