by Carole Verrill and Sherrie Williams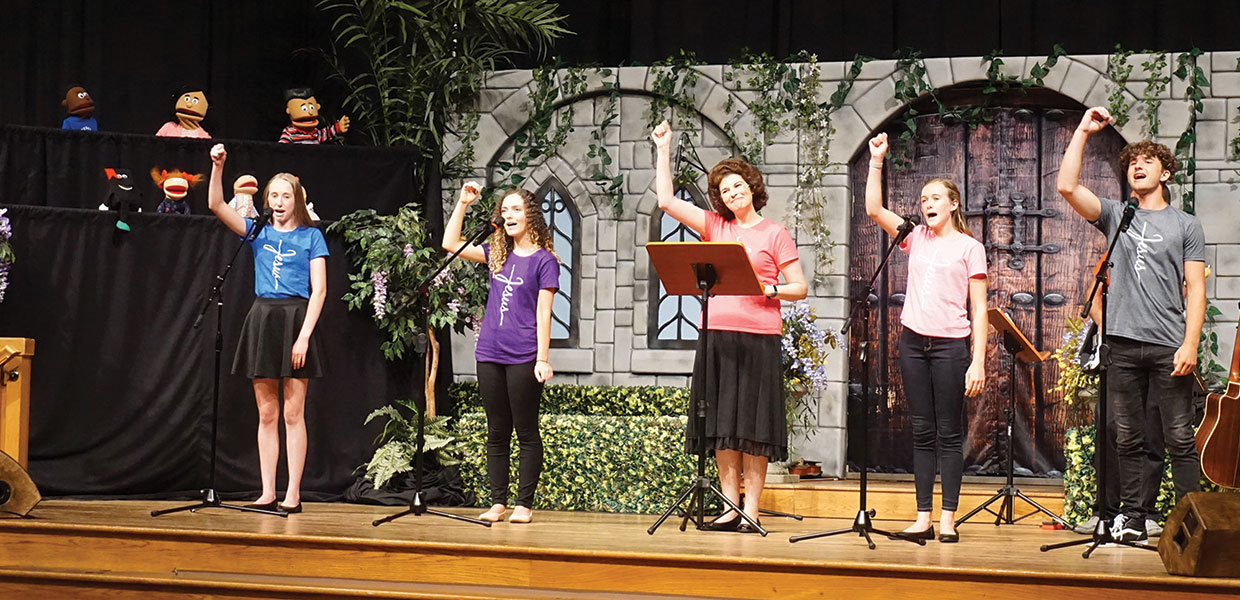 Carole Verrill (center), children's ministries pastor at the Collegedale, Tenn., Church, helps lead song service during their virtual Vacation Bible School.
Submitted by: Sherrie Williams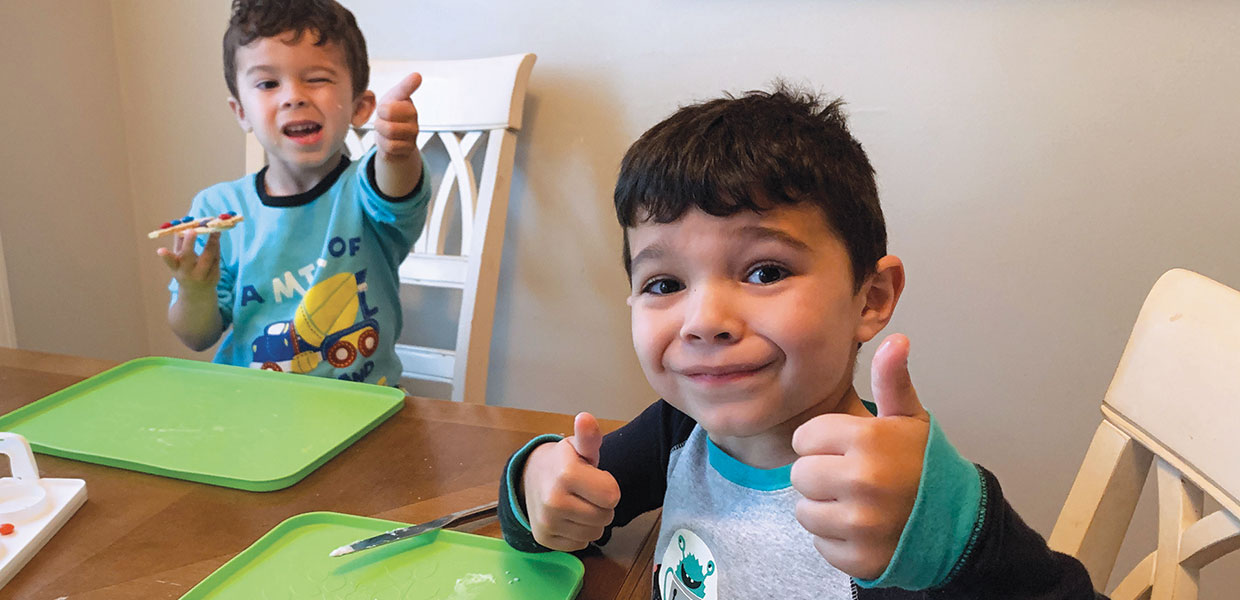 Children from across the Chattanooga, Tenn., area enjoyed the virtual Vacation Bible School. These two even gave it a thumbs up.
Submitted by: the Collegedale Church
These are strange times we live in, but even so, we find ways to adapt and overcome. That's exactly what the Vacation Bible School (VBS) team did at the Collegedale, Tenn., Church.
Plans had been underway since before Christmas for this summer's Knights of the North Castle VBS. Tim and Selena Trott had already spent hours working on props and backgrounds when COVID-19 stopped the world and everyone hunkered down to see what the future held.
The Collegedale Church and VBS team realized the importance of their kids, and began working on offering a virtual VBS, tone hat not only the church family could participate in, but one that anyone around the world could tune in to. The theme changed to Super Heroes of the Bible, and the Knights of the North Castle VBS will be used next year.
Children could participate from home as they sang songs and learned life lessons from the Bible super hero of the night and the puppet skits and songs. A grocery list for the edible crafts was provided the week before VBS, and kids watched as the crafts were demonstrated from the VBS kitchen. Each evening they met a different Bible super hero, including the following:
Joseph, with his God given Super Power of Forgiveness
Esther, with her God given Super Power of Courage
Daniel, with his God given Super Power of Integrity
Mary, with her God given Super Power of Trust
And Jesus, who is the originator of ALL the Super Powers, with the focus on His Super Power of Love.
The main scripture text for the week was 2 Timothy 1:7 NIV, "For the spirit God gave us does not make us timid, but gives us power, love and self-discipline."
This focus remindeds everyone that God is with them always, just like He was with the Bible super heroes, through the good times and the difficult times.
The highlights of the week for the VBS team were seeing the video clips and pictures that were sent in by so many of the children and families watching and participating in the Super Heroes virtual VBS program. God sure made sweet, delicious lemonade out of the lemons and blessed this church family and community with a VBS ministry week that shone for Him.
If you would like to watch the Super Heroes VBS, it is available at https://livestream.com/collegedalesdachurch/ad2.
Following are some responses from VBS:
Cason, age 10: "It's a nice way to come together to worship God even though we can't be together at this time."
Delia, age 8: "I love the songs, especially when we sing ones I learned at VBS other years."
Silas, age 5: "It's great! I love all of it."
Rylie, age 9: "Even though I miss being with my friends at VBS, I'm still having fun with online VBS. My favorite thing is the craft time. It's fun to eat them!"
Aliya, praise team: "When I get up on the stage, I don't get up there for myself; I get up there for the kids. I get up there for the smiles, but mostly I get up there to see the true God-loving children that are there. When you're up on that stage, you are waiting for that moment when you see the joy and happiness shining off those kids' faces. You long to see that moment when a kid realizes that their God is truly awesome. And this year … we don't get that. It's hard to sing when you can't see the kids. But, I try to remember that they are still there, still shining, still smiling, still loving their awesome God."
Georgia-Cumberland | August 2020