BY Vel Pye McKenzie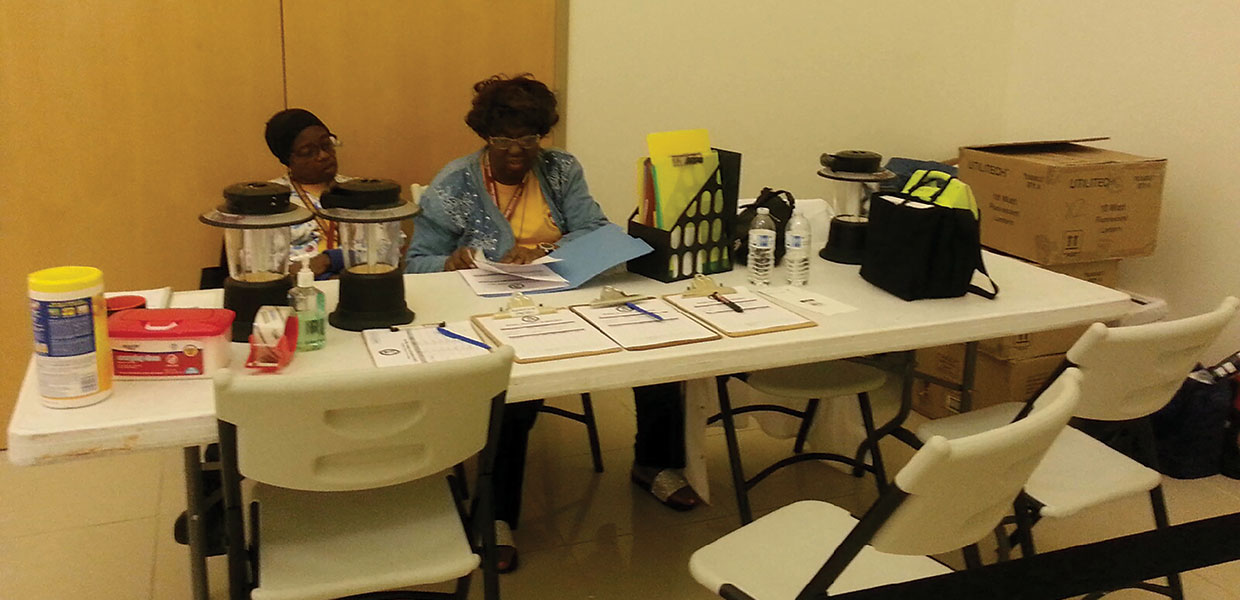 Disaster response volunteers Clementine Duncan (left) and Marilyn McNeely-Williams are stationed to register evacuees. The shelter housed 30 families during Hurricane Irma.
Natalie Wood
Southeastern Conference opened its doors to Conference constituents as well as residents of Hawthorne and Palatka, Fla., and the surrounding communities on Saturday, September 9, 2017. Under the leadership of Southeastern's president, Gregory O. Mack; the ACS disaster response director, David Peay; and the Southeastern disaster response coordinator, Ella Thompson, Southeastern welcomed 11 families on day one, and 19 families on day two.
Keeping with the mission and vision of the Southeastern Conference, "Sharing Hope, Restoring Wholeness," they demonstrated this by providing shelter and meals to evacuees. Thompson responded to these efforts saying, "There was a loving and compassionate spirit at all times. The clients were the kindest people that I have served! Meal time was fun, and quiet time was quiet. I truly enjoyed operating this temporary shelter and would do it again."
Although Irma tried to cause disaster, the disaster team expressed they felt that God was diligently looking after His people. Evacuees took shelter in the campground main pavilion and the campus dining hall. Every participant returned to their homes after the storm passed with no major damage to the campground, and without having lost electricity for any amount of time. As a result, the shelter closed earlier than anticipated. The team gives God the glory!
The Southeastern Conference disaster response ministries team is ready and waiting on their next call to share hope and restore wholeness throughout the Southeastern territory.
Southeastern | December 2017