BY tyler Roberts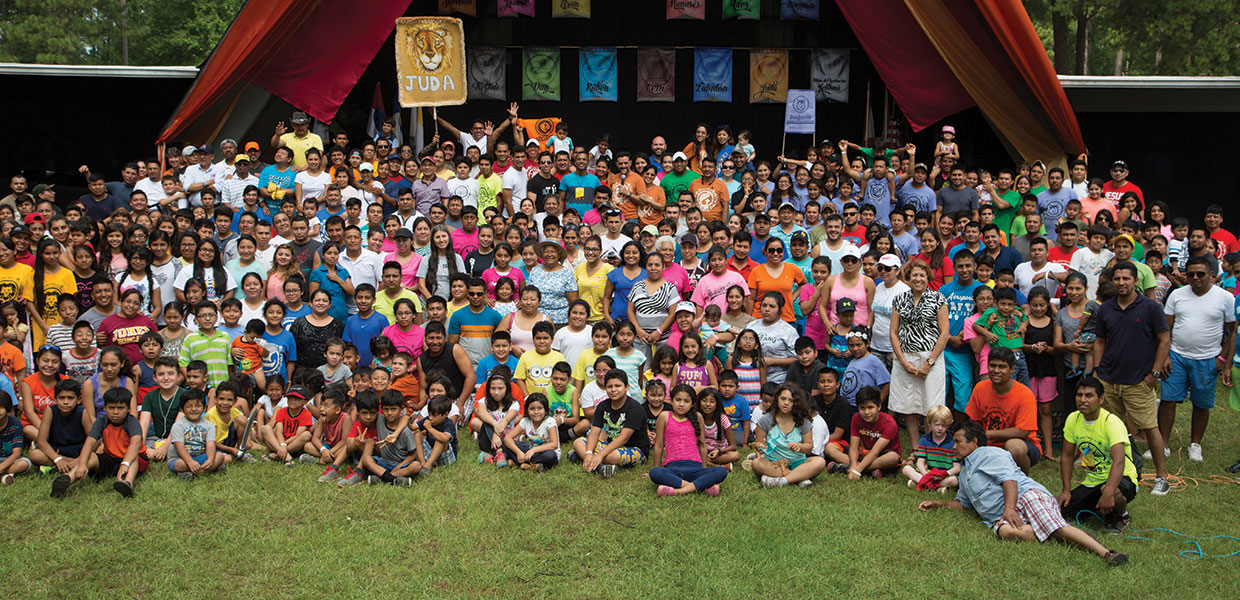 The Hispanic Camp Meeting was held during the 2016 Labor Day weekend.
Tyler Roberts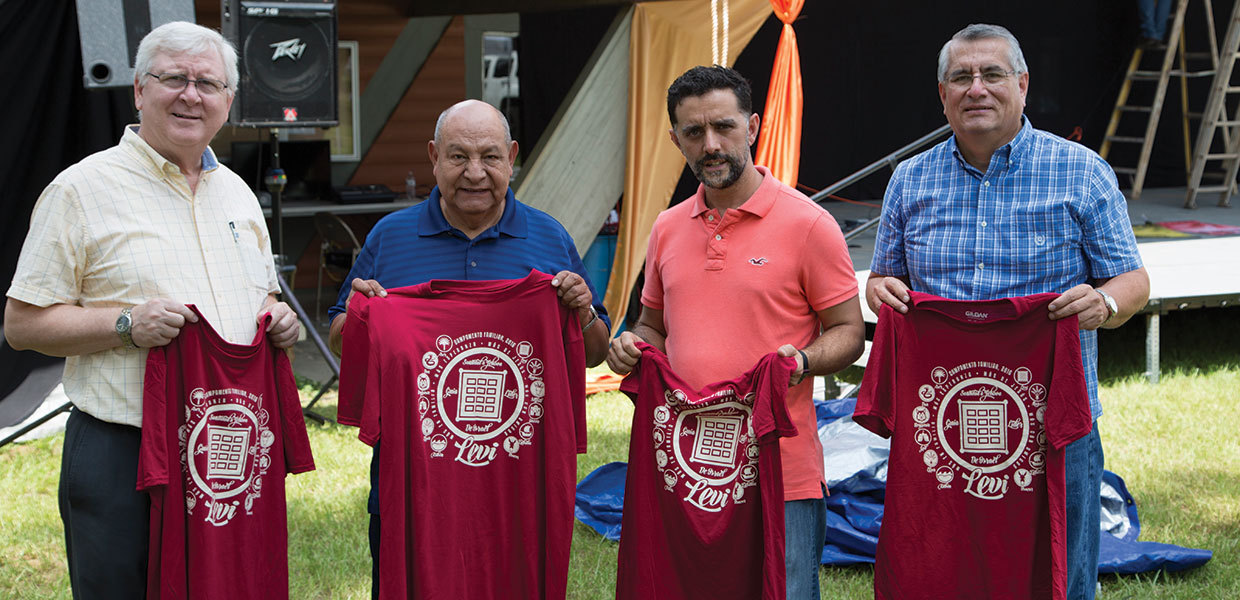 Jorge Mayer (left), Southern Union Hispanic ministries director; Alejandro Bullon, international evangelist; Nilton Garcia, Gulf States Hispanic ministries director; and Ruben Merino, Esperanza TV director, pose with shirts designed for the Hispanic Camp Meeting.
Tyler Roberts
More than 1,000 church members pitched their tents at Camp Bianchi in Meridian, Miss., for the Hispanic Camp Meeting during the Labor Day weekend, September 2-4, 2016. The theme was "Mas Esperanza" — More Hope. The campers were separated by "tribes," each tribe representing a church in the Conference.
Before dawn each day, a group of prayer warriors pleaded for the presence of the Holy Spirit to be in the camp, and that all would be blessed with good weather. Both prayers were answered. About 1,350 registered for the weekend, and more than 1,600 attended the services on Sabbath, accompanied by mild, sunny weather. The main speaker for the weekend was Hispanic evangelist Alejandro Bullón. Bullón preached from Isaiah 53 about the sacrifice of Christ, and how His blood cleanses all. There were 44 baptized that day bringing the total number of baptisms for the summer to 257 for the Hispanic Department.
In addition to the presentations and powerful messages, the Messiah's Mansion exhibit was on display the entire weekend. The life-size replica of the Sanctuary in Moses' day was presented with clarity and insight, shinning new light on Jesus' place in the Sanctuary, as well as the Plan of Salvation. The children were blessed with their own version of the Sanctuary service, presented to about 300 children. Saturday evening there was a bonfire for the young people, and a mini concert. Sunday morning, after Jay Rosario, pastor, presented a worship thought, the churches participated in a fun day/olympic games. The winner with first place was the tribe of Zebulon, representing Foley Hispanic Church in Alabama. Second place was the tribe of Judah, representing churches in Hattiesburg and Jackson, Miss. Third place was the tribe of Issachar, representing churches in Laurel and Waynesboro, Miss.
There was so much fervor and excitement about the Word of God that weekend. The goal for the Conference is to baptize 600 souls by the end of the year, and so far 445 have been baptized! Nilton Garcia, Conference Hispanic ministries director, attributes the success not to the meetings or the work of man, but the work of the Lord, and His grace toward Gulf States. God is doing amazing things in this Conference. Please continue to pray that the Holy Spirit will lead the workers into greater ministry.
Gulf States | November 2016