BY Shane Hochstetler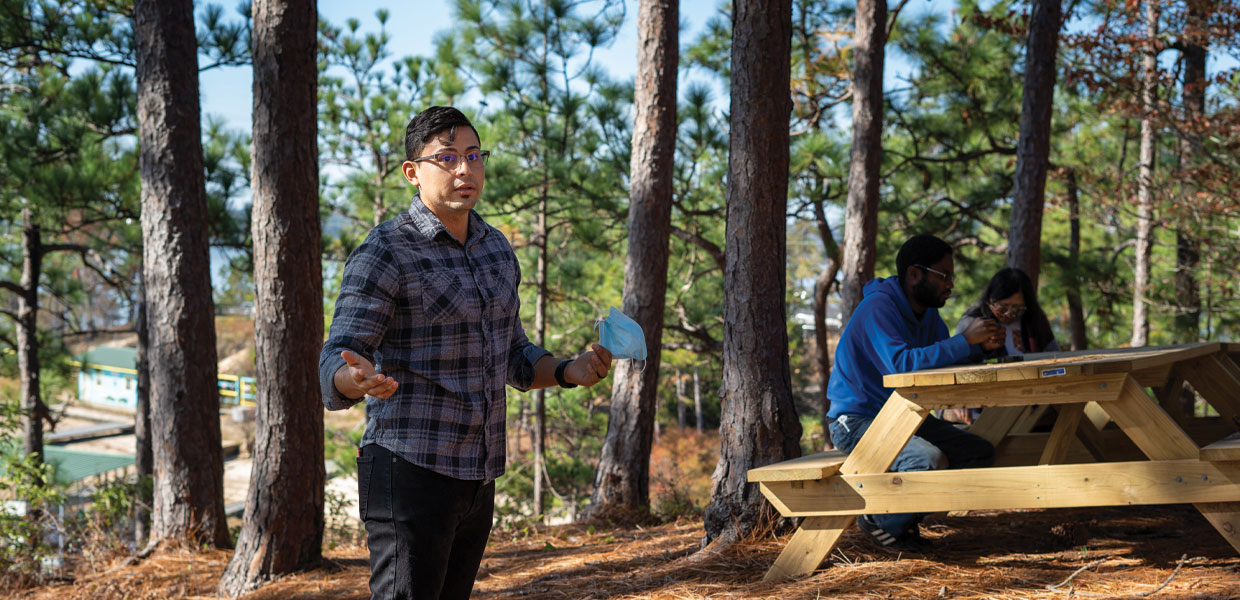 Holding in-person events has been a challenge in 2020, but one of the groups that have been needing it most is young adults. It might seem odd that those who may be considered digital natives would be the ones that want face-to-face interaction, but they do. This need led Josue Sanchez, youth director of Gulf States, and Ricky Woodruff, young adult coordinator of Gulf States, to arrange a weekend getaway at Camp Alamisco in Dadeville, Ala. All necessary precautionary measures were in place, such as distancing at all times and mask-wearing while indoors. The event was made available at no cost to the participants, including three meals and an overnight stay in the newly renovated rooms. "We want this to be an opportunity for you to recharge spiritually," said Sanchez as he addressed the group.
The weather couldn't have been better for the dozen or so attendees. The cool evening was well-balanced by a campfire on Friday night, and the partly cloudy Sabbath day allowed for worship outdoors and a relaxed canoe ride in the afternoon. Woodruff offered the evening devotional on Friday and encouraged the group with Nutella's origins story as a product that came from adverse conditions. Similarly, despite the difficulty of 2020, God has something good to make from this experience. On Sabbath, Sanchez directed the group in an exercise he experienced as a theology student, reading a passage of scripture, then imagining themselves in the story as one of the characters. After some time walking in nature, everyone was invited to share their thoughts on this particular story of Jesus. Each person took a different perspective, and in sharing their own experience, it broadened the impact of the passage.
Todd and Shelley Ward, camp ranger and food service director, enjoyed the opportunity to cook for a smaller group and to try new variations of recipes for the young adult group. As experienced cooks, their experiments were a delight to everyone who tried them.
The weekend was relaxed as promised, and feedback from the attendees was positive. Many exchanged contact information and are looking forward to continued fellowship and friendship following this event.
Gulf States | January 2021