Esmeralda Guzmán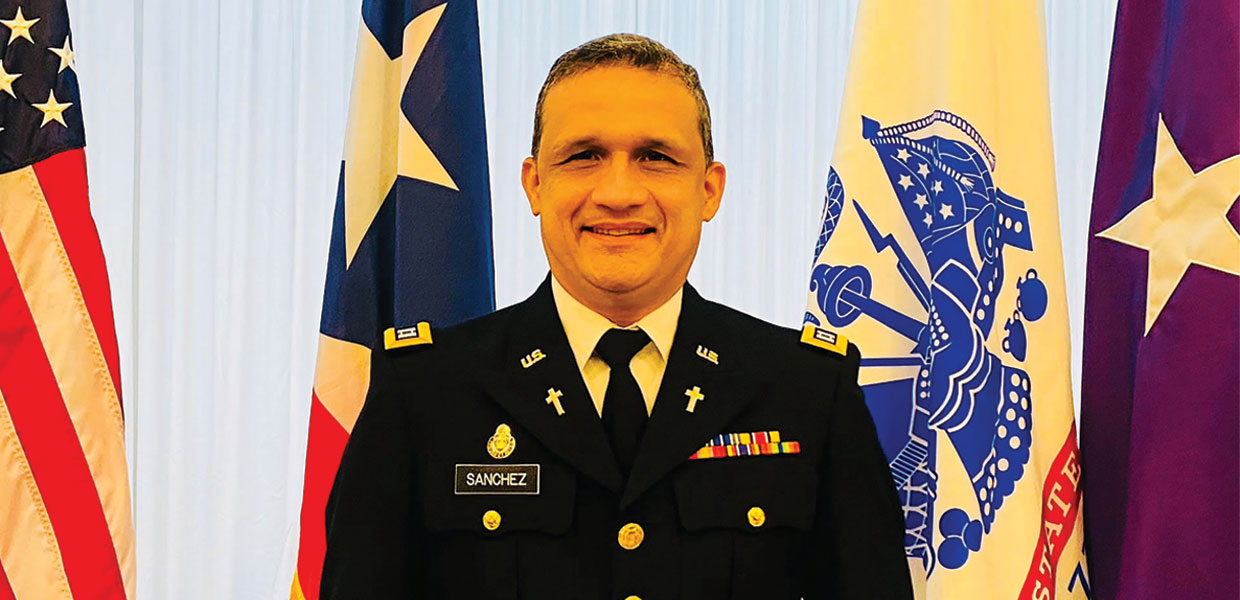 Freddy A. Sanchez, D.Min.
Freddy A. Sanchez, D.Min., was commissioned into the U.S. Army with the rank of second lieutenant in April 2010, as a candidate for chaplain at Ft. Buchanan, Puerto Rico. In 2011, he completed the Chaplain Basic Officer Leadership course. In 2020, he completed the Captain Career course in Ft. Jackson, S.C. During 2021, he has been the specialized instructor as family life for military families, combat support training, security and national defense, and anti-terrorism. Sanchez has been part of special units of the Army, such as Combat Support Unit, Instructor Unit, Operations and Intelligence Unit, and Engineering Unit at the battalion and brigade levels.
He has been recognized with the Army Service Medal, Army Achievement Medal, Army National Defense Service Medal, War on Terrorism Service Medal, and Army Reserve Component and Achievement Medal. He received the rank of major in South Dakota on June 11, 2021, in the midst of joint training with the National Guard. He was recently called to participate in a military humanitarian mission, based in Kuwait, to support the Middle East Region as a chaplain of the 448th Engineering Unit — First Mission Support Command who are based in Puerto Rico.
Sanchez is an ordained minister, and endorsed as an Army chaplain by the General Conference. He is currently a pastor in the Southeastern Conference for the district of Immanuel and Renacer churches. He also serves as a chaplain (major) in the U.S. Army Reserve.
During his 25 years of pastoral ministry, he has specialized in ecclesiology, missiology, strategic planning, leadership, discipleship, church planting, chaplaincy, and youth. He is the author of two books, Becoming a Missional Church and The Pathfinders Club … More Than a World of Adventures, the latter published in four languages — Spanish, English, Portuguese, and French. His passion is to see the Church grow in a missional way to advance the Kingdom of God.
He is happily married to his sweetheart, Celeste, and they are blessed with two children, Mariddy Celeste and Freddy Anmiel.
The Southeastern Conference family is praying for a successful, safe, blessed journey as he shares God's love, and ministers to men and women with a message of hope and wholeness in Christ!
Southeastern | December 2021