Shane Hochstetler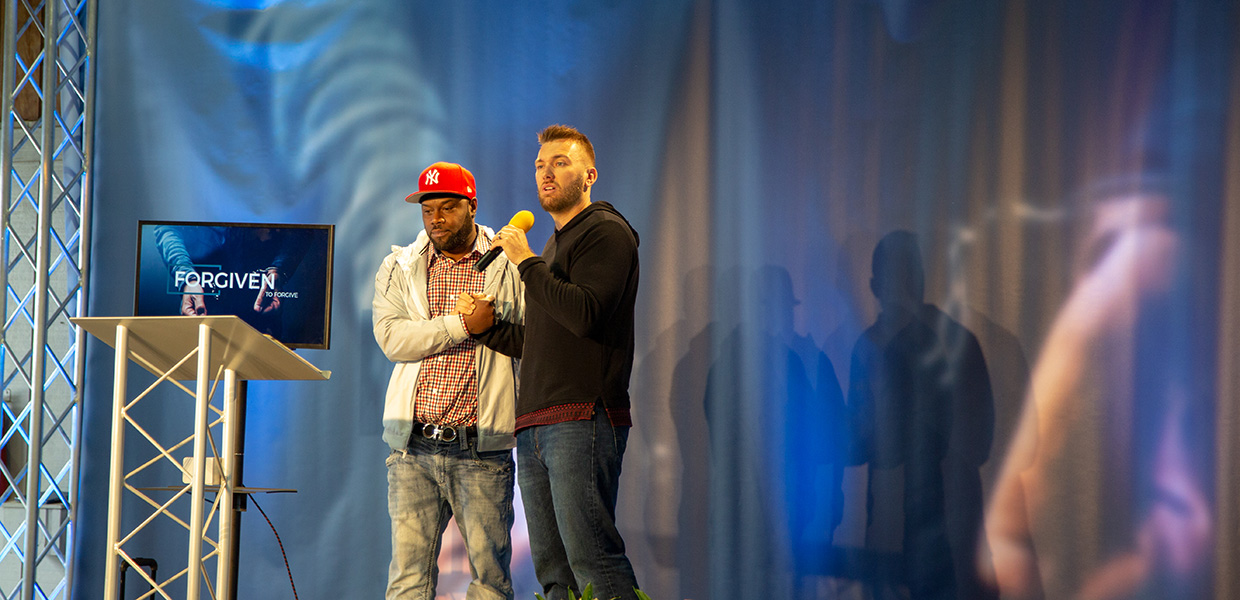 Jameel McGee (left) and Andrew Collins share their story of forgiveness.
Shane Hochstetler
Crowds gathered at Camp Alamisco over the chilly weekend of Aril 6-7, 2018, as the second annual Alamsico Camp Meeting was held. The year's theme, which was also used at the Bass Memorial Academy Camp Meeting, May 23-26, 2018, was "Forgiven to Forgive," based on the text from Colossians 3:13. Darold Bigger, Ph.D., and his wife, Barbara Bigger, were the keynote presenters for the weekend, and they shared an incredible experience of losing their daughter to a brutal murder and going through the journey of forgiving the man who committed the heinous act. This has led to the development of a published book, A Time to Forgive; a DVD-based workshop, Forgive Now; a university class; and frequent speaking appointments.
Two other presenters, Andrew Collins and Jameel McGee, took the platform Sabbath afternoon, and shared a story that only God could have orchestrated. Collins was a police officer in Benton Harbor, Mich., and was inspired to start his career because he wanted to make a positive difference in his community. He also wanted to make a name for himself and was intent on being the top cop in every way he could. This eventually resulted in him falsifying his reports to improve his reputation. McGee, on the other hand, did not have a spotless record and harbored hatred and anger in his life, yet was going about a typical day of catching a ride to the store with his friend. Collins came to the store on a tip to make a drug bust, and found some drugs in the vehicle McGee was riding in. The drugs did not belong to McGee, but Collins was intent on getting the conviction, so he falsified his report to include McGee in the case.
McGee was found guilty based on the police report, and sentenced to the maximum prison time. A couple of years later, Collins himself was busted with drugs in his office, and, after making a plea deal to right the wrongs in his false reports, was sentenced to a few years in prison. McGee was released from jail, but not before realizing that he needed to change his life by allowing God to lead it instead of directing it himself. Collins came to the same understanding while he was in prison, and determined to be a follower of Jesus.
Years later, when Collins was released, he decided to go back to the neighborhoods where he had caused so much pain, and attempt to make it right. He became involved in a local program that helped people with criminal records obtain and hold paying jobs. Shortly after that, McGee came to take one of those jobs. The two met, and although McGee had experienced so much loss from being wrongfully accused, he forgave Collins, who intensely apologized for his actions. The two have become great friends and have written a book about their whole experience, Convicted: A Crooked Cop, an Innocent Man, and an Unlikely Journey of Forgiveness and Friendship.
Gulf States | June 2018