BY Florida Hospital Media RelationS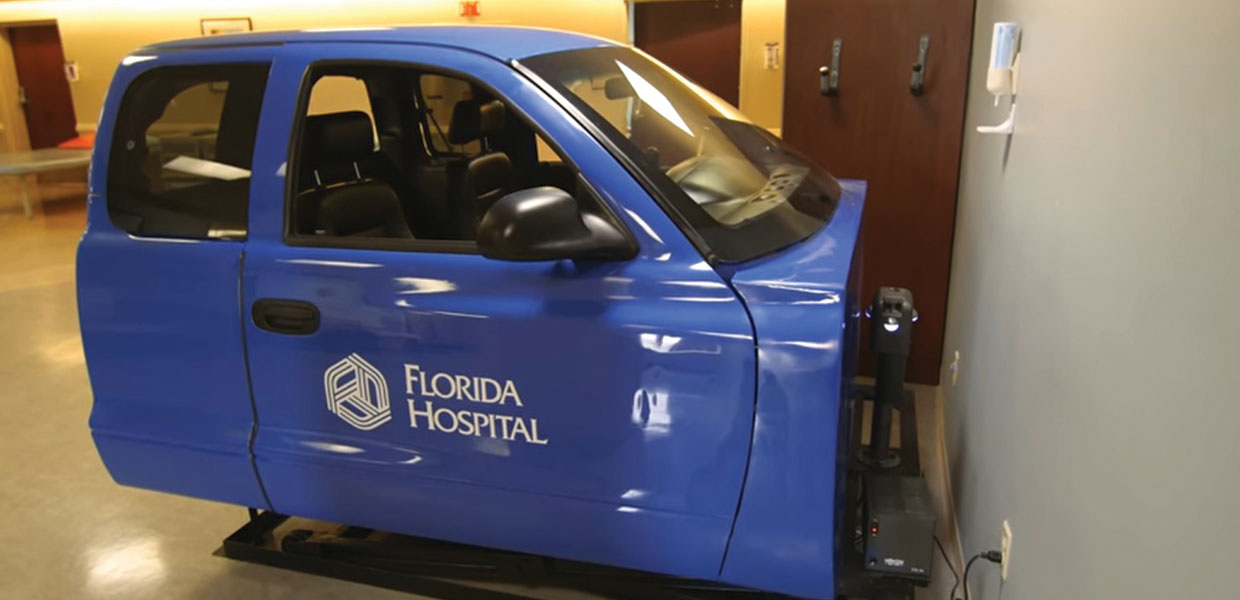 Patients recovering from stroke, accidents, or other ailments can use the truck, which mimics their personal vehicle, to relearn important tasks without risking injury.
Caregivers help rehab patients relearn everyday activities in the safety and comfort of the hospital.
Getting in and out of a parked car is exactly the sort of movement that you rarely give a passing thought — until the day an injury means you can't.
For years, rehab patients at Winter Park Memorial Hospital would practice post-injury safety by accompanying rehab specialists out to the parking lot to practice in their own car. This meant adjusting to the fickle central Florida weather, long trips for patients already dealing with movement issues, and even the natural concerns of being outside while still healing.
Now, patients have a new tool to help them relearn how to get into the driver or passenger seat of a vehicle, within the safety and comforts of the hospital.
Rehab specialists turned to a south Florida custom car builder, who fabricated an $11,000 invention just for Florida Hospital patients. "With shorter and shorter lengths of stay, we need to make sure we don't skip any of the needed items to get patients home and back to their lives," said Emily Neumann, director of inpatient rehabilitation at Winter Park Memorial.
Built with the cab of an actual truck, the device sits on a powerful hydraulic system that can lower and raise to mimic the actual height of a patient's particular vehicle. It also includes bright lights along the floors to help patients see exactly what they're doing. And, of course, it means this important training can be done within the actual rehab facility.
Neumann added that the reaction of the patients who followed the truck being installed was excited, intrigued, and instantaneous. "It takes away the anxiety and the fear of something that could actually be very scary," she said.
A second truck is planned for Florida Hospital Orlando as soon as space is ready.
Adventist Health System | March 2017