PAOLA MORA ZEPEDA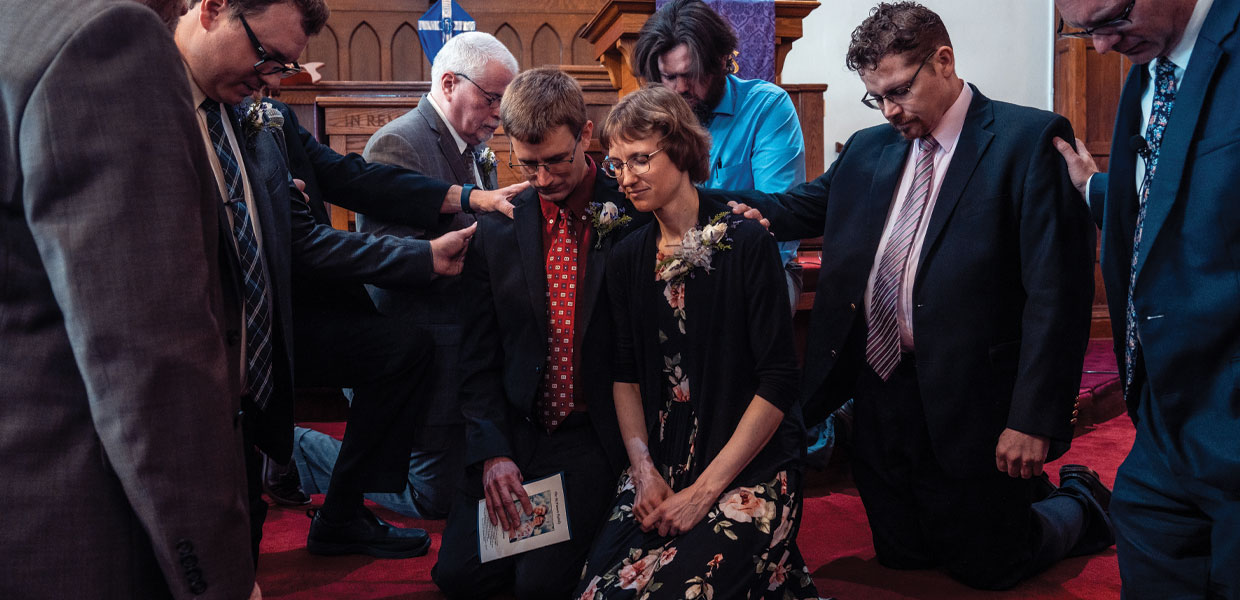 Pastors pray over Daniel McFeeters and his wife, Kristina, during the ordination service at the Eastern-Kentucky Camp Meeting. McFeeters currently serves as the pastor of the London, Stearns, and Williamsburg churches in Kentucky.
Paola Mora Zepeda
During the Kentucky-Tennessee Conference Camp Meeting, on Sabbath, March 25, 2023, family and friends joined the Conference officials to celebrate the ordination of Daniel McFeeters to the Gospel ministry.
McFeeters grew up in a Seventh-day Adventist family, moving frequently to different Adventist academies where his father taught, before settling in Somerset, Ky., at the age of 13. McFeeters studied at Somerset Community College, and later graduated from Western Kentucky University with a bachelor's degree in computer information technology.
After serving as a student missionary in Namibia, McFeeters felt a call to serve in lay ministry among the people of Appalachia — a passion shared by his childhood friend, Kristina Reeve, whom he had met when their families lived in the state of Washington.
The two were married in March of 2009, and moved to McCreary County, Ky., where she soon opened a vegetarian restaurant. Daniel McFeeters worked as an IT professional and literature evangelist, and served as an elder at their small church in Stearns, Ky.
McFeeters answered God's call to pastoral ministry in 2015 when he was asked to serve as a lay pastor in the Stearns Church. In 2018, his calling grew to full-time ministry in the London, Stearns, and Williamsburg District, where he and his wife currently serve. Kristina McFeeters, a talented speaker and pianist, is a vital part of their ministry team, holding active leadership roles in the Stearns congregation.
When they are not busy in pastoral and restaurant ministry, the McFeeters enjoy hiking, canoeing, camping, traveling the country, and taking photos and videos of their adventures to share with their church family and friends. While they have no children of their own, they have "adopted" countless youth and families over the years, and they love taking their "kids" along on their adventures whenever they can.
Though at times ministry can be challenging, the McFeeters continue to claim the promise of Isaiah 55:10-11.
Kentucky-Tennessee | June 2023