Che Chin King and peace pressley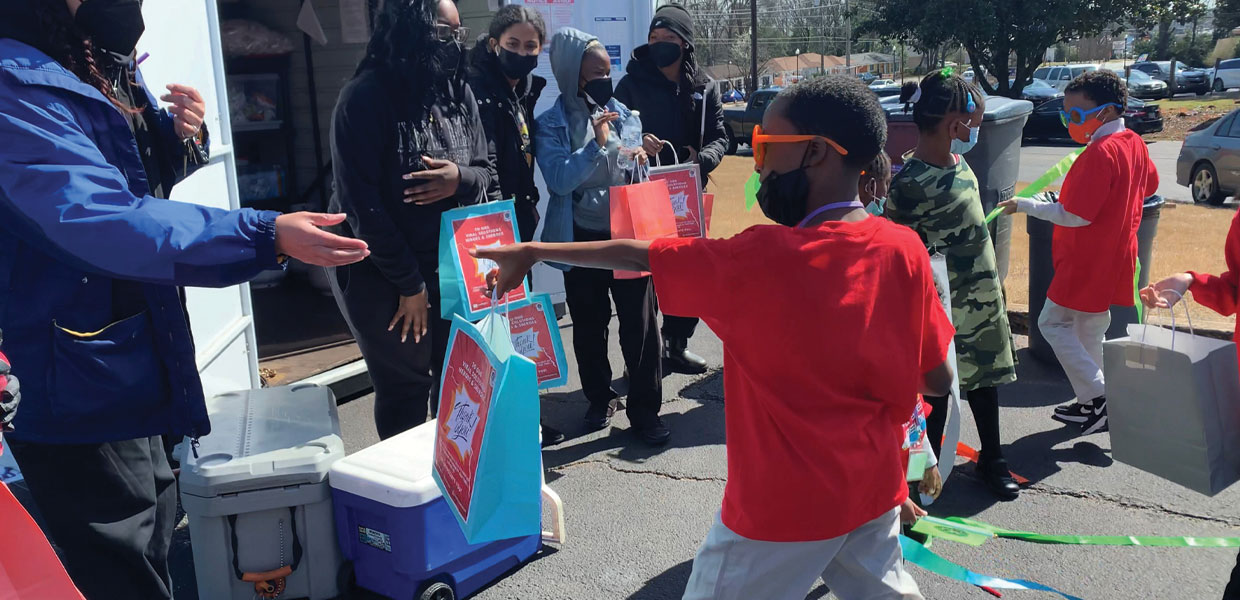 Hero Academy students hand out gift bag lunches.
Decatur Church Opens Hero Academy
During the pandemic, many churches have become creative in developing impactful programs. One such church is the Decatur Church in Decatur, Ga. There, under the leadership of Ché Chin King, children's ministries leader, and her assistant, Peace Pressley, Hero Academy was created. Hero Academy opened to train children on how to be a hero or "shero" for God in their local community. The Hero Academy trainees range in age from 3 to 12 years old.
On the first day of its opening, each attendee was greeted by an enthusiastic staff and given their new training uniform, a red "Heroes & Sheroes Reloaded" T-shirt. The children set out making their masks and decorated them to express their inner and outer hero. The mask-making activity was completed singing along to Christian music while gluing colorful strings, jewels, and shapes to their masks. Once the mask was complete, each trainee was photographed displaying excitement and anticipation as they began to go out on their missions — changing the world with one kind act at a time.
Each mission at Hero Academy is another opportunity to learn about Biblical, historical, and modern-day heroes and sheroes. The goal is to show our children they can be a hero for God wherever they are and with whatever they have. The first lesson presented was "Solving a Giant Problem" as they studied about other heroes who had big problems to solve — heroes like David, who faced the giant Goliath, and modern-day heroes like Martin Luther King Jr., and healthcare workers who continue to fight against the "giant" of the current time, COVID-19.
The first mission was to honor the frontline workers in their community: Viral Solutions is a drive-up COVID testing and vaccination site located next door to the church. Lunches were decorated, packed, and delivered by the children dressed in their mission uniform. Each "Thank You" gift bag was first decorated with colorful art and stickers. Shavon Dawson, chef, prepared salads filled with chicken or tofu, and the children packed them with chips, water, juice, and fruit. With their theme music playing, the Hero Academy students delivered their gifts with great enthusiasm. The staff at Viral Solutions were excited to hear and see the parade of children honoring them for assisting in "Solving a Giant Problem."
Hero Academy provides online resources for kids, by kids, through DCCN (Dynamic Christian Children's Network) Kids TV on YouTube and Instagram.
South Atlantic | June 2022