BY STEVE A. ROSE SR.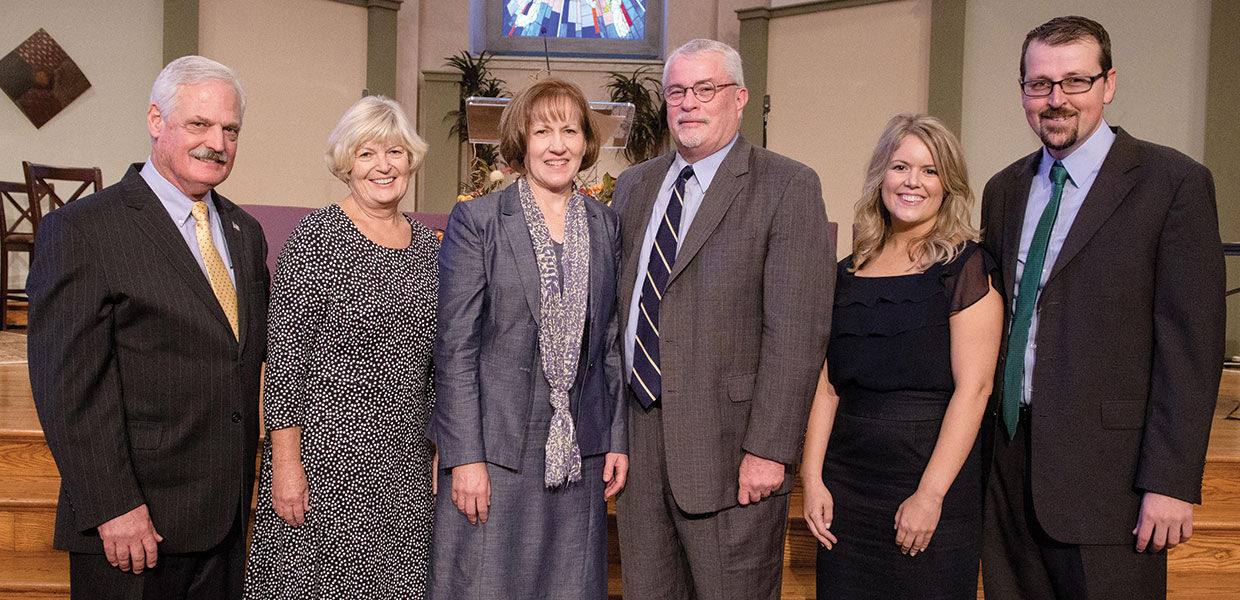 Reelected Conference administrators and their spouses include Steve and Doreen Rose, Malinda and Steve Haley, and Cassandra and Aaron McNulty.
R. Steven Norman III
Living the Mission" was the theme that characterized the Kentucky-Tennessee Conference 32nd Regular Constituency Session held at the Madison Campus Church on September 10, 2017.
Steven L. Haley, M.Div., was unanimously reelected president, a position which he has served since 2009. In the Constituency Report he stated, "The Seventh-day Adventist Church was called by God for a specific mission. As described in the Three Angels' Message, it is not only a message that warns of judgment and calls us to loyal obedience, but it is also an invitation of grace … I believe it is time for us to LIVE that message — that mission — in Kentucky-Tennessee."
Steve A. Rose Sr., who joined the administrative team in 2012, was reelected as executive secretary, with the title changed to vice president of administration.
Aaron M. McNulty, recently became treasurer and was elected to serve as the vice president of finance. He last served as under-treasurer of the Michigan Conference.
All other department directors and associates were elected/reelected as follows: Stephen Bralley, superintendent of education; Rocky Davis, publishing director; David Hartman, ministerial director; Silke Hubbard, trust services director; Gail McKenzie, women's ministries director; Barrett Mikkelsen, information technology director; Nelson Silva, associate youth director; Greg Taylor, youth director; Doug Thompson, manager, Nourish Christian Marketplace; and Pam Williams, associate superintendent of education. This group of dedicated directors and conference personnel are committed to partnering with all the churches, pastors, teachers, and most importantly, the dedicated lay members for completing the mission God has invited all to fulfill.
Before Haley's concluding encouragement to fulfill the Gospel Commission by "Living the Mission," the 534 attending delegates were given the opportunity to submit questions and dialogue with department directors and associates on the future of mission and ministry in the Kentucky-Tennessee Conference.
God's blessing and presence was evident. Many delegates who have attended past conference constituency meetings remarked that this one seemed to be the most worshipful, engaging, and productive session that they had ever attended.
Kentucky-Tennessee | November 2017