by TAmara Wolcott Fisher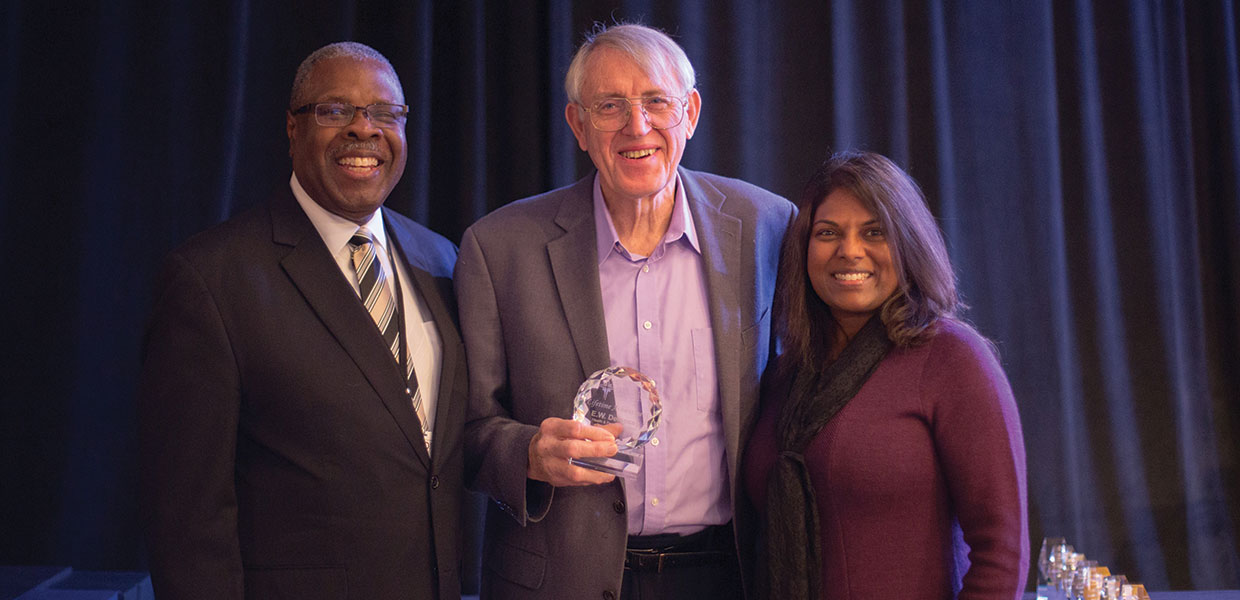 J. Alfred Johnson (left), North American Division (NAD) director of adult ministries; EW Dempsey, Conference adult ministries director, with his award; and Angie David, NAD health ministries director, at the Adventist Ministires Convention Awards Ceremony
Pieter Damsteegt, NAD Communication
EW Dempsey was recently presented with a well-deserved, lifetime achievement award at January's North American Division (NAD) Adventist Ministries Convention in Arizona. He was honored in both health and personal ministries. "I am glad for a lifetime to do this work," says Dempsey.
"We have long recognized the incredible contributions EW makes within the Georgia-Cumberland Conference. To know that he is respected by his peers across the Division, and now recognized in this way, is additional cause to celebrate and affirm this dedicated leader," says Ed Wright, president of the Georgia-Cumberland Conference.
Dempsey has served at the Georgia-Cumberland Conference for 23 years. Before his Conference position, he worked in physical education, teaching, and coaching in the Chattanooga, Tenn., area for 22 years. He also worked as an owner/operator for a nursing home.
Passion for Jesus is central to all Dempsey tackles; he held his first Bible study at age 14. Wearing multiple hats, he directs several Conference ministries, including health, personal ministries, prison ministries, Bible Research, 3 Point Play, and pioneer outreach. Each summer he leads a team of college- and academy-age students, providing free basketball camps called 3 Point Play throughout the Conference. Dempsey partners with local church members and pastors, going to their location to teach basic skills in basketball, but the overall goal is to share Jesus with the children and their parents.
"Perhaps due to his coaching background, one of EW's strengths is he recognizes abilities in people. He accepts, trusts, and enables them, and then directs the play. He facilitates implementation of programs, and encourages people to do their best and to participate in various activities where they will excel. EW has become our friend through the years of working together. We are grateful for his leadership and encouragement," say Steve and Karen Wickham.
For many years, Dempsey has served on the NAD health, personal, and prison ministries committees. He helped implement In-Step for Life, leading the challenge with his Conference reporting the top number of miles logged. Dempsey is a runner and an avid exerciser, living the health message he teaches. Sabbaths often find him sharing either a health or personal ministries rally at a local church, seeking to inspire and motivate. "Every Adventist needs to understand the nutrients that are good and bad in nutrition, as well as the cardiovascular system," says Dempsey, who recently partnered with the Wickhams to offer Reversing Diabetes outreach, changing lives for better health.
Another important, unique ministry Dempsey oversees is Bible Research. He has recorded 31 online video Bible studies, and gives his business cards everywhere he goes. His personal cell phone number is the contact provided, and he thrives on hearing how the Holy Spirit is working in the hearts of those who watch the videos and take the written Bible study created by the late Noble Vining.
Bible Research is a family affair for Dempsey with his wife, Beth Ray Dempsey, who has dedicated years and countless hours to the written Bible studies; and his son, Ernie Dempsey, who orchestrated a search engine optimization to guide online seekers to Jesus.
With a grin, Dempsey frequently admits he knows little about technology. He also cannot drive due to poor vision, but nothing stops this passionate disciple of Jesus.
Gary Rustad, Conference general vice president, says, "EW is an example of what living out his passion in life is all about. Anybody who attends a health seminar, asks a question in their Bible lesson, or participates in a 3 Point Play ministry, comes away realizing that he knows what he is talking about, and loves what he is doing."
Georgia-Cumberland | March 2017