STAFF WRITER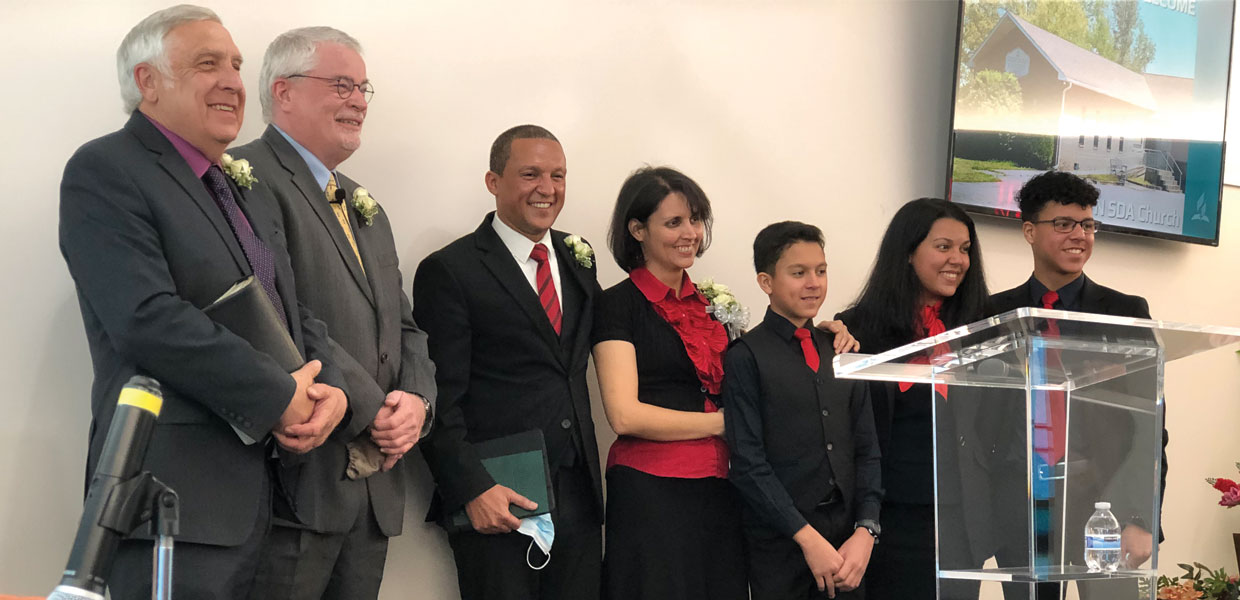 Kieth Noll and Steve Haley join Daniel and Sarah Spencer and their three children, Joel, Rebekah, and David, in celebrating the ordination of Daniel Spencer to the Gospel Ministry.
Kentucky-Tennessee Conference administrative officers Steve Haley, president, and Kieth Noll, ministerial director, joined the Lobelville, Tenn., congregation on Sabbath, April 3, 2021, in celebrating the ordination of district pastor, Daniel Spencer.
Spencer's journey into ministry began when, as a youth, both family and church leaders in his native country of Portugal predicted that a day would come when he would serve the Church as a pastor. As a youth, Spencer did not share the same confidence that he would ever be a pastor, as his vocational interests were in the areas of music, graphic arts, and video production. Eventually, sensing God's leading, Spencer began his service and ministry working for the publishing ministry in Portugal, but in time began to be drawn into the areas of preaching and evangelism.
After marrying Sarah, who grew up in Brazil and shared a deep desire to serve the Lord, the Spencers traveled throughout Central and South America conducting evangelistic meetings and prophecy seminars. In an unexpected yet divinely provided opportunity, the Spencer family, which included their three children, were invited to provide part-time pastoral support to the Lafayette, Tenn., congregation. After demonstrating the skills and calling of effective pastoral ministry, in 2018, Conference administration offered Spencer the opportunity to pastor the Lobelville, Parsons, Camden district in Tennessee. The ordination service in April was a fitting recognition of the positive contributions Spencer and his entire family have made in being used by the Lord to shepherd His flock, and to lead people to Christ.
Kentucky-Tennessee | June 2021