BY Tierra Hayes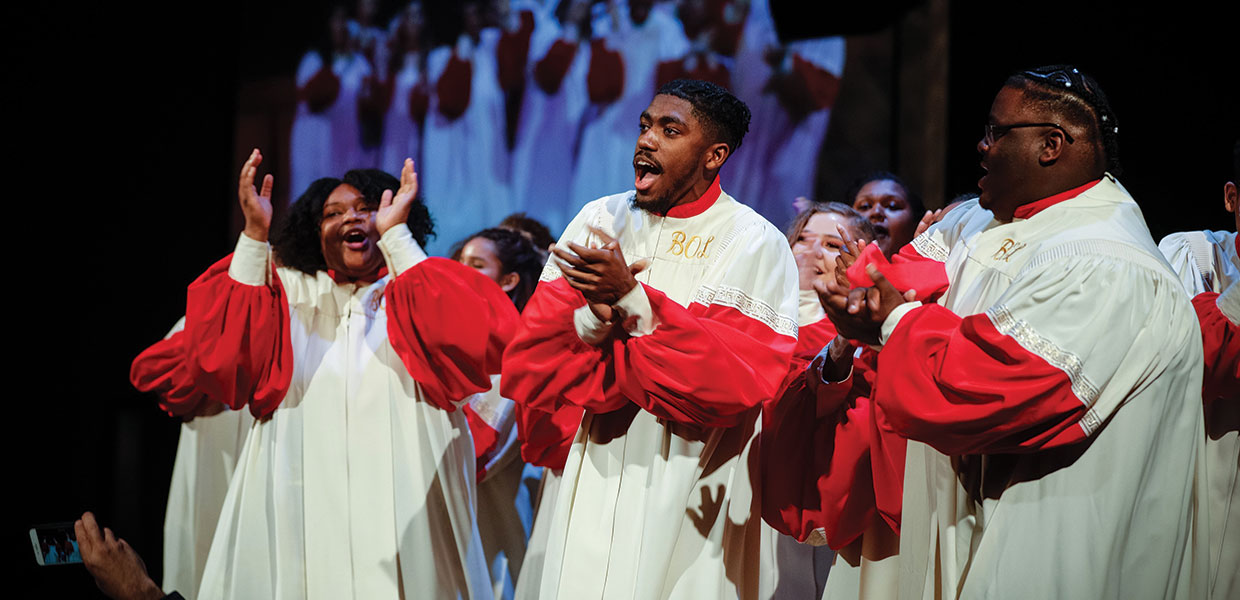 Over the past several years, the Southern Adventist University, Collegedale, Tenn., student body has grown increasingly diverse. In 2019, Southern was recognized as the most diverse university in the Southern region by U.S. News and World Report.
In addition to having no ethnic majority, students come from nearly every state, as well as from 43 countries. In fact, the 2019-2020 school year marks a record enrollment of international students at Southern, with 145 undergraduate and graduate students enrolled from other countries. The four nations with the most representatives at Southern are Bermuda, Canada, Kenya, and South Korea.
Sheryl Kambuni, junior psychology and business administration double major, traveled halfway around the world to attend Southern.
"Back home in Kenya, we don't really have a lot of psychologists, but there's a big need for mental health care that is not being met by anybody because nobody really believes in psychologists," Kambuni said. "I decided to come study psychology, along with business, at Southern so I can take it back home and help people."
She was grateful for Southern's help in figuring out all of the logistics associated with being an international student, such as securing her United States visa, but she found that the caring attitude didn't end there. The University's Student Success Center — which offers helpful resources to all students — provides specialized support and programming to assist international students as they integrate into this new culture. This includes a customized orientation; outings to explore downtown Chattanooga, Tenn.; meals at local restaurants; and fun activities, such as breaking out of an escape room together.
They also have the opportunity to join students from across campus to participate in a broad range of cultural worship experiences on or near the University — SuCasa Spanish- American Church, the Korean Church, the Merge multicultural service, and a Chinese church service, to name a few.
With a tradition of celebrating other cultures, Southern is also home to a variety of cultural clubs, including the Latin American Club, Black Christian Union, and Asian Club, as well as niche organizations such as the Oceania Islander Club and the African Student Union. Open to any student, these groups not only provide a community for international students and those represented by the names of the clubs, but they also introduce others on campus to the beauty, cuisines, and richness of other cultures.
Arleny Weddle, international admissions adviser, recognizes that while students from other countries may come to Southern to benefit from the academics and spiritual environment, the campus actually benefits even more from their diverse worldviews and perspectives.
"It brings a whole different level of diversity," Weddle said. "We could be diverse with just our students from the United States, but our international students bring their cultures and languages. I think they bring some extra fun to our campus, too."
When it comes to serving a diverse student population, Southern's goals are to empower effective leaders for local as well as global societies. When looking at things from a larger perspective, Stephanie Guster, senior adviser to the president for diversity, believes the presence of foreign students only further emphasizes the biblical foundations of Southern's mission.
"International students are an incredible gift to our campus," Guster said. "They are a reminder of how diverse the body of Christ is and that He desires us to live, to worship, to serve, and to grow together in harmony."
Southern Adventist University | February 2020