by Gail Scott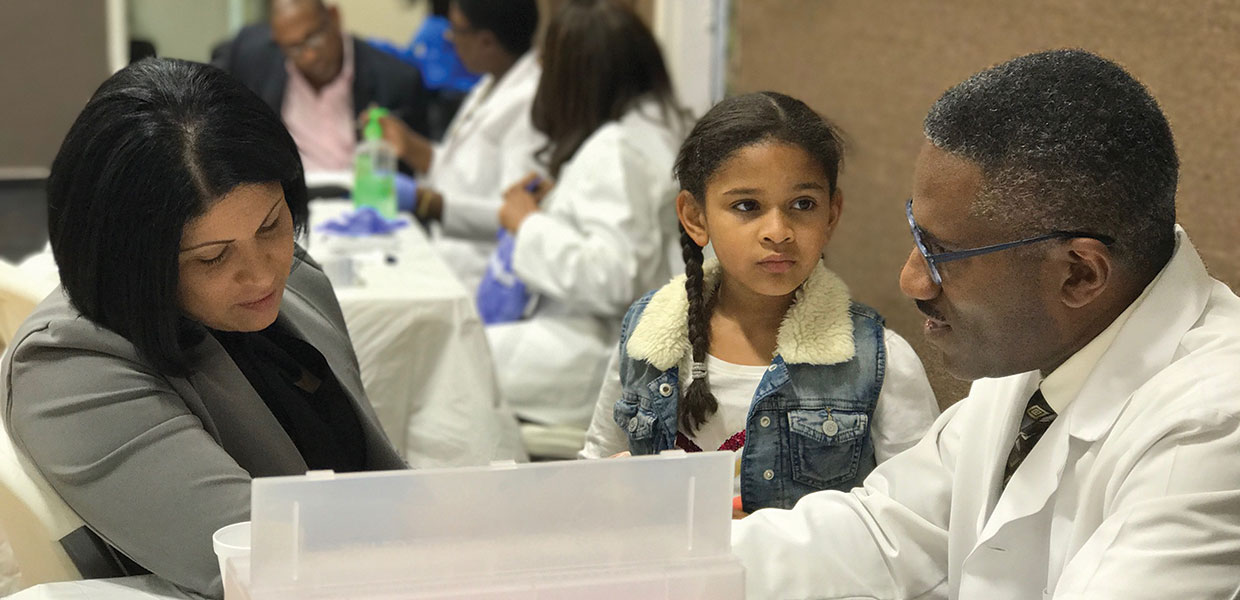 Members of the Duluth, Ga., Church offered a "Your Key to Wellness" Day on Sabbath, December 3, 2016. Mick Evans (right), nurse, takes cholesterol screening for Janet Torres, as her daughter looks on. The day offered a special Sabbath; healthy lunch; and health, blood pressure, and cholesterol screenings. The day ended with a panel discussion by medical professionals.
Pastor Robert Abdul-Karim
The Duluth, Ga., Church offered its annual Health Ministries Day on December 3, 2016. The theme, "Your Key to Wellness," was on full display with the community invited.
There was a special Sabbath School program, inspiring music, praise, and worship. Herman Reid III, a practicing physician from Evansville, Ind., delivered a powerful and thought-provoking message on "Lifestyle Changes for Longevity." A hearty, bountiful, health-conscience Sabbath lunch, which included an array of hearty soups and salads, sandwiches, fresh fruits and vegetables, and nuts and grains, was provided. Desserts consisted of a full spread of fresh-cut fruits in lieu of cakes and pies.
Free health screenings were provided for all, which included blood pressure and cholesterol screenings.
To wrap up the day, healthcare providers, physicians, nurses, dentists, and physical therapists facilitated a panel discussion to tackle current health concerns, and stayed well into the evening to answer questions.
Georgia-Cumberland | March 2017