BY Daniela Jean
Southeastern Conference young adults restored a battered church building in Cap-Haitien, Haiti, October 5-8, 2018. Along with local volunteers, they refurbished tattered pews; cleaned areas of debris; and scraped, scrubbed, and painted walls. The mission trip had to be prematurely aborted when a magnitude 5.9 earthquake struck the island, and Hurricane Oscar churned in the Atlantic.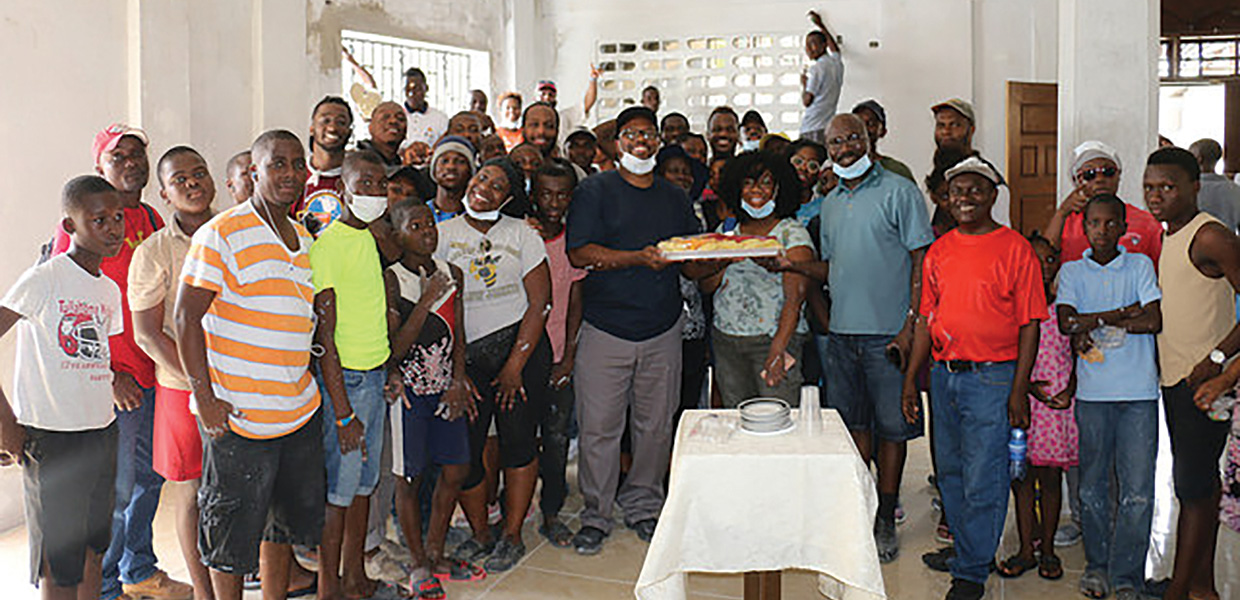 Shavonne Jones, Prince Lewis, Clint Mack, Fabiola Francois, Mary Jean, Sabina Syrius, Nadges Theresias, Gary Homidas, Prince Desir, Nicolas Louis, Leonard Newton, Josnel Elisee, Wade Perrier, Ricardo Armstrong, Emmanuel Leveille, and Rubin Jean
Southeastern Conference continues its mission-driven focus, and recently spearheaded a young adult mission trip to Cap-Haitien, Haiti. Twenty young adults embarked on a mission that would be one for the record books, October 5-8, 2018. With the North Haiti Mission of Seventh-day Adventists as the host, the group's primary project was to restore a battered church building.
Upon arrival the team immediately began surveying the mountainous region and coordinating efforts to commence their service project. Energized by the potential to make an impact, Prince Lewis, Southeastern youth director, delivered God's Word at a local church during the Sabbath morning service. Leonard Newton, pastor of Daughter of Zion Church, served as the Conference chaperone, and encouraged hundreds in the congregation. The need was great, yet the hope was greater. Nicolas Louis, Southeastern Haitian ministries coordinator, facilitated the trip and secured the accommodations. Materials and supplies were delivered as the group collectively rolled up their sleeves and got to work. Restoring tattered pews and cleaning areas of debris, the volunteers worked around the clock to revive the space. Many locals looked on with eyes filled with adoration. Children from the neighboring community gathered to watch the team work. Volunteers scraped, scrubbed, and painted walls to transform the space.
As the service projects began to go into full effect, an unexpected act of nature created an unforeseen change of events. A magnitude 5.9 earthquake struck the island. The epicenter of the earthquake occurred approximately 170 kilometers from where the group was stationed. The group was shaken but safe. Surrounding cities were not as fortunate, and reported casualties and injuries. Another unforeseen act of nature, Hurricane Oscar, churned in the Atlantic. The safety of the group was the first priority, and tough decisions had to be made. The mission trip had to be prematurely aborted, and the group had to make expedited arrangements to get back to the U.S. They vowed to return with more resources, however, to spread the love of God throughout the island.
Southeastern | February 2019