BY lisa marie esser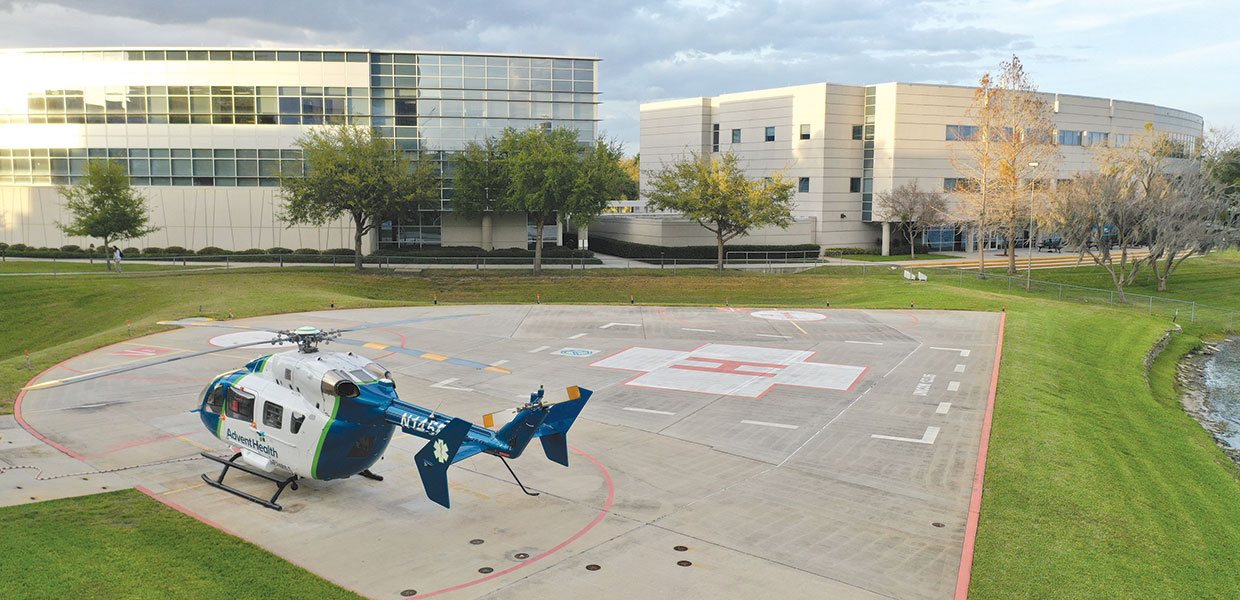 AHU's campus has been closed since March 27, 2020, but leaders have implemented a number of initiatives to ensure students' success during this time of separation.
No one has been exempted from the effects of the COVID-19 pandemic over the last few months. Every struggle looks different, and each person or organization will find new ways to cope and thrive, with varying degrees of success. At AdventHealth University (AHU), there has been no exception to these challenges. However, despite the upheaval, employees and students are finding ways to stay connected and persevere through the obstacles of remote learning and working.
AHU, like other colleges, shut down its campus and moved to fully remote learning for the end of spring and full summer trimesters. AHU is fortunate to have a well-established online learning component — it was one of the first universities to enter the online education space — but such a massive shift requires more than technological expertise. It requires thoughtful communication and understanding, which is something that faculty and staff have tried to maintain during this period of social distancing.
The results seem to speak for itself. According to a recent survey of AHU students, more than 88% agreed or strongly agreed that the University's administration managed the transition to remote learning well. More than 80% felt the same about their instructors' skill in handling remote learning activities, and 93% felt their instructors "have been supportive and responsive to me during this transition period."
But, college success isn't only about how well students are learning their coursework. Students who enroll in universities are often seeking other objectives like personal growth, rewarding relationships with peers, and guidance from mentors. How would faculty and staff maintain the supportive and tight-knit culture of AHU's campus environment during this indefinite separation?
The old proverb says that "necessity is the mother of invention." And, while virtual meeting tools have existed, there's an unprecedented surge in the innovation of their use. For AHU, this necessity lit a spark in the staff and faculty, who have coordinated on many initiatives to keep campus connected.
For the start of the summer trimester, AHU's traditional Welcome Week was taken fully online as AHU Mission and Student Life hosted a series of events through Zoom meetups and the school's private Facebook group. Events included a healthy recipe cook-off, live trivia, and other contests. The activities attracted engagement and positive feedback – group membership nearly doubled in size over the course of a couple weeks.
Caring for student's health has been a key focus for AHU leaders, as anxiety and fear about everyday life during COVID-19 can easily build up on top of the normal strain of collegiate life. Betty Varghese, M.S., L.M.H.C., AHU's mental health counselor, has actively promoted her services, encouraging students to make virtual appointments if they're feeling overwhelmed.
To promote mental health and self-care, Elizabeth Spinella, office coordinator of AHU's office of mission, sent out "care packages" to students that included items such as a journal and pen, packets of tea, LifeSavers candy to "remind you we are here when you need us," a bookmark, and a special letter of encouragement. Students responded positively, sharing messages of gratitude. As one student wrote in an email, "Your kindness made a difference in my world!"
At AHU, offering a chance for students to explore and expand on their faith, and to see it in the context of their profession, is a crucial piece of its mission. AHU's Campus Ministries team has made significant adaptations to stay spiritually connected to students and employees. They've successfully moved their previous in-person meetups to a virtual environment. In their weekly "Vespers" gathering, students share a devotional, message, or any idea they feel called to share. Students will also record videos of them playing music, and send that in to be shared during the virtual meeting.
"Even though [it's] not the same as sharing the same space with my friends … it has helped keep me and others connected because we are able to comment our thoughts on the message … as well as share our love for Jesus — at least until we can congregate together again," said Martin Rodriguez, an AHU student.
Karen Pastor, MOT, assistant chaplain at AHU, said, "Campus Ministries is usually a way for students to connect, make long- lasting relationships, and build their relationship with God together. With this pandemic, it initially seemed as if this connection could be shattered. To my surprise, there are moments where I believe that … these students are making 'highways through the seas' to reach each other. I have witnessed students driving 1-2 hours … just to participate in a car drive-by birthday party for another student … dozens of Zoom calls where we play 'scavenger hunts' or have a family worship …. This pandemic has made me realize that that connection will never break, because God has us in His hands."
These efforts have been worth it, according to the student survey; 88% of students agreed that they "felt the spiritual support from AHU during this time of change," and nearly 87% expressed agreement that they felt AHU's care and concern for them.
AHU strives to uphold their vision of developing skilled professionals who live the healing values of Christ. Bestowing those values begins with action, and AHU will continue to demonstrate Christ's love and guiding hand, whether its students are near or far.
AdventHealth University | July 2020