BY Shane Hochstetler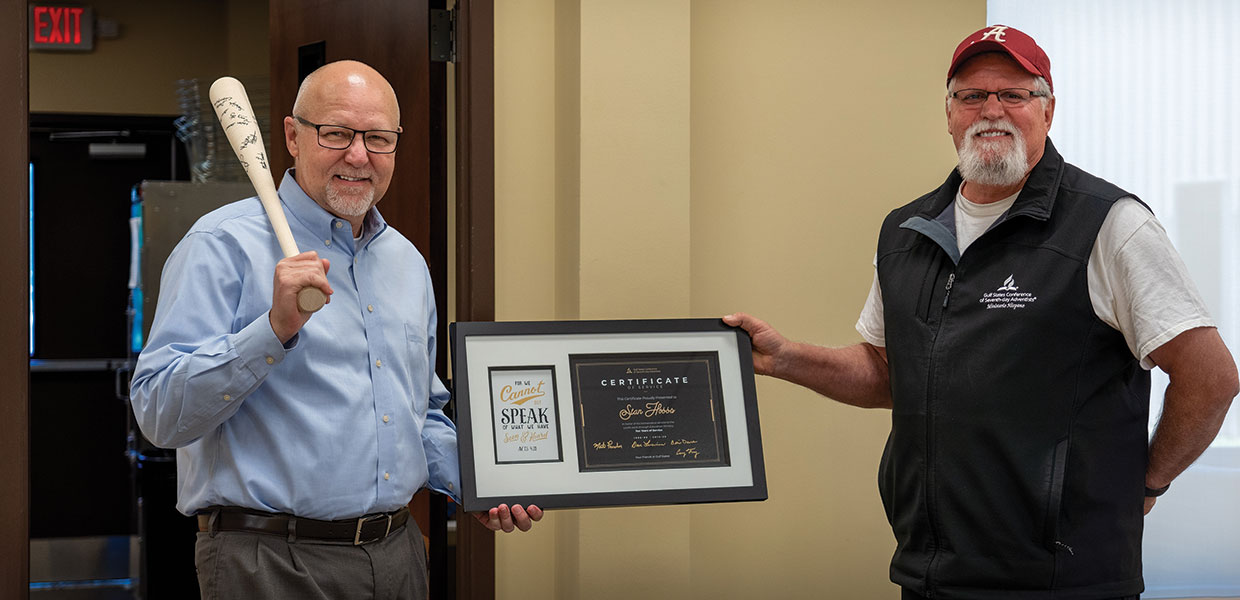 Stan Hobbs (left) accepts a signed baseball bat and plaque from Dave Livermore, Conference president.
Shane Hochstetler
Office staff gathered at a safe distance in the meeting hall of the Gulf States Conference office to bid farewell to Stan Hobbs, M.Ed., vice president for education, on May 11, 2020. Hobbs announced his plans to retire from educational ministry earlier in the year following a career that spanned 35 years. Hobbs, who grew up in lower Alabama, has served as the superintendent of schools and vice president for education at Gulf States since January 2014.
An alumnus of Bass Memorial Academy (1981), Southern Adventist University (1985, B.A. history and religion), and University of Tennessee-Chattanooga (1988, M.Ed.), Hobbs has worked in education in the Southern Union for all 35 years of his ministry. He served at Southern Adventist University as residence hall dean, 1985-1996; Bass Memorial Academy as vice principal, teacher, and principal, 1996-2000; and Atlanta Adventist Academy as principal, vice principal, and teacher, 2000-2013.
Hobbs is a sports fanatic, who also enjoys reading, travel, hiking, jet skis, and roller coasters. The theme of his retirement party at the office was baseball, and attendees were encouraged to wear sports fan attire. Hobbs was also gifted a baseball bat signed by all of the staff. Hobbs and his wife, Barbara (whom he met at Southern), have been married 35 years. Barbara is an R.N. working at Baptist South Hospital as a clinical documentation specialist. They have two adult children, Caitlin and Colton. Caitlin is a dietician who is married to Jason Kawamura, living in Braselton, Ga. Colton is a senior engineering major at Tennessee-Chattanooga University.
Gulf States | July 2020