BY shane Hochstetler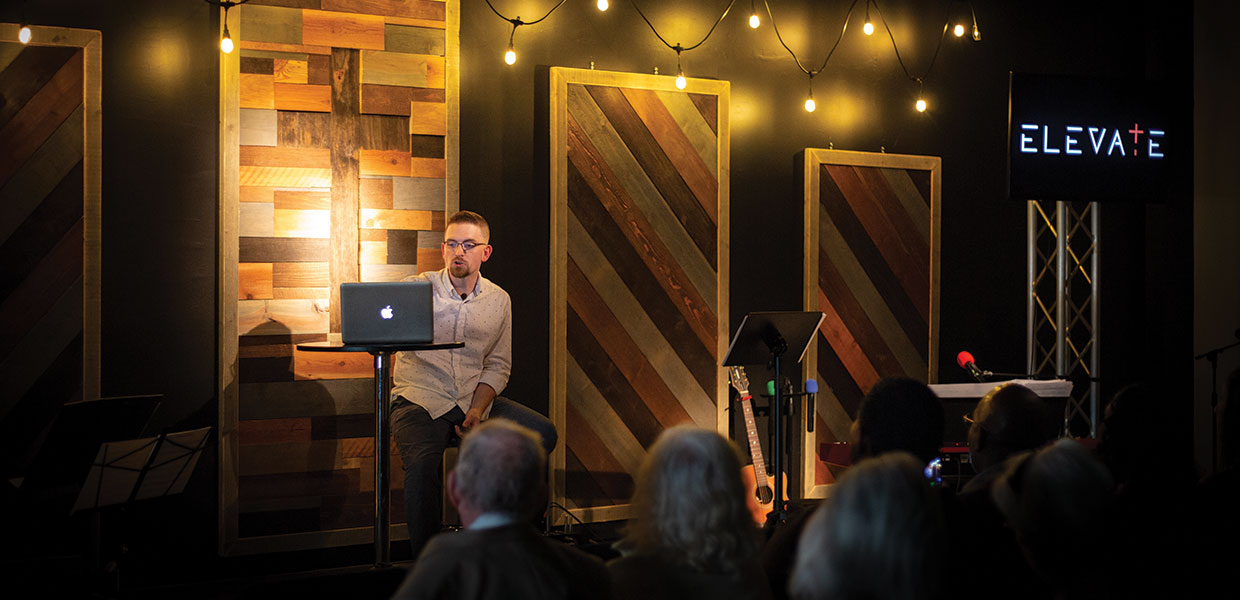 Jim Stewart, pastor of Laurel Church in Hattiesburg, Miss., preaches about what a church should be at the Elevate launch event.
Shane Hochstetler
More than 60 friends, visitors, and family poured into Elevate, a worship center on Old Highway 11 in Hattiesburg, Miss., on Sabbath, May 5, 2018. They went to celebrate the launch of a new endeavor to reach their city with the truth of the loving character of God. Several months in the making, Jim Stewart, pastor of Laurel Church, worked with many talented volunteers to remodel the storefront space into a capable worship center. Leading up to the launch event, Stewart presented an evangelistic series focused on vindicating the character of God. Many believe God to be something or someone that He is not, basing their understanding of who He is on the example of nominal Christian teachings and representation. Elevate seeks to change that understanding for the better.
Following the opening music of the worship service, a live group of musicians led by Michelle Alonso, Stewart preached the opening sermon. "Why does the church exist?" he asked during his presentation, "The profoundly simple answer is that the church exists to be an atmosphere in which grace and mercy and love is applied to human hearts." Concluding the sermon, which focused on telling the story of Abraham, Isaac, and then Jacob, Stewart stated, "This is the church. The church is ekklesia. The church is the assembly of those who are called to reconstitute an environment for God's love to prevail, and for people to be healed of their brokenness, to be accepted contrary to what their incriminating hearts, and what the condemnatory world around them tells them — an environment in which people find restoration and healing."
Watch a short video about the opening service at gscsda.org/elevatelaunch.
Gulf States | July 2018