Tina Frist Smith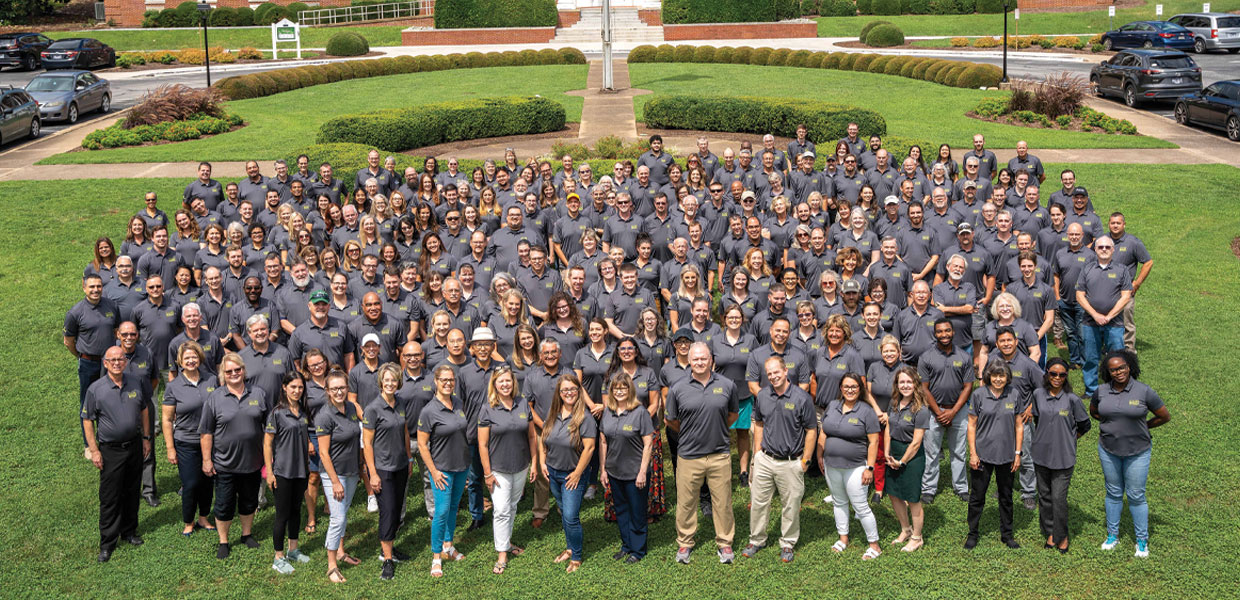 The faculty and staff of Southern Adventist University draw closer together to better serve the University's students.
A new small-group initiative is strengthening relationships between employees at Southern Adventist University. Student LifeGroups have been a popular program on campus for many years, with at least one out of every three undergraduate students participating and of those, 100% reporting positive experiences from being in close-knit communities. Building on that transformational success, Joseph Khabbaz, vice president for spiritual life and University chaplain, developed a similar program for employees that launched last year.
This year, eight employee groups are meeting weekly for inspirational fellowship during the workday, including Bible study and prayer. Volunteer facilitators include two married couples who all work in different departments within the University.
"We were very intentional about finding a cluster of people who represent a broad sampling of campus, so our LifeGroup includes a librarian, an accountant, a fundraising professional, and a residence hall dean," said Tammy Overstreet, dean of the School of Education, Psychology, and Counseling. She leads the "Getting to Know Jesus" study with her husband, Bob, director of the Center for Teaching Excellence and Biblical Foundations for Faith and Learning.
The Overstreets are pleased to witness God's broader blessings on families and communities affiliated with Southern as the knowledge gained and personal changes happening on campus naturally overflow beyond its borders.
Greg King, dean for the School of Religion, and his wife, Mary, a nurse at the University Health Center, spearhead the "Following Jesus" LifeGroup. Like the Overstreets, the Kings were deliberate in building a circle of people who weren't already close coworkers or friends outside of the office.
In January of this year, the "Men@Work" LifeGroup was introduced by School of Computing professor Robert Ordóñez and Lucas Patterson, associate director of strategic partnerships on the advancement team. Members from six different departments continued meeting weekly through the summer months, and one participant even joins in during his days off.
The mission of all LifeGroups on campus is to provide opportunities to belong in spiritual small-group communities, to behold God personally and intimately, and to become empowered as disciple-makers of Jesus Christ. To date, the feedback from employee participants is overwhelmingly positive, with many citing the value of meeting and interacting with colleagues on a deeper level, as well as finding true encouragement and inspiration.
One survey respondent mentioned, "I love having more people who I know that are willing to pray for me"; others treasure "a break in the day to talk about Jesus," and "time to recharge our faith during the week." "Great discussions," "powerful insights and perspectives," "enjoying a connection with my coworkers that I wouldn't have had otherwise," and "moving from little known colleagues to friends and family," also were noted by participants.
"While the spiritual wellness of individuals is being strengthened through this program, I'd suggest that employee connectivity is the broader University interest," said Patterson. "Having faculty and staff from different departments engage in small groups together tears down silos and nurtures a family atmosphere as we share in Southern's mission and vision for our students."
Southern Adventist University | October 2023