BY Trisney Bocala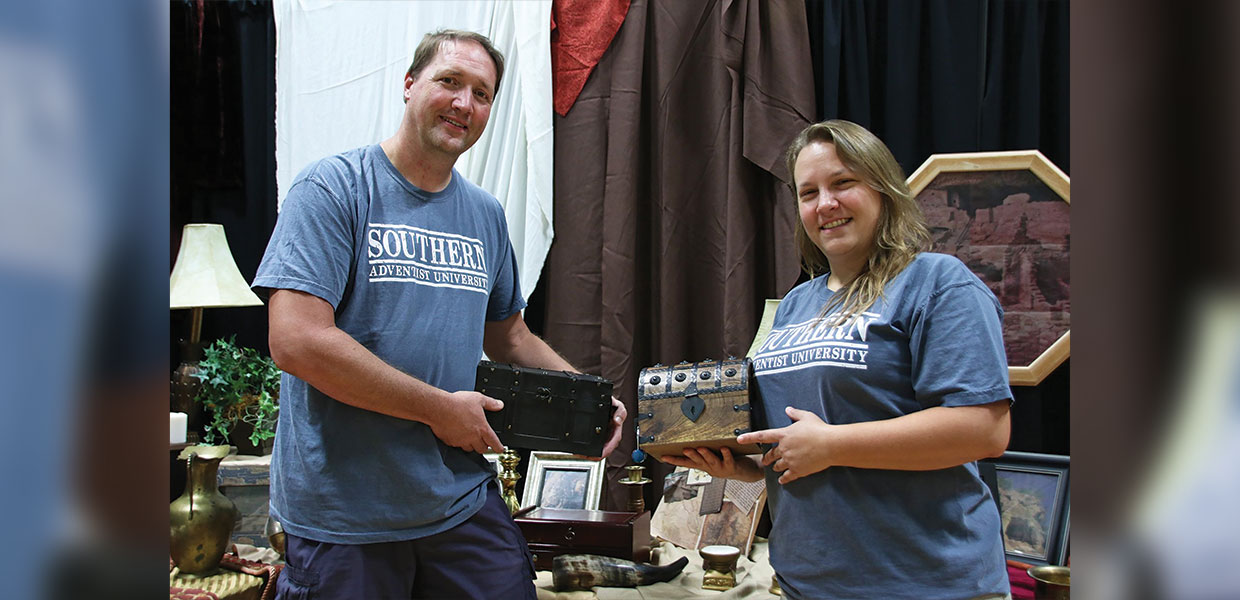 Southern's museum-themed escape room at the 2019 International Pathfinder Camporee in Oshkosh, Wisc., was the brainchild of master's student Eric Barber, who was assisted by his wife, Amber, and a team of volunteers.
Approximately 2,000 Pathfinders participated in Southern Adventist University's one-of-a-kind escape room during the 2019 Oshkosh International Pathfinder Camporee in Oshkosh, Wisc. The puzzle-based activity was the brainchild of Eric Barber, who is completing a master's degree with an emphasis in outdoor education at Southern. Barber enlisted Jake Strauss, '19, a fine arts major at the time, to design the escape room.
Matching the camporee's theme of David and Goliath, the room was set up as an archaeology museum. The objective was to find and return the five stones David picked to fight Goliath before the 15-minute timer ran out.
For one clue, Strauss placed the words of Psalm 95:6 on a table. It read "Let us kneel before the Lord our Maker," with the word "kneel" printed in big, bold letters.
"We watched a lot of people," Barber said. "They'd see 'kneel,' and every once in a while somebody would get it. They would actually kneel, and under the table they would see a clue to help them complete the puzzle."
"The puzzles were a perfect level for Pathfinder-aged kids," said Robert Ordoñez, associate professor in the School of Computing, who went through the escape room with his son. "They were challenging enough to be interesting but not overwhelming."
After each group finished, volunteers debriefed the participants, connecting the puzzles with spiritual lessons.
"We would ask, 'What should we do when we're facing challenges like the puzzles in the escape room?'" Barber said. "The Pathfinders would answer, 'We should kneel and pray!'"
"It was neat to see the theme throughout," Ordoñez said. "It was really nicely tied together, and overall, it was very well-designed."
Southern Adventist University | November 2019