BY MADISON REINSCHMIDT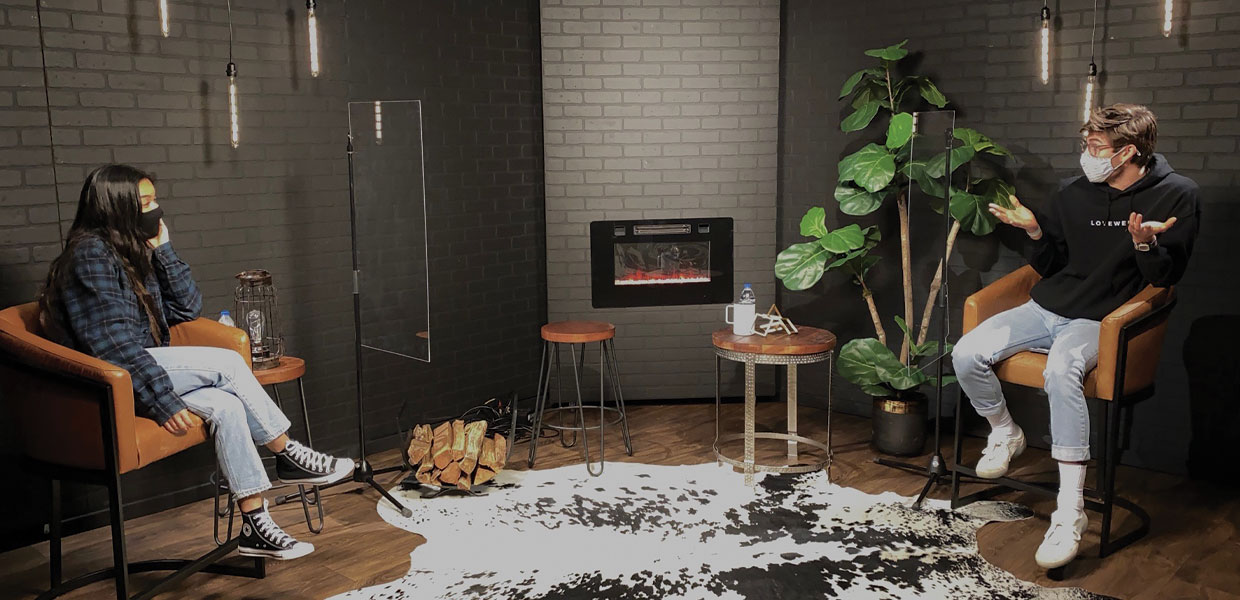 Sophomore mass communication majors Sarah Manuel and Aaron Patterson try out the School of Journalism and Communication's new studio interview set.
Expanding Options for Young Broadcasters
Southern Adventist University's School of Journalism and Communication is upgrading its broadcast studio, and recently donated its old TV news set to an academy to help inspire future journalists.
For nearly 20 years, the department has used a news set that was acquired from Chattanooga's WRCB Channel 3. It has served as a training ground for students to learn broadcast news skills, work behind the scenes, and use equipment such as teleprompters and cameras.
"The TV news studio was becoming outdated and took up a lot of room," said Stephen Ruf, associate professor of journalism and communication. "Our team saw the need for a new set that would be more flexible and lightweight and that could serve more purposes within the studio."
Department leadership decided to offer the old set to Heritage Academy in Monterey, Tenn., so that younger students could train to become missionary communicators. The academy team, which already taught some video production and communication classes, gladly accepted the offer.
"Last year, we only had a cloth backdrop and studio lights available to use for our weekly news," said Bobby Mihaila, video production instructor at Heritage Academy. "We hope this new set will provide a more professional environment and give a better learning experience."
Plans for Southern's new TV news set are still underway, and completion is expected by May. Additionally, the School of Journalism and Communication has installed a new interview set to expand hands-on training for future media professionals.
Madison Reinschmidt
Southern Adventist University | April 2021