By AdventHealth Writers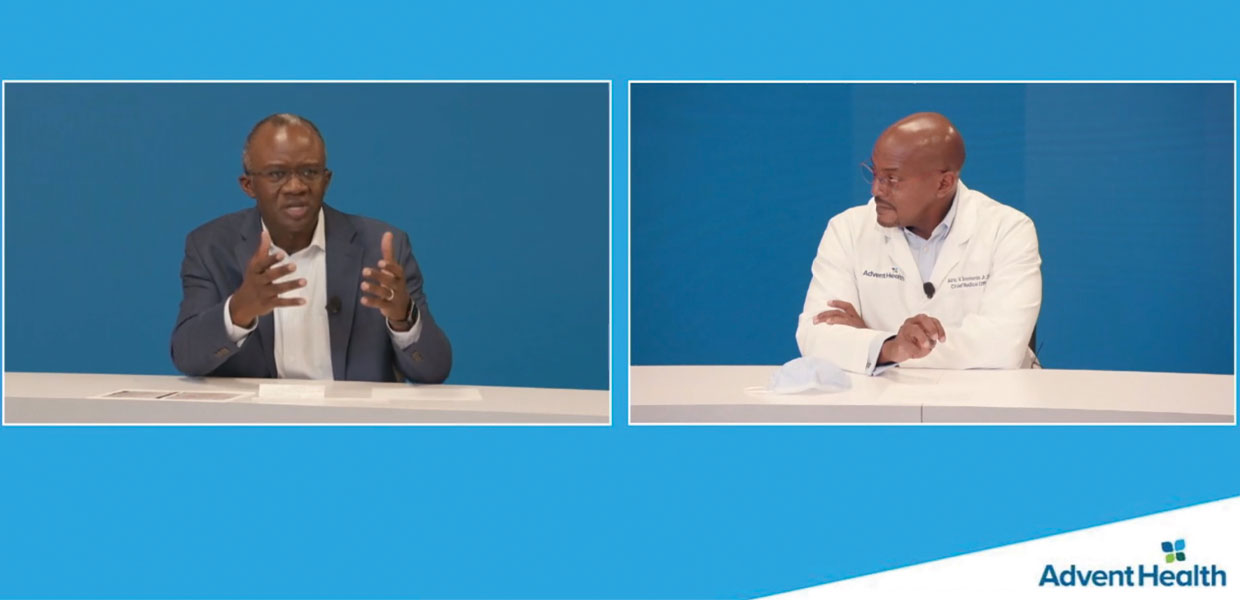 Panelists of the second installment of the Finding Hope series by AdventHealth discuss health equity efforts in the community.
AdventHealth hosted the second installment of its "Finding Hope" panel series supported by the mission and ministry team. The Finding Hope series got its starts on National Day of Prayer 2021, as a way to bring together health care professionals and community leaders with different perspectives for a thoughtful discussion on the intersection of worldviews and medicine. The panelists and discussion of the first installment focused on the pursuit of hope amidst the pandemic.
This most recent second installment focused on health care equity and health disparities in our communities. Although health disparities have long existed in the U.S., the COVID-19 pandemic has exacerbated a host of vulnerabilities, especially for minorities and underserved populations.
To help address this issue, AdventHealth professionals across the system and diverse faith leaders came together for a live, virtual discussion to lay the foundation for solutions on how we can work together to achieve greater health equity in the communities AdventHealth serves. AdventHealth Altamonte Springs CEO Tim Cook served as a co-moderator for the discussion alongside David Sinclair, M.D., chief medical officer for AdventHealth Altamonte Springs.
Panel members included Aminah Hamidullah, co-founder and director of Knowledge for Living, a non-profit focused on providing quality education to underprivileged communities; Gabriel Salguero, president of the National Latino Evangelical Coalition and pastor of The Gathering Place, who also served on the White House Faith-Based Advisory Council; James T. Morris, pastor of the historic Carter Tabernacle CME Church, who has oversight of 13 regional congregations; and Alric Simmonds, M.D., AdventHealth's chief health equity officer who is working on ways AdventHealth can better serve, understand, and support communities most often associated with disparities in health outcomes.
Some key issues discussed in the panel included health disparities, generational change/relationship building, faith development, financial literacy, economic development, and access to behavioral care. To watch the full panel discussion that addresses health, faith, and diverse communities, visit Vimeo.com/589518245.
While there were many key challenges discussed from a variety of perspectives, the discussion ended on a high note with a shared, positive outlook for the future.
"I'm very hopeful from our discussion today," said Simmonds during the closing of the panel. "We need to keep the conversation going. We can do so much more together to focus our collective efforts on health care to benefit all members of our communities, despite our challenges."
AdventHealth's mission and ministry team is committed to continuing this panel series and connecting health care leaders with diverse faith and worldview leaders to discuss important issues consumers, team members, and communities face, and how they can collaborate to build solutions.
AdventHealth | October 2021