BY ROGER R. WADE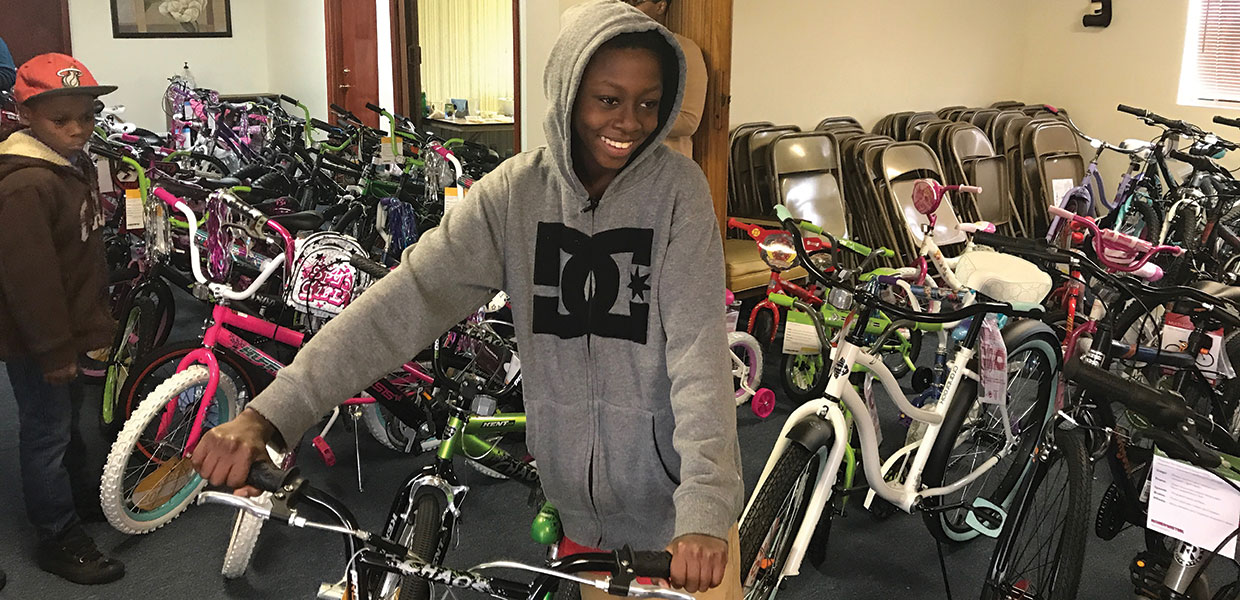 This young man smiles as he chooses his Christmas bike gift from First Church in Shelbyville, Tenn.
Roger R. Wade
At the First Church of Shelbyville, Tenn., this past December, the community received a Christmas gift that made Christmas 2017 the best Christmas ever for many families. Vandeon Griffin, First Church pastor, shared a vision to give away 50 bicycles to families in the community. He challenged the members to purchase the bikes; however, the idea gained traction, and as he shared the vision with colleagues and personal friends, hearts were moved.
Eighty bikes were donated by Sunday, December 17, 2017. All sizes and colors were lined up as the community arrived for the first ever Bike Give-Away in the history of First Church. The sanctuary was filled to standing room only. Every space filled with enthusiasm and excitement. After singing a few Christmas songs, Griffin inspired the congregation with a message about the gift God gave.
Michael France, First Church head elder, was pleased with the way the day unfolded. He shared that the church has a strong history ministering to the community youth. "First Church has sponsored trips over the years to the museum and aquarium in Nashville and Chattanooga. However, this bike give-away has upped the game and allowed us to not only minister to the children, but the whole family," commented France.
As parents and children chose their bikes, smiles as wide as the Grand Canyon were seen. One woman riding her bike out said, "This is a wonderful gift. Now I can go ride with my two sons!"
South Central | April 2018