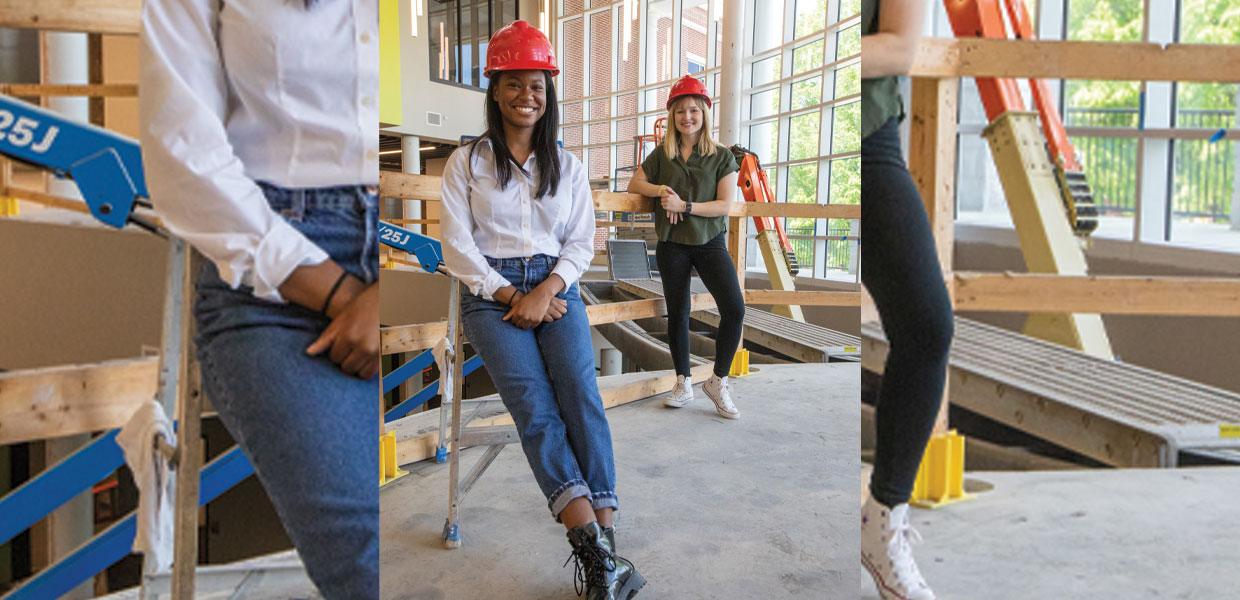 Rachel Joyner (left) and Katelynn Robertson are the first female construction management students to graduate from Southern's program.
First Female Construction Management Students Graduate
This May, the first two female construction management majors graduated from Southern's Applied Technology program: Rachel Joyner earned a bachelor's degree, and Katelynn Robertson earned an associate degree.
Joyner decided to pursue this field after attending a high school that taught technical skills. At first, she doubted whether she would enjoy welding, but soon realized she had a passion for the work and wanted to further her skills and education at Southern.
"I'm passionate about construction, because every day is something different," Joyner said. "From pre-construction to closing day, I am always moving forward."
Robertson likes hands-on work and had seen her stepdad work in construction while growing up. After taking career tests that pointed her toward degrees in management, she decided to pursue construction management.
"Trade workers are often dismissed or looked down upon," Robertson said. "I think that construction work is a big part of everyone's lives in some way, and people don't understand the importance of what we do. When I tell people that my major is construction management, it is always a point of conversation — it's new, different, and something that people don't hear much about."
"I am very proud of Rachel and Katelynn," said John Youngberg, associate professor of applied technology, which is part of the School of Business. "Women in construction used to be very rare. Today we find them in every area of the industry. My prayer for these two young ladies is that they will reflect Jesus in their workplace culture. In this industry, you get to work with such a huge variety of people: What a mission field!"
Both women landed jobs quickly. Joyner also hopes to further her own business, Ace Properties, which will rebuild houses in impoverished areas to give back to communities.
"My goal is to flip houses and give other people opportunities to grow," Joyner said. "Nobody knows what their future can be except God. Yet, most of the time, we try to plan our entire lives without giving Him a say. I'm grateful that He has led me to this work."
Madison Reinschmidt
Southern Adventist University | July 2021