By Shane Hochstetler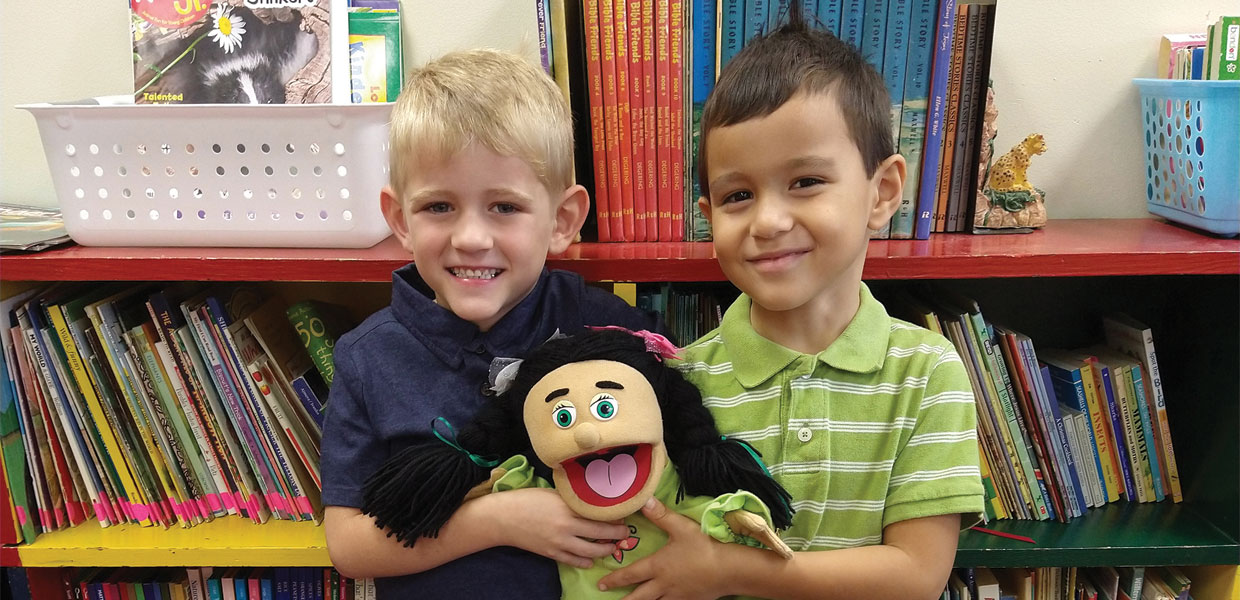 Mason (left) and Omar pose with Maria the puppet.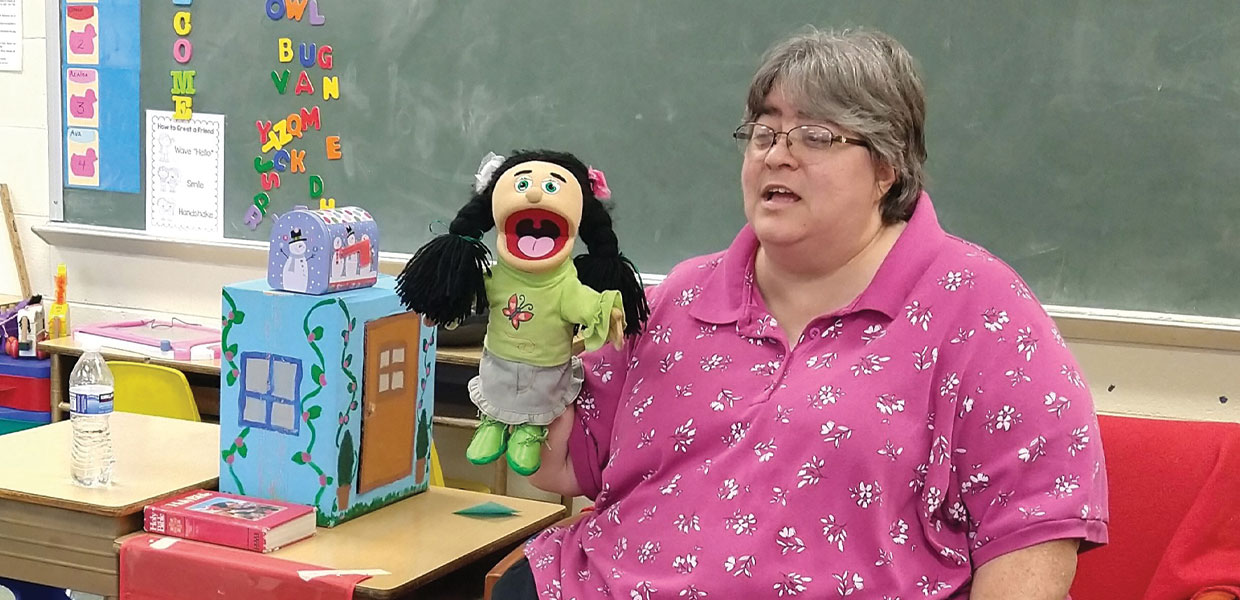 Brenda Grimm uses Maria to help students with a variety of subjects and learning objectives.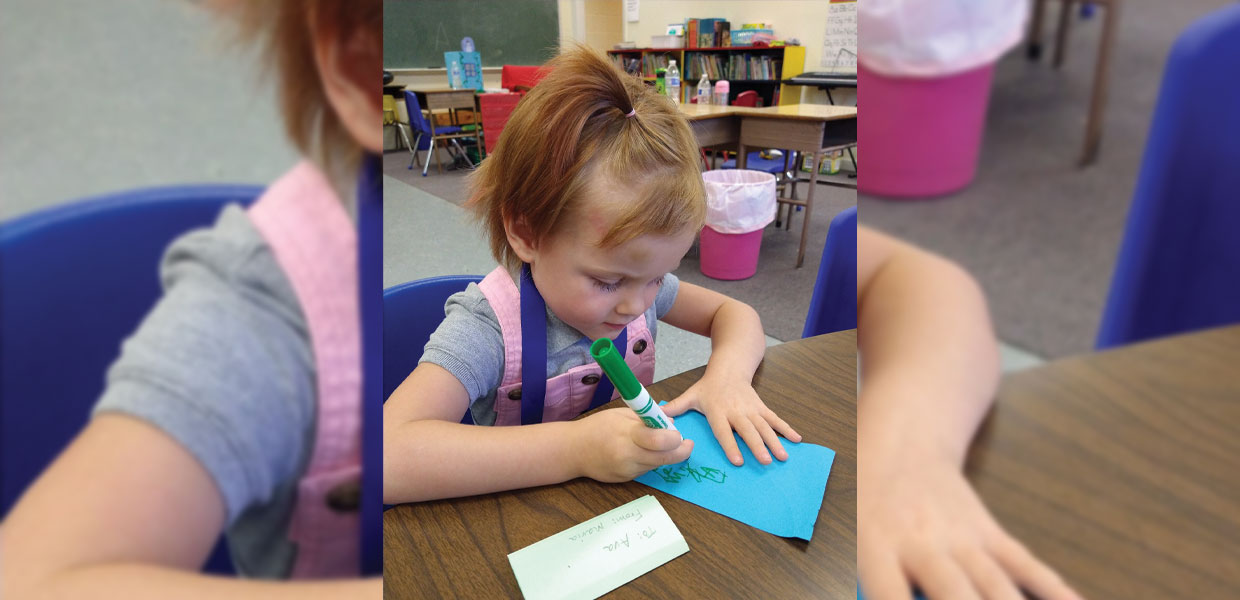 Ava writes to Maria during "kid writing" time.
Floral Crest School on Sand Mountain in Bryant, Ala., has a long, proud history. The school was established in 1905, and many students have gone there to receive an education. During the last four years, there have been many stories of people who have given their time and energy to help Floral Crest School become what it is today. Brenda Grimm, teacher at Floral Crest, states, "I would like to thank all the dedicated educators who have come before me. Thank you for setting a high standard of education for our students, but, most of all, thank you for teaching each one of your students about our wonderful Savior."
This year the pre-K/kindergarten theme revolves around the question "How Big is God?" The students are learning the answer to this and many other questions in a very unique way.
Every morning the students rush to put their backpacks away and sign in. Then they sit down and wait for Grimm to start singing. They sing songs about David and Goliath, Jesus, and Zacchaeus. And, almost every day they sing "Soon and Very Soon," a favorite of Omar, a Floral Crest student. Then the students listen as Grimm tells them stories about Noah, David, Esther, and Jonah. Finally comes the moment they have all been waiting for; in fact, it is their favorite part of the day. They all take a deep breath, and yell very loudly, "Good Morning, Miss Maria!"
Who is Miss Maria? Miss Maria is a puppet. Grimm started using Maria during her first year there on the mountain as a prop once in a while to teach students how to get along or how to take care of books. When the children started asking, "Where is Miss Maria?" Grimm would say she is in the box under her desk. They didn't like the answer and wanted to know why they couldn't see her every day. "I started to ask myself how I could incorporate Maria into our daily curriculum, but there was one thing holding me back from wanting to use Maria at all. I am not a ventriloquist." says Grimm, "I thought the kids would say, 'Oh, it's just you, Ms. Grimm, you're making her talk,' and get bored with Maria, but they kept asking about her so I decided to give it a try."
"That summer my niece helped me make a house for Maria, so she could be right beside me every morning," says Grimm. Now Maria helps them sing songs about the days of the week and months of the year. She helps them practice their memory verse and teaches them about rhyming words, syllables, and putting their ABCs in order. And, this year she taught them how to write letters to friends and family.
Every day Miss Maria reminds the students to use the words they are learning to praise their classmates. "It is so nice when I hear, 'please, thank you, great job, you're welcome,' and 'may I use that when you are done?' coming from the lips of my students," says Grimm, "And when my students forget their manners, Miss Maria gently reminds them, and they ask each other in whispered tones, 'How did she know?'"
The students like Miss Maria for different reasons. "Azalea told me she likes Miss Maria because she is funny. Omar says, 'I like it when Miss Maria sings with me.' Ava thinks 'Miss Maria is fun.' Mason asked me one day, 'Why does Miss Maria talk about Heaven so much?' I told him that Heaven is my and Miss Maria's favorite subject, and Maria and I talk about Heaven whenever we get a chance."
"The amazing thing about this adventure with Miss Maria is that my students love her. They know she is not real. They know that I am the one making her talk, but when she talks, they focus on her. Now Miss Maria is such a big part of their lives that my students go home and talk about Maria. Then I have parents asking me, 'Who is Maria. Is she a new girl at school?' When I tell them that Maria is a puppet, they want to 'meet Maria' and many of them have come to visit the classroom just to see Maria in action," says Grimm.
Last year several of the students did not want to participate in "kid writing" activities. Kid writing is an opportunity for a student to write any way they want, without having to worry about spelling or handwriting. This year Maria is helping with kid writing. "I added a mailbox to Miss Maria's house and 'kid writing' letters have been flying back and forth between my students and Miss Maria since the first day of school. It keeps me very busy responding to all the letters every night, but I love seeing my student's writing skills grow!" exclaimed Grimm.
Grimm concludes, "I praise the Lord that my students are learning to love learning. I praise the Lord for the songs they sing when they think no one is listening. I praise the Lord for the kind words and praises they have for each other. Most of all, I praise the Lord for giving me the idea to use Maria in my classroom every day. Thank you, Lord."
"Oh! And thank you, Miss Maria."
Grimm has been teaching at Floral Crest School since August 2018. She loves teaching so much that she has been teaching since her own first day of school when she came home and taught her siblings everything she had learned that day.
Grimm has taught all grades from pre-k through eighth grade during her 24-year teaching career. When Grimm is not teaching, she likes to spend her time reading, writing stories, making cards, scrapbooking, gardening, and crocheting.
Gulf States | November 2021