By Amanda Blake
Amanda Blake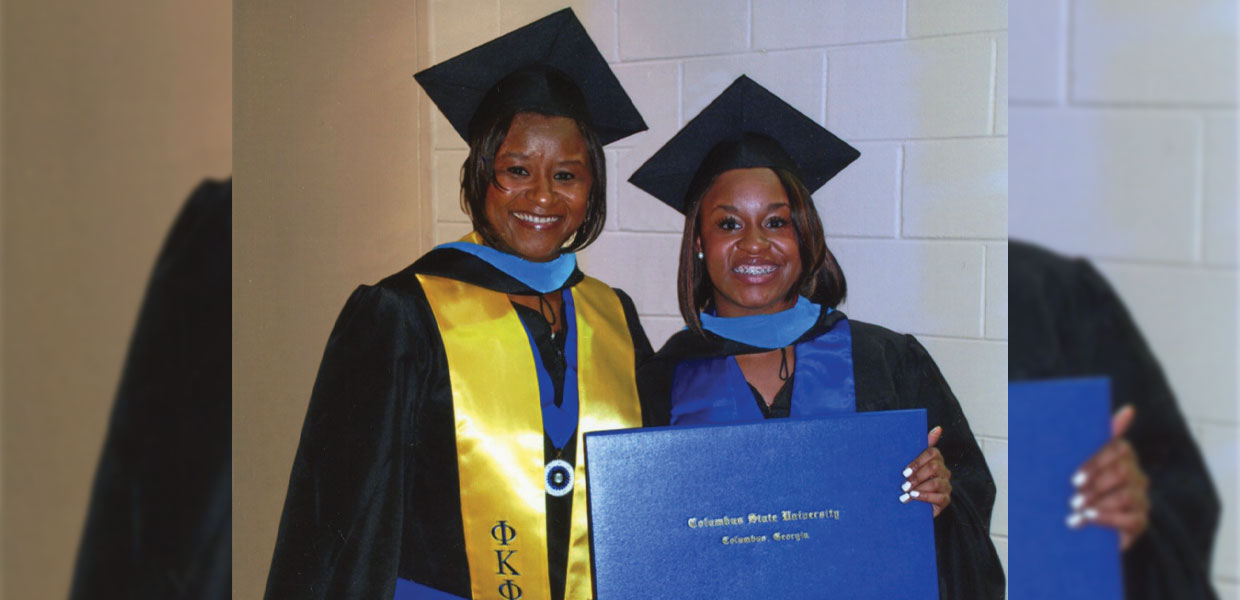 As an adult learner, Cynthia Tate-Wright (left) graduated side-by-side with her daughter, Camesha Tate.
As director of Southern Adventist University's new Adult Degree Completion program, Cynthia Tate-Wright has a unique empathy for students enrolling in the program. Having dropped out of college to raise a family, she was 38 years old when she returned to higher education, completing her bachelor's and master's degrees.
"I was an adult learner, so I understand the struggles," Tate-Wright said. "I have felt the things they're nervous and embarrassed about, their financial challenges and all the responsibilities that come with being an adult learner, and I want to encourage them. Getting a degree is doable."
The Adult Degree Completion program, which is currently enrolling for the January 2022 session, is designed for adults age 25 and older who have earned some college credits but not a degree. Each student can complete a bachelor's degree in business management, communication, or integrative studies in as little as 18 to 24 months. To provide additional flexibility, the program will give students the option to complete coursework fully online in eight-week sessions, and tuition is discounted from traditional undergraduate course fees.
Tate-Wright knows firsthand the need for flexibility and reduced costs. As a single mother, she worked hard to put her two daughters through school, prioritizing Adventist education, and sending them to Georgia-Cumberland Academy in Calhoun, Ga.
"I hardly had money to buy groceries," Tate-Wright said. "We really struggled, but God always impressed me to keep my girls in a Christian school. And today, all three of us are doing really well."
After her youngest daughter graduated from high school, Tate-Wright enrolled at Columbus State University in Georgia, where, despite continued financial challenges, she completed her undergraduate work. Then, at the age of 45, she graduated alongside her oldest daughter, Camesha Tate, with a master's degree in public health administration — both summa cum laude.
Years later, when the Adult Degree Completion position opened at Southern, Tate-Wright was immediately interested.
"I wanted to be in a leadership role at Southern mainly for this reason: to make a difference in the lives of adult learners," she said. "I don't know anybody who has ever regretted going back to school and getting a degree. It is a sacrifice, and there are some hard days, but in the end, it is so worth the effort, time, and money that you put into it."
More information is available by visiting southern.edu/ADC.
Southern Adventist University | November 2021