BY Cynthia MurraY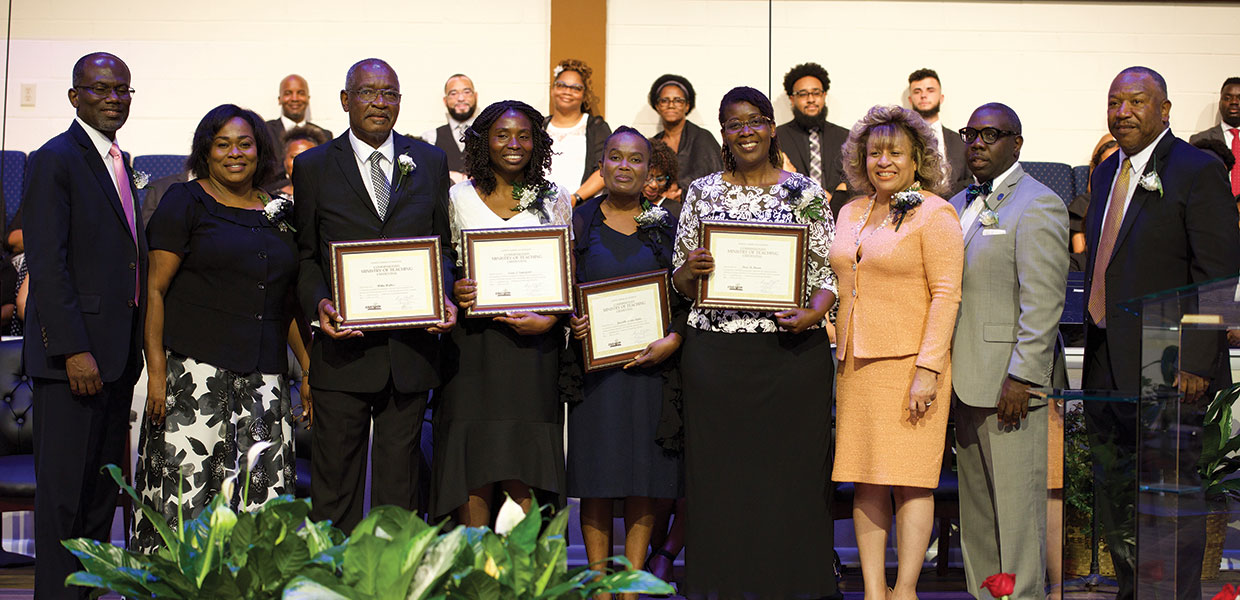 Southeastern's newly commissioned teachers celebrate commitment to Adventist education with Conference administrators: Michael Owusu (left), D.Min., executive secretary; Barbara Davis, Ed.D., education superintendent; Willie Walker; Tonia Satterfield; Graziella Justine-Lindor; Doris Brown; Heather Knight, Ph.D.; Robert Patterson, chief financial officer; and Gregory Mack, president.
C.C. Thompson
Every year Southeastern teachers are set aside for the sacred work of education through the teacher commissioning service at Camp Hawthorne during the first Sabbath of Camp Meeting. Those chosen for commissioning have met specific objectives and criteria outlined by the North American Division for the Ministry of Teaching credential. This year four educators were honored, along with the highly anticipated announcements for the Teacher- and Principal-of-the-Year awards.
This year's keynote speaker was Heather J. Knight, Ph.D., president emerita of Pacific Union College in Napa Valley, Calif., where she was the 21st president and first woman to serve in that role, and the first black woman to serve as president of an Adventist college or university in North America. Knight addressed commissioning candidates as "…distinguished, master teachers who should be celebrated for their educational achievements," and who were being "…affirmed and acknowledged by the Southeastern Conference as having been called by God for this very work."
The commissioning candidates were Doris R. Brown, principal and teacher of Palm Bay School in Palm Bay, Fla., Brown was recently appointed the associate superintendent of education for Southeastern; Graziella Justine-Lindor of Broward Junior Academy in Plantation, Fla.; Tonia T. Satterfield of Ephesus Junior Academy in Jacksonville, Fla.; and, Willie Walker, principal of Ephesus Jr. Academy in West Palm Beach, Fla.
The Education Department and Barbara Davis, Ed.D., Southeastern education superintendent, along with all Southeastern educators, are truly fulfilling the call to be mission-driven, "Building the Kingdom through Hope and Wholeness."
Southeastern | September 2018