PAOLA MORA ZEPEDA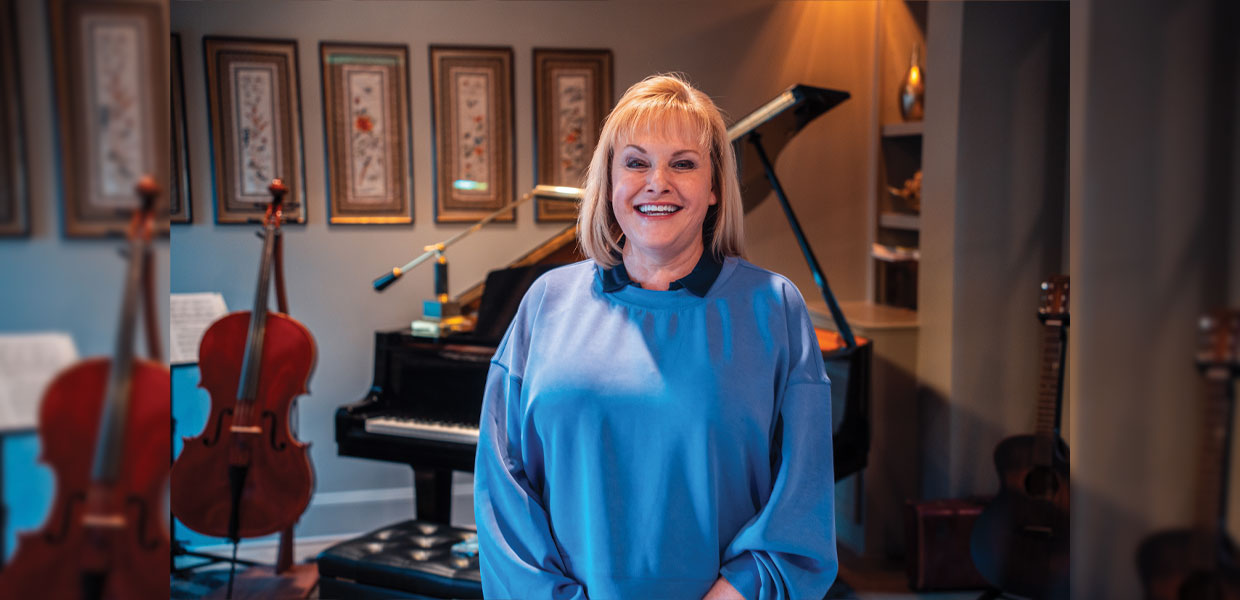 LouAnn Kendall poses in her home's music room. After a golf accident, Kendall feared she could no longer play the piano again, but God answered her prayers with a miracle.
Paola Mora Zepeda
LouAnn Kendall has played the piano as long as she can remember. A member of the Franklin, Tenn., Church, Kendall started taking piano lessons at just five years old. Later on, she also picked up the cello. Even as a young chid, Kendall used her musical talents to glorify God — often playing piano duets with her mother at the Kentucky-Tennessee Conference Camp Meeting and accompanying her church's praise team whenever necessary.
In April 2022, Kendall accepted her husband's invitation to play golf. It was her first time testing out the game and as she was learning to swing, she injured her left hand. At first, Kendall did not think anything of it, but weeks passed and the pain did not go away.
Kendall finally decided to get an X-ray on her hand. To her dismay, she discovered that one of her bones was dislocated.
"I went to this world-renowned hand surgeon in Lexington," Kendall said. "He looked at my hand and said, 'You've got severe arthritis. If you want to continue playing the piano like you do, you're going to have to get a bone transplant.'"
Kendall was devasted. She was in a lot of pain. She also feared doing the surgery. Above all, Kendall's heart was breaking at the thought of never playing the piano again. So, she prayed.
"God, if you still want me to use this talent for You, please heal me," said Kendall.
It had been seven months since the original injury. The pain had become so severe that she could not even type on a computer. When her church's pastor heard of Kendall's worries, he suggested they have an anointing for her. Kendall happily accepted, and the anointing took place after church that Saturday.
The following week Kendall got COVID. For days, she was lying in bed not doing anything. She so focused all her energy on getting well that she did not realize something was different. Eventually, once she felt better, she took off her splint and looked at her hand. There was no pain!
"I got up and I started to play the piano," said Kendall. "I also pulled out my cello because in my mind that was the ultimate test. Cellos are very heavy, uncomfortable to hold, and you play it with your left hand. When I finished playing a song, I knew for a fact that God had healed me."
Kendall never got her hand surgery, and even though months have passed, the pain hasn't come back. She plays the piano almost every day, glorifying God with her music just like she did when she was a child.
"I've had several wonderful miracles in my life from God — this was not the first one," said Kendall. "Each time He shows me that He is alive. God showed me that He still cares. He cares about each of us individually. He hears our prayers, no matter how tiny and insignificant we feel they might be."
Kentucky-Tennessee | May 2023