BY Adventhealth university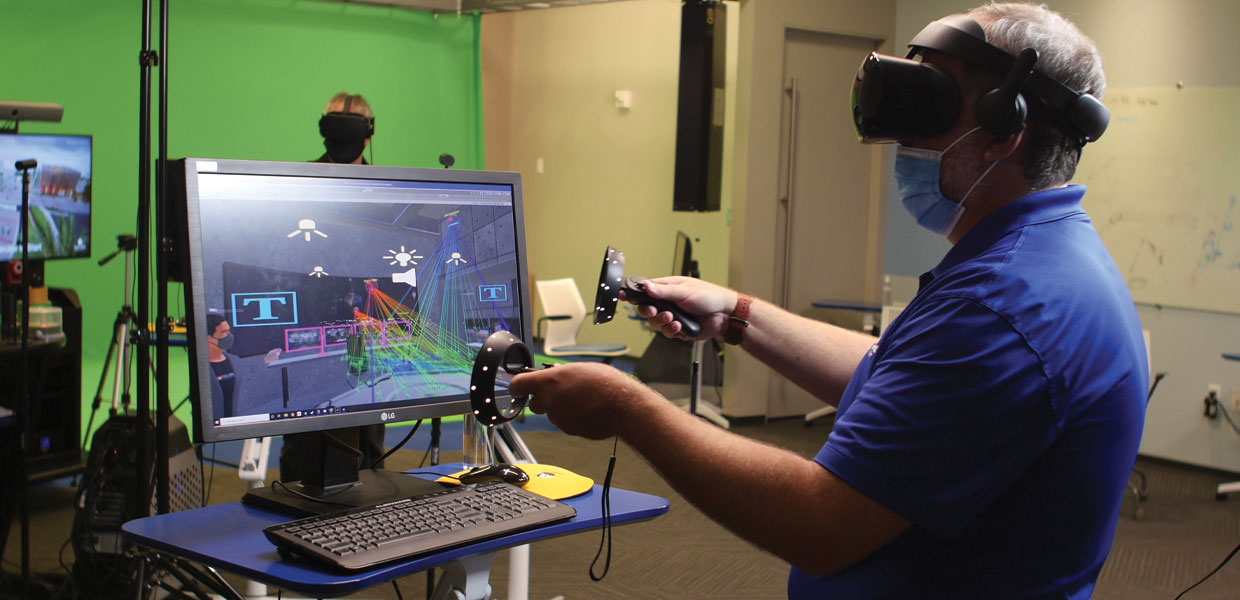 Brandon Baker, AHU's director of Immersive Technologies Lab, demonstrates the prototype that won the team Most Innovative Solution in the Iron Dev competition.
Two universities in the Orlando, Fla., region have partnered to advance the use of virtual reality in the health care industry. Full Sail University and AdventHealth University are proud to announce that their team for the Iron Dev competition has been named the winner in the category of Most Innovative Solution. Iron Dev is an annual competition held by the Interservice/Industry Training, Simulation and Education Conference (I/ITSEC). Winners in each category were selected based on the merit of their technology-based solution according to the scores of the judging committee and votes of the viewing public.
The virtual reality (VR) solution, which is currently a prototype, created by the Full Sail and AdventHealth team serves as a proof of concept for a virtual command center to help health care facilities and systems, like AdventHealth, visualize hospital resources and COVID-19 data points. The technology would allow health care providers to quickly make real-time decisions by streamlining the distribution and allocation of resources.
"With the unprecedented nature of COVID-19, we knew we wanted to create a futuristic solution to a current problem. Our technology allows users to visualize inputted data, including COVID-19 data points such as contact tracing and regional cases, as well as the available resources at health care facilities like the number of beds, nurses and other medical necessities," said Brandon Baker, director of the Immersive Technologies Lab at AdventHealth University. "We are extremely proud of the collaboration between Full Sail University and AdventHealth University, and the incredible work everyone on our team has done to advance the use of VR in the health care industry."
Students and alumni at Full Sail University were able to learn and utilize their skills in creating a VR solution prototype both under the time restrictions of the competition, and in recognizing the real-world applications that are relevant to the current global pandemic. Important lessons students learned included time management, collaboration, and an in-depth look into the challenges and triumphs of VR.
"Our partnership has been the foundation of some great VR solutions in the health care industry," stated Luis Garcia, vice president of Emerging Technologies at Full Sail University. "In addition to the visualization technology produced for the Iron Dev competition, we have also created a VR training solution that students at AdventHealth University use as a response to COVID-19 restrictions. In fact, the VR training solution enabled some of our graduates to gain employment with AdventHealth University where they work on various projects, including the Iron Dev competition. We look forward to furthering our partnership and seeing what is next for us."
AdventHealth University | January 2021