by jodi Herod steele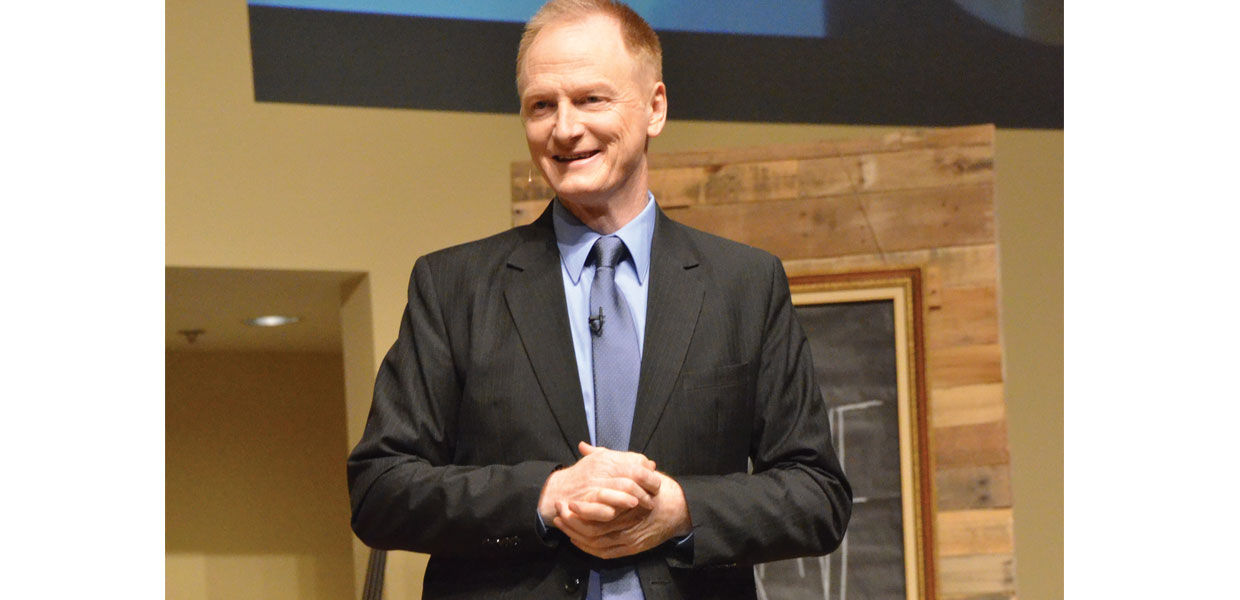 John Bradshaw, speaker/director for It Is Written, was the keynote speaker for the Spiritual Emphasis Week at Georgia-Cumberland Academy in Calhoun, Ga., this past Febraury. Bradshaw encouraged the students to "Take a Stand" for Jesus.
Jodi Herod Steele
Georgia-Cumberland Academy welcomed John Bradshaw, speaker/director of It Is Written, as the keynote speaker for the school's Spiritual Emphasis Week, February 13-17, 2017. As Bradshaw considered presenting a series specifically for teens, he chose his topic carefully and prayerfully. He wanted to give the students a practical, honest approach to faith.
"I thought to myself, 10 years from now, what are they going to have taken with them from Week of Prayer," said Bradshaw. "Will they have received anything that will be practical and be helpful in their daily Christian experience?"
Bradshaw said his desire is for the students to go to Heaven, and before that to see them love and serve God in their daily lives here on Earth. He chose the theme "Taking a Stand," and encouraged the students by sharing the stories of Daniel and his three friends, Shadrach, Meshach, and Abednego, as well as others in the Bible who stood for God. Bradshaw also presented on the topics of the Second Coming and having a relationship with the Lord.
"I know a lot of kids who just don't know how to make it [the relationship] work," Bradshaw said. "It's frustrating to them for a number of reasons. It either hasn't been modeled well, or the sermons they've heard haven't really helped them, or they haven't read good spiritual books, or they're in a bad environment. So, for a lot of kids, it's just not working."
The need to develop a personal relationship with the Lord was a point that resonated with a number of students. Bradshaw stressed the importance of surrender to Christ, and the need to start each day by committing to follow Him. This personal relationship is where the strength to stand for Jesus is found.
"I liked what Pastor Bradshaw said about Jesus being your friend, and how He wants to be a part of your life," said freshman Haydn Collins.
Bradshaw reminded the students that their Christian walk should be a process of continual growth. In order to grow in relationship with God, they must know God's word and claim His promises in their own lives.
"I was encouraged to read the Bible more and take God at His word so that I can receive the promises He has for me," said Calvin Scott, sophomore.
It is evident that the Holy Spirit used Bradshaw's messages to reach the students at Georgia-Cumberland Academy. At the end of the week, there were four new decisions for baptism.
Academy chaplain Josh Woods shared that he heard positive feedback from students throughout the week. He said that many enjoyed Bradshaw's sermon illustrations, and that they appreciated him coming to their Bible classes and taking the time to answers their questions.
Bradshaw is hopeful that the messages he presented during Spiritual Emphasis Week can be used to reach other teenage audiences. Several members of the It Is Written film crew were present during week to record the meetings. Bradshaw would like to see the recordings made available to schools and churches in the North American Division, and to families with academy-aged children.
The faculty and staff of Georgia-Cumberland Academy continue to pray that the truths presented during Bradshaw's series will have a positive impact on students' lives for years to come.
Georgia-Cumberland | April 2017