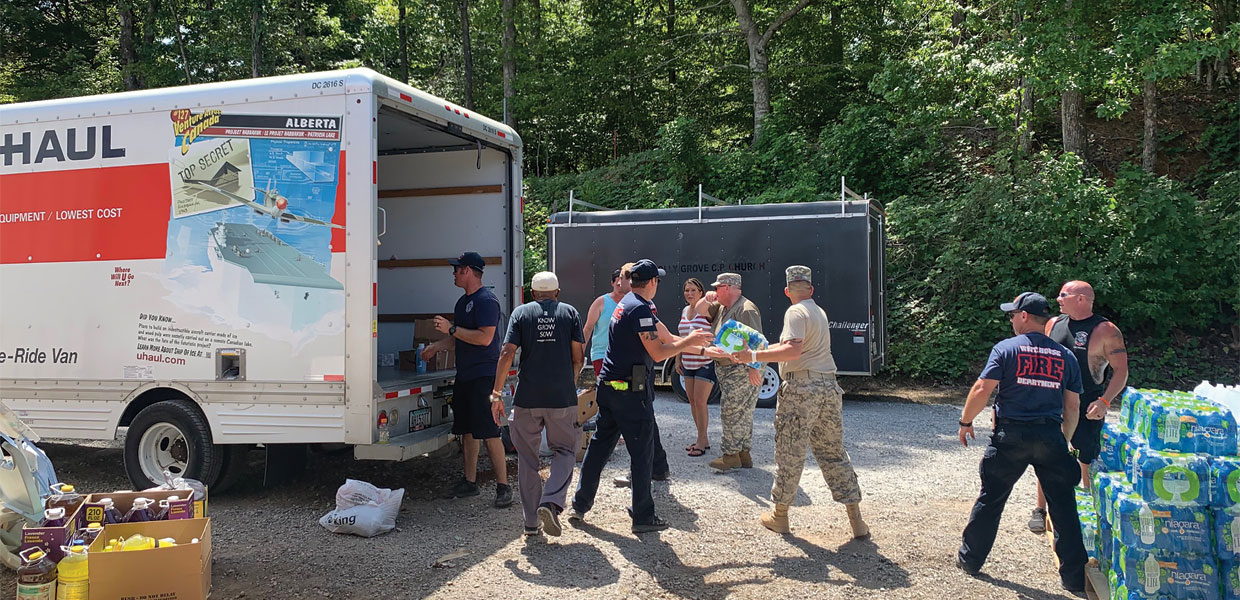 Volunteers and civil servants unload a truck of donations at the Waverly Adventist Community Services (ACS) warehouse in Waverly, Tenn. At the request of the Tenessee VOAD, Georgia-Cumberlnd Conference ACS operated the warehouse that received and managed donations.
Luis Biazotto
Georgia-Cumberland's ACS Responds in Times of Crisis
It is a terrible tragedy when disaster strikes. Hurricanes, fires, floods: these things can devastate entire communities. It can also be hard to see it on the news somewhere that hasn't been affected, begging the question, "What can I do to help?" The Georgia-Cumberland Conference's Adventist Community Services (ACS) is often called upon to help in these situations.
In late August last year, a record-breaking flood surged through middle Tennessee, taking out roads, cell towers, and phone lines. Luis Biazotto, director of ACS, was contacted by the Tennessee affiliate of Voluntary Organizations Active in Disaster (TNVOAD) to help with response efforts in Waverly, Tenn.
"When a disaster happens in Tennessee or Georgia, even though we share territories with other conferences, we are the point of contact with Tennessee or Georgia VOAD," says Biazotto. "It was a devastating situation in the city of Waverly. Many people didn't have insurance and they had no place to go at all."
ACS worked with TNVOAD to establish a warehouse in Waverly to help those who had been affected. The warehouse was initially run in partnership with Gulf States Conference on a short-term basis. The situation in Waverly needed more long-term efforts.
"I was contacted by TNVOAD president, David Sledge. [Georgia-Cumberland ACS] ended up operating the warehouse from September to the first week of December — less than a week before the tornados," says Biazotto.
In early December, a string of deadly tornadoes hit Kentucky and several parts of Tennessee. It took some time to assess the damage and the needs in the affected areas. Biazotto says that while TNVOAD has not requested the Georgia-Cumberland Conference's assistance with recovery efforts from these tornadoes, he is in contact with TNVOAD and the Conference is ready to help if needed.
Biazotto says it's important for members to know their donations help other territories as well. "We feel that God has blessed this Conference in a way that we can share with others."
Rachel Beaver
Georgia-Cumberland | February 2022