Jodi Steele and Beth Zeisse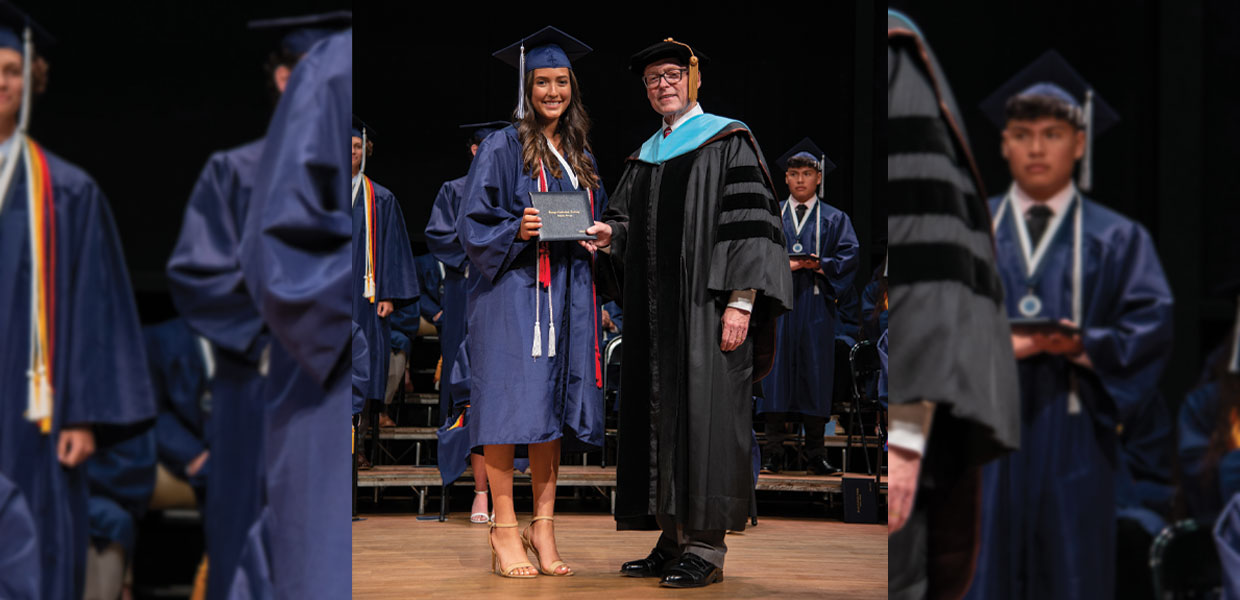 Greg Gerard, principal at Georgia-Cumberland Academy, is pictured with Sabrina Gomez, one of many graduates who has experienced the Christ-centered environment Gerard fostered. Gerard is retiring after 45 years of educational leadership.
Greg Gerard, Ed.D., has retired as principal of Georgia-Cumberland Academy (GCA) after 45 years of service in the field of education. Serge Gariepy, current GCA vice principal, will step into the role of principal after Gerard's departure.
Gerard has overseen significant changes and growth during his 20 years at GCA. Under his leadership, the school grew in enrollment from 216 students in 2002-03 to 303 students at the beginning of the current school year. He helped undertake a major capital campaign that raised a total of $21,648,025 for much-needed facility additions on campus and for student and program support. Above all, he focused on creating a school environment that nurtures students both academically and spiritually.
Gerard's career in education began in 1977 when he was hired as a teacher at Shenandoah Valley Academy after graduating from Andrews University with a bachelor's degree. After teaching for three years, he finished a master's degree from Andrews and went on for a doctoral degree in educational leadership from Western Michigan University. Following graduate school, Gerard served as principal at Midland Adventist Academy and Great Lakes Adventist Academy before becoming director of development at Andrews University, and later vice president for advancement at La Sierra University and Olivet College. The skills and knowledge he gained while in higher education gave him a perspective and skill set that uniquely prepared him for the next phase of his career.
In 2002, when Georgia-Cumberland Academy was looking for a principal, God placed a burden on Gerard's heart to return to his original calling. Answering the call to return to secondary education was a significant change that had far-reaching impact for Gerard and the people under his leadership.
Jenessa King, '07, when considering the impact of Gerard's career at GCA, shares, "Dr. Greg Gerard upheld a standard of excellence for all who stepped foot onto GCA's campus. He was a terrific example of servant leadership for both staff and students. I will forever be grateful for the Jesus-centered environment he helped to cultivate at GCA."
Kaleb Leeper, '08, vice principal for student life at Shenandoah Valley Academy, observes, "Greg is a principal for the students. While I was a student, you knew that 'Dr. G' was working to better the school for you. You could interact with him, and he would quickly respond with some witty quip. Later, when I became a colleague, little changed. I saw with even greater detail the efforts that he put into empowering the faculty and staff to create the best programs for the students. He has always been about the students at GCA. I feel very privileged to have been able to witness great leadership and learn from Dr. Gerard."
As he prepares to step down from his full-time role and into part-time work as an education consultant at the Georgia- Cumberland Conference, Gerard feels confident in the direction GCA is heading. "The future of GCA is bright, with strong leadership in place for next year, and the promise of God's blessing," said Gerard. "I am grateful for the past 20 years at Georgia-Cumberland Academy. They have been the best years of my life!"
Georgia-Cumberland | July 2022