BY Sara McCord and Abby King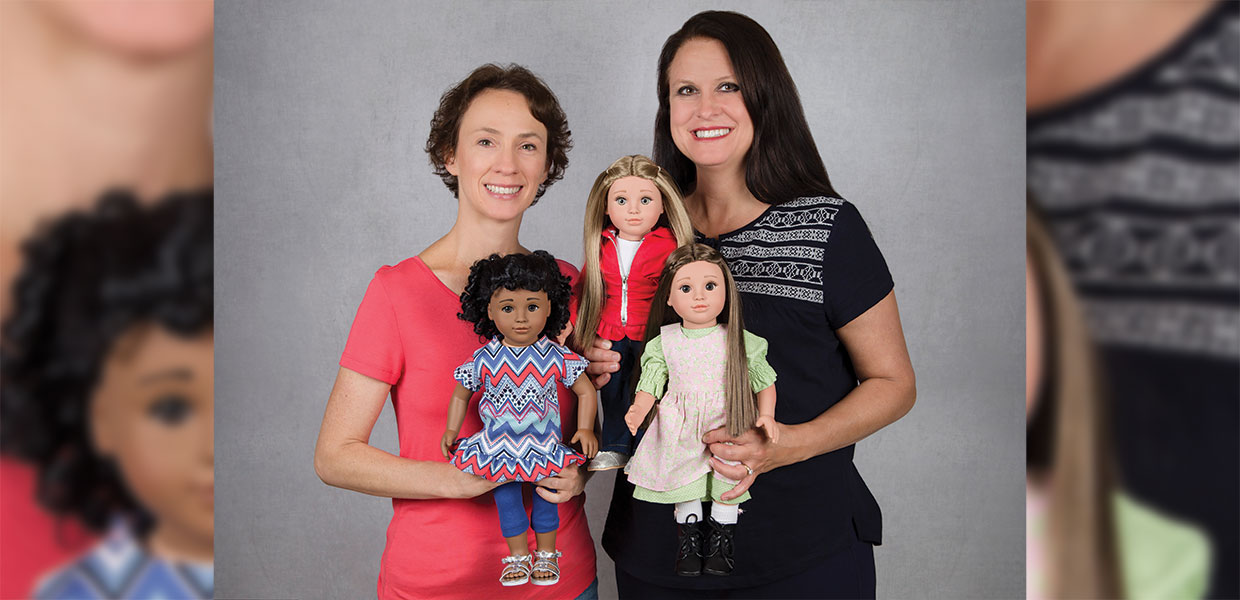 Sara McCord (left) and Shane Hodges, founders of "Girls of Faith" dolls
Contributed
Sara McCord and Shane Hodges, members of the Arden, N.C., Church, have been working on a project that will encourage little girls in their walk with Jesus. The idea first occurred to McCord in 2010 when her two youngest daughters were both under the age of 14 months. Her oldest daughter, who was seven, expressed a strong interest in dolls, as did her three best friends. McCord was inspired to create four dolls fashioned after the girls. Her thought was to produce a line of 18-inch dolls with companion stories that would encourage little girls to live out their Adventist faith in their daily lives.
Two years later she finally followed through with her dream, and began developing the story lines for the first two characters as well as designing the logo and branding. She then purchased 20 dolls, designed two outfits, and outsourced the sewing of the doll clothes to a local woman. McCord asked Sheri Baker, a teacher at Captain Gilmer School in Fletcher, N.C., to help write the stories. She then enlisted Hodges to illustrate the stories. Upon completion of the stories and the dolls, McCord headed to the 2014 Carolina Camp Meeting at Lake Junaluska, where she sold all of her dolls using the brand name "Adventist Girl."
Hodges voiced an interest in collaborating with McCord in this endeavor, who was happy to have a business partner. Around this time, the women were notified that they could not use the word "Adventist" in their branding. They changed the name of their company to "Girls of Faith," and modified the stories to make them appropriate for all Christian girls, rather than only Seventh-day Adventists. They then formed a limited liability company and continued to research doll manufacturers. As they searched, McCord realized there was only one doll manufacturer left in the United States, and it specialized in doll kits rather than toy dolls. The two women quickly journeyed to Michigan to meet with the manufacturer, where Hodges purchased a clay molding kit, and designed the mold that would be their doll's face.
"Creating an original doll has been a long and educational process, and God has led every step of the way," says McCord.
Girls of Faith launched this past June, beginning with the two dolls modeled after McCord's daughter and one of her best friends. Currently, their company is the only doll company selling American-made toy dolls. Additionally, the Christian stories set this company apart by reassuring young girls that they are not alone in their Christian walk. McCord and Hodges hope to reach little girls and their families all over the world with the message of Jesus' love. You can learn more at www.girlsoffaithdolls.com.
Carolina | October 2017